On the first Tuesday of each month, we email a newsletter to all of our supporters and prospective supporters catching them up on our work along with some commentary about current events in the world. Subscribe to our monthly newsletter below!
Missed a newsletter or want to go back and revisit something you read months ago? Check out the compendium here:
September: Fall into Democracy
After a (hopefully restful!) Labor Day yesterday, today we're celebrating the ways in which our nation and our own organization are furthering democracy. Democracy is a many-splendored and fragile thing—with threats looming domestically as well as abroad. 
At YVote/Next Gen Politics we remain committed to the cure: advance democratic participation and justice for all Americans, especially youth. 
Our first celebration: The Youth Voting Rights Act was reintroduced to Congress last week! This would protect and broaden youth voting rights by expanding voter registration and ballot access on college campuses, allowing pre-registration nationally, requiring states to accept student IDs as valid voter identification, and more.
This bill comes at a critical time as we're already gearing up for the 2024 presidential election (Anyone else catch the first GOP debate? YVoters did!). And if the 2020 and 2022 elections told us anything, the youth vote will serve a pivotal role in deciding our future.
And our second celebration: YVote/Next Gen's successful summer programming and upcoming youth civic engagement opportunities for the school year!  
We recently wrapped up our Summer Civic Fellowship and Summer Change Makers programs, the latter culminating in a powerful Civic Expo. Youth led Activation Stations —Climate Justice Price is Right, Criminal Justice Wheel of Fortune, Immigration Justice Jeopardy, Advice Booth: Mental Health Intersectionality & Outcomes, and Educational Equity Monopoly—to share their learning in an accessible and engaging way for peers AND motivate the civic movers and shakers in attendance to take local action. Peruse photos of the inspirational evening here. 
Please read through to the What We're Up To section below for impact highlights from each of our high-voltage summer programs—and help us ensure our school year programs are equally powerful.
Applications are now open for our school-year programs, which kick off in late September! Three of our  peer-led civic programs for high schoolers are accepting new high schoolers: our national, Zoom based Next Gen Civic Fellowship (tinyurl.com/NGPApp) and our New York based (and stipended!)  Change Makers Institute (tinyurl.com/YVoteApp) and NYC Youth Policy Agenda (tinyurl.com/NYCYouthAgendaApp). 
These are fantastic programs for any civic-minded or civically-curious youth who want to engage in dialogue and community action with like-minded peers, as well as those from different backgrounds and lived experiences. Please share the links above with any teens who may be interested!
Youth Leader Spotlight
Say hello to YVote leader Mukilan Muthukumar!
Mukilan joined us as a YVote Change Maker in the summer of 2021. Since then, he's served as a peer facilitator for the school-year YVote Change Makers Institute, summer YVote Change Makers Institute, and the inaugural years of our Democracy Camp.  
Mukilan has always been interested in politics, but joined and stays in YVote because of its unique approach to engaging and motivating young people to be civically active. He credits YVote for developing his public speaking skills, honed through YVote opportunities. 
"YVote can be a great resource to build skills and interact with civics and meet new people. It can be one of the most important things you do in high school and it can be something you do for years beyond high school." —Mukilan  
He is also a dedicated member of the NYC Youth Agenda team, conducting workshops to help Community Boards become youth-centered spaces and crafting recommendations on both civics education and environmental justice for local elected officials. 
"Obviously as youth we can't control emissions by corporations, but we tried to break recommendations up into tangible things [officials] can address to make life better for people in the city." —Mukilan
Mukilan is especially passionate about climate and environmental justice, not only drafting and advocating for recommendations but also leading the Climate Justice action group during our Summer Change Makers Institute. Mukilan is a rising senior at Hunter College High School in Manhattan and plans to pursue a career in law.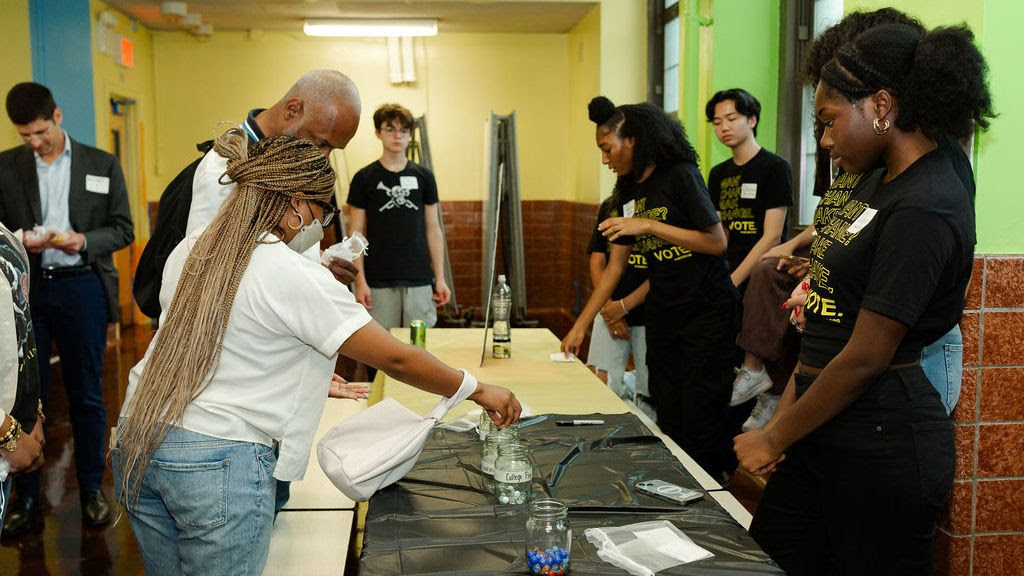 What We're Up To
We had an invigorating summer of youth-led civics programming! Read highlights below. 
Democracy Camp
"Because of Democracy Camp, I feel empowered to make change in my community." —Ezra H., rising 12th grader
After one week at Democracy Camp:
95% of Campers recognized the importance of core democratic processes, such as voting and free speech
90% of Campers rated themselves as able to understand the roles and responsibilities of citizens in a democratic society
The percent of Campers able to recognize opportunities for getting involved democracy-building increased by 26 points 89% of Campers rated the peer facilitators as excellent 
And 100% of Campers rated Democracy Camp overall as very good or excellent!  
These numbers validate our belief that peer-led, issue-driven democracy education has real impact—and we're excited to expand it. Stay tuned!
YVote Summer Change Makers
"If you really want to get your voice and ideas out there about issues you really care about, join YVote Changemakers." —Gwen P., rising 12th grader
During the Summer Change Makers Institute: 
Participants' knowledge and understanding of voting and voting rights grew by 24.8%
Their ability to share information about how to vote with peers grew by 58.6%
Youth experienced 49.2% growth in their ability to make connections with peers from different backgrounds and diverse perspectives 
Participants experienced a growth of 27% in their knowledge and abilities around effective leadership, including how to navigate difficult discussions around differences and identifying conversational triggers 
Next Gen Summer Civic Fellows  
Our Civic Fellows found their experience in the program valuable, notably:
100% of Civic Fellows rated the overall program as very good or excellent! 
96% of Civic Fellows rated their Civic Forum speakers as very good or excellent
"This opportunity helped me develop my discussion/debate skills while having fun learning about important and interesting topics with great, welcoming people, which is an opportunity you can't find anywhere else." —Catrina C., 11th grade
"Even if you aren't very interested in politics, you'll still learn so much from the forums because you'll learn about current issues in a way you probably haven't thought about before. You'll end up taking what you learned to other aspects in your life no matter what, whether it's your ability to convey your thoughts clearly or your ability to analyze articles on a broader scope." —Tabassum R., 10th grade
Listen To Youth
Read critical think pieces from our blog writers this month:
We've been inducting an exciting new cadre of hosts to The Round Table podcast over the summer and hope you enjoy our new voices: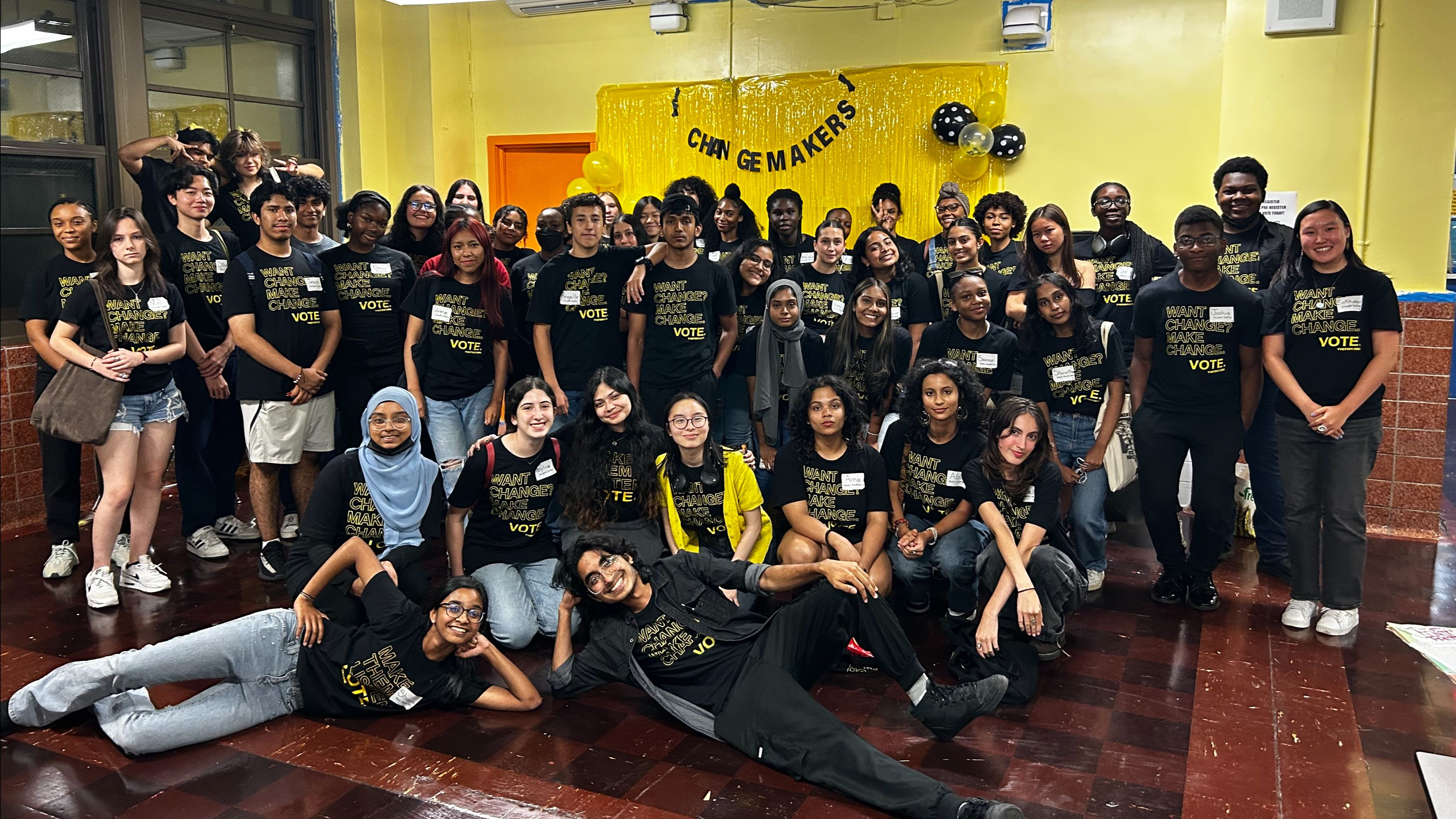 August: YVote's Sizzling Summer
"YVote has taught me how to challenge others' beliefs while respecting their experiences and empathizing with others' backgrounds." — Dorina Azizova, YVote Facilitator and Next Gen Lead Fellow
It's been a thrilling summer running three programs at YVote / Next Gen Politics over the past four weeks! Between Democracy Camp, YVote Summer Change Makers, and Next Gen Summer Civic Fellows, we've had the joy of forging civic connections with 150+ teens in NYC and across the country in our quest to fortify a youth civic participation movement inspiring generational change.
Our programs intentionally bring together teens from wide-ranging and diverse backgrounds—geographically, politically, socio-economically, racially—in order to center empathy, understanding, and collaboration within civic learning. As rising senior Dorina notes above, the best way to build knowledge, relationships, AND movements is by pushing ourselves beyond our comfort zones.
This relational approach has always been at the heart of our work. It's why every one of our programs—including our blog, podcast, and social media—are led by young people through a peer-to-peer model. This method doesn't just result in powerful learning experiences, it's also more likely to result in voter motivation and outcomes—as evidenced by this fantastic City Limits article by our ally and supporter Martha King of the Revson Foundation and GoVoteNYC.
Want to experience this effective relationship-based approach in action? Join us at our upcoming Civic Expo on Tuesday August 15 from 6-7:30pm at the High School of Fashion Industries in Manhattan! This culminating event for the YVote Change Makers Summer Institute will feature youth-led interactive activities, games, and discussions around key issues of our times, including Climate Justice Bingo, Criminal Justice scenario shifting, Immigration Jeopardy, Education Equity Monopoly, Mental Health Choose Your Own Adventure, and more. Last year's Expo (see video and photos) was a stellar event, and we expect no different this year! RSVP if you can attend here: tinyurl.com/YVoteCivicExpo2023
One more thing—THANK YOU! We are overwhelmed with gratitude for those of you who donated to our June fundraising campaign and my birthday fundraiser on Facebook. By helping us reach our goal of $5,000 and come close to our FB goal (less than $1000 short—you can still help push us over the edge through Saturday!), you ensured a successful Democracy Camp to spark a lifelong civic commitment by our 50 Campers as they design year-long projects to manifest democracy more deeply in their schools and communities. We could not do this work with the excellence that it deserves without you. You are deeply appreciated!
Youth Leader Spotlight: Jo Aggarwal
Jo has long been civically-minded, conducting community projects of her own, but living in New Jersey—two hours outside of NYC—left her feeling isolated in her efforts. Jo met Sanda at a Citizen University's Youth Collaboratory event in Spring 2022 and once she heard about YVote knew she wanted to be a part of it, even with the lengthy weekly commute!
Since joining, Jo has participated in Summer Change Makers Institute, our school-year Change Makers Institute, and the YVote Speakers Bureau. Her favorite experience so far was the 2022 Civic Expo, during which she led attendees through the Racial Justice action group's privilege walk.
"People don't have spaces to speak [about social issues] and the Civic Expo provides that in an organized and beautiful way so people who don't even know each other can talk about these things… It brings a sense of civic joy."
Jo says YVote helped her see the value of collaboration when taking action on social issues, and the benefits of working with a diverse group to solve problems. Participating in YVote programs and the Speakers Bureau also boosted her confidence as an advocate and activist.
"YVote is a place for everyone. Even if you have a lot of skills already, it'll help you expand them. If you don't have a lot of civic skills, it'll teach you them from the ground up. It's for a very diverse group of people."
This fall, Jo is heading to South Korea to spend the year as an American Cultural Ambassador through the National Security Language Initiative for Youth, living with a host family and attending Korean language classes. Jo is especially interested in the Korean government's response to the climate crisis and plans to learn more about their proposed solutions. She hopes to have a career in diplomacy or environmental justice—or both!
What We're Up To
Our civic programs aren't the only opportunities for young people to build their advocacy skills and amplify the youth perspective with us. In addition to our youth-run blog, podcast, and social media channels, we also have a Speakers Bureau of passionate and articulate YVoters who would LOVE to share their experiences and opinions with all of you!
"In the work I do with YVote, I feel emboldened because of the community and co-collaborators that I have who are doing the work with me." —Jo Aggarwal, 2023 HS graduate
"[Young people] have so much to offer and there's so much reform that we can help with, so closing out the youth is rejecting our voices when the whole point of democracy is to embrace that." —Ananna Das, 12th grade
Our Speakers attend regular media training and mock interviews with the communications agency Hot Paper Lantern to strengthen their speaking and advocacy skills.
"My school district doesn't really cover [civics and voting] unless you are lucky enough to take AP US Government. Outside of that you aren't really exposed to voting and you're not really knowledgeable about the entire process." —Saahirah Mohsin, 11th grade
"The similarities between YVoters come from the fact that we all care about these issues, not how we think about them. And what we really gain from each other is the ability to compare our diverse perspectives in a respectful way." —Sonja Aibel, 12th grade
If you're holding an event, panel, or webinar that could use more youth voice—please reach out: our speakers have interest and expertise that range from environmental justice through reproductive rights through voting accessibility and more. And if you know any journalists who cover some of our favorite topics (Voting! Elections! Youth!) and may be in need of a youth quote, we'd relish an introduction.
Listen to Youth
Our new team of blog writers is off to a stellar start with these pieces:
Our The Round Table hosts engaged in conversations that all touched on the potential and power of art, narratives, and stories:
July: Democracy is in Good Hands
While we know the fireworks last night were celebrating the 4th, we can't help but feel extra celebratory this week at YVote!
As you may have heard at the top of the hour news on WNYC over the weekend(!), we had a truly stellar second year of Democracy Camp this past week as NYC youth grappled with the challenges still facing our democracy (in real time, given last week's disheartening yet unsurprising Supreme Court decisions) and the role we all play in strengthening it.
While we deeply wish you could have experienced the magic for yourselves at the New York Society for Ethical Culture, we encourage you to read some of our Camper's quotes below and peruse the photos (more here!) to absorb the inspiration and hope for our future our youth provide.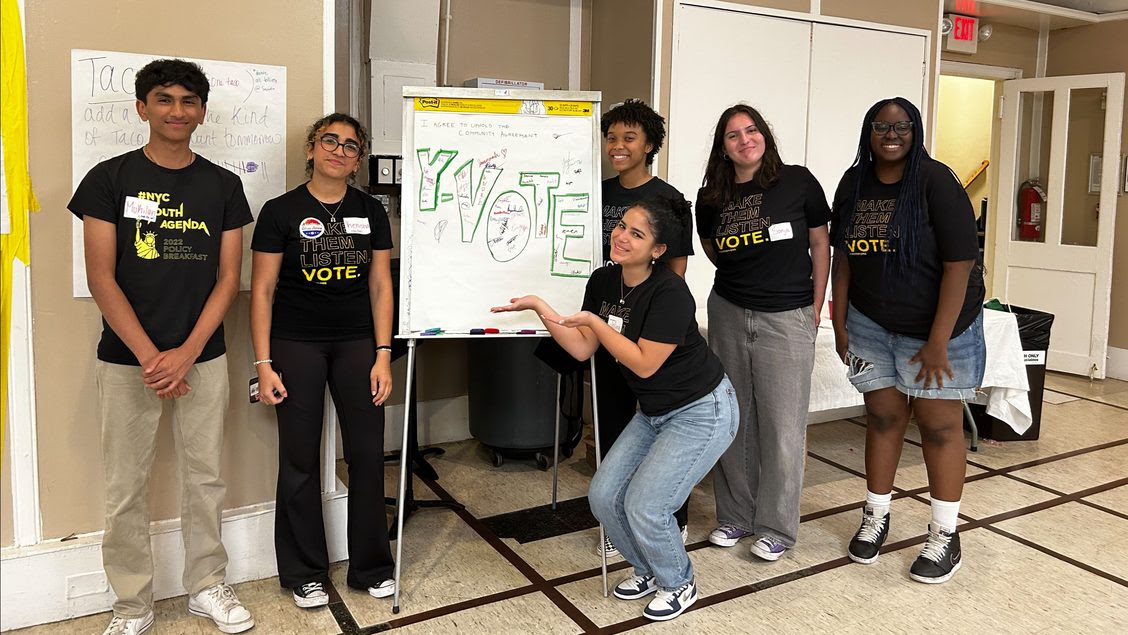 "Democracy Camp is an excellent experience and opportunity to collaborate with other passionate young people who are interested in discussing civic and political issues, and are willing to take action to spark positive change in their community." —Arjun A.
"Because of Democracy Camp, I feel empowered to make change in my community." —Ezra H.
"In Democracy Camp, you are never alone. From outgoing facilitators who will always support you, to peers who share just as much fuel about inducing change, you have so much space and ability to discuss the social issues that reside in our democracy today." —Ananna D.
"[Democracy Camp is] a very engaging and educating program that respects your boundaries but tries to push you out of your comfort zone to promote your growth." —Charibel R.
"16 year olds can get a driver's license. If you can trust 16 or 17 year olds with a life you should be able to trust them with our democracy." —Kelechi O.
"It was empowering to talk about democracy with like-minded peers and see how passionate they all were about changing it for the better. It gave me more hope for the future." —Phoebe B.
"I believe with more programs like YVote and easier access to political information our democracy can grow into a strong one." —Emily G
June: Hello, Summer Civics!
"The world is round and the place which may seem like the end may also be the beginning."—Ivy Baker Priest
Is there any truer sentiment for the end of a school year and particularly the end of high school? This month we are celebrating a very special crop of change makers—the YVote/Next Gen Politics senior class of 2023. With their first year of high school abruptly halted by the pandemic, they engaged in our civic programming with heightened intensity. They came to us fueled by their passion for increasing youth voter engagement—after seeing their peers sit out of critical elections—and ready to fight the injustices brought to the forefront by a national reckoning with racism in 2020. Through all of it, their commitment to exploring multiple perspectives and bridging divides remained strong. We are excited to honor them and their work with us in our Senior Step Up Ceremony this Sunday—sign up here if you'd like to join us!
As our school year programs conclude, our summer programs are ramping up with three great offerings for high school students in New York and nationally: Democracy Camp, YVote Summer Change Makers Institute, and Next Gen Summer Civic Fellowship. We would love for you to share the applications to these free & stipended youth-led programs with your networks so we can serve the widest array of young people this summer.
Meanwhile, this month YVoters are busy getting out the vote for The People's Money — the first ever citywide participatory budgeting campaign in NYC. Now through June 25, any NYC residents ages 11 and up can cast their vote to allocate funds to community projects in their boroughs. If you haven't already, make sure to vote today (yes, online!) and let us know if you do so as a result of this email. If you work with young people and would be interested in having our young people present a workshop on participatory budgeting to equip them to vote, reply to this newsletter and we will be delighted to hook you up.
PS – Check out what YVoters Samirali, Nadia, & Hudson dream of using The People's Money for in these AWESOME videos created by the NYC Civic Engagement Commission and listen to YVoters Ananna & Israa speak about it on The Bell podcast!
And speaking of voting, the June primaries (and early voting for it) are around the corner! While municipal elections are all too often ignored (reminder: the voting rate of 18-29 olds in NYC in the 2021 election — 11.1%), this one has major impact as EVERY city council member seat is on the ballot. If you want to learn more, I'll be joined by YVote youth leader Sonja Aibel on a panel to discuss the June primaries hosted by Brooklyn Community Foundation on June 15th from 12:30-1:00 pm ET. You can register for the webinar here.
For those of you interested in youth voting at large (which we all are!), I invite you to watch the recent webinar I participated in hosted by GoVoteNYC & Philanthropy NY "Waking the Sleeping Giant of Electoral Politics." As you'll see, there are many opportunities for youth to engage in elections this year and YVote/Next Gen is helping them to do so. Thank you for supporting us as we do this critical work.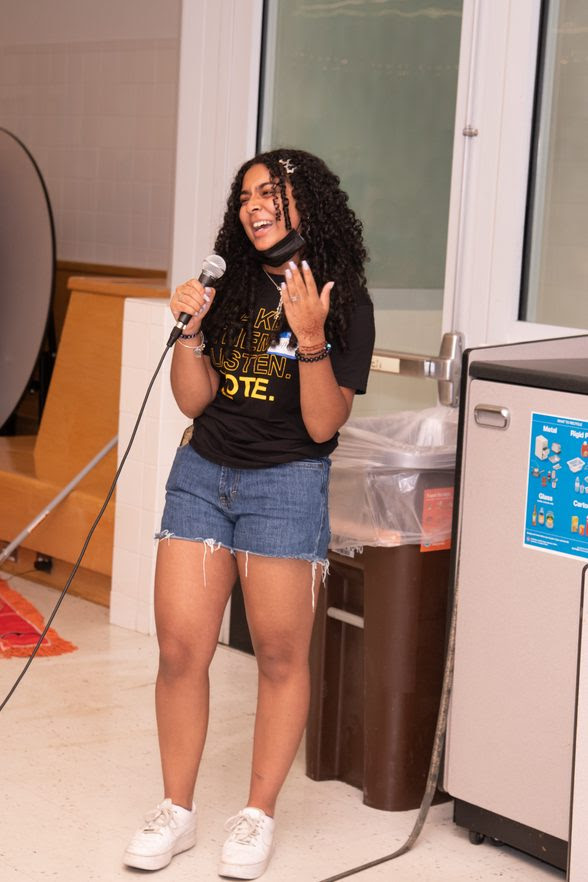 Youth Leader Spotlight: Skyla Monroe
Since joining us last summer, Skyla has participated in MANY of our programs, serving as a YVote Peer Leader and a Next Gen Lead Fellow. She enjoys the opportunities our programs provide to take complex issues and make them easily comprehensible for her peers.
Skyla's interests lie in theater, visual art, and film, so she loves finding ways for arts and civics to intersect. When it comes to civic engagement and change making, Skyla uses her performance skills to lead workshops and canvass.
"You can pass out registration forms to people, you can give people the tools to engage in democracy, but if they don't have the knowledge to use those tools then access alone is ineffective. With workshops and canvassing… you're making that human connection."
Skyla is also a superstar host on The Round Table podcast! She appreciates how the conversations with podcast guests can humanize current political issues.
"I love having these rich, intergenerational conversations because it's not just my peers and I talking. It's also us speaking with professionals in fields we're interested in."
Skyla's favorite podcast experience was interviewing immigration lawyer Claire Thomas, as Skyla plans to pursue a career in law herself. Next fall, Skyla will double major in Law, Jurisprudence, and Social Thought as well as either Art History or Film at Amherst College.
PS – You can catch Skyla and fellow YVoter Jolina in Cabaret at Frank Sinatra School of the Arts this weekend!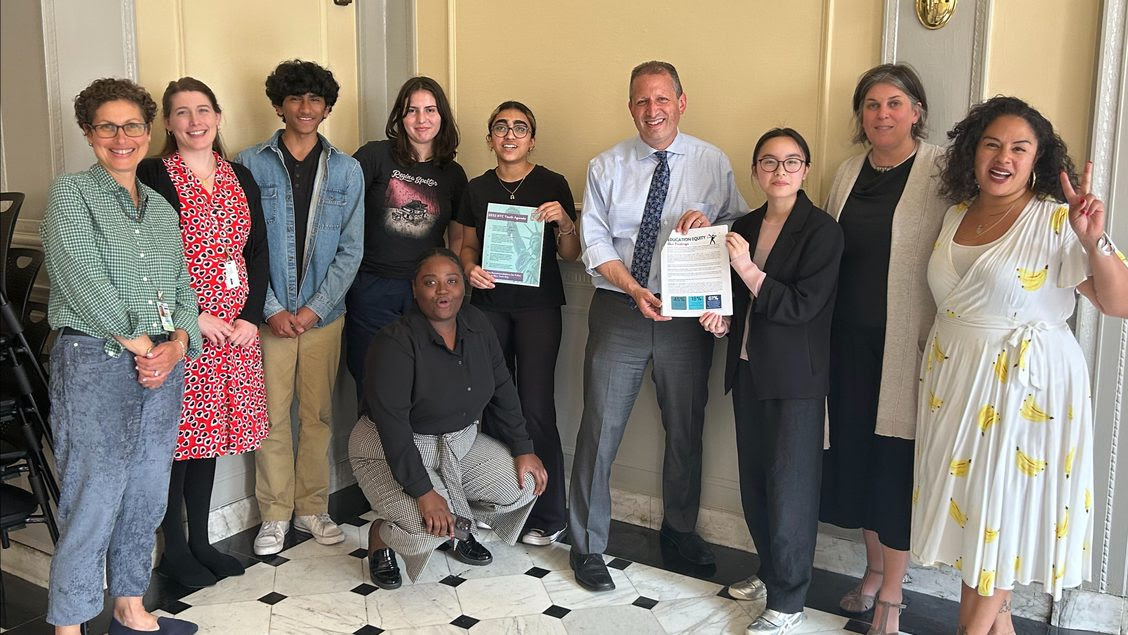 What We're Up To
We wrapped up our final session with the 2022-23 YVote Change Makers cohort last week! It's been an inspiring and energizing year with this group of Change Makers, who jumped right in to learning how to utilize individual and collective power to advocate for the issues they care about! Here's what the Change Makers said about their experiences:
"I've grown so much by attending YVote, from traveling to different locations in Manhattan, to public speaking, and discussing topics that I felt strongly passionate about. Honestly, every moment was just as important and I was just happy to be there and a part of the space that we had." —Gwen P., Clara Barton High School (Brooklyn)
"It amazes me that throughout our boroughs there are youth who have the same interests as me and we were given the chance to come together." —Thiti D., Thomas A. Edison High School (Queens)
"Learning about the importance of voting. I always thought that voting was useless, but being at YVote helped me realize that voting power is very important when it comes to politics, and letting people know about this is extremely important." —Ma-Sadio F., the United Nations International School (Manhattan)
"I didn't canvass at all before Yvote and was shy to approach people, but once I was able to overcome that initial threshold, I've become a lot more confident in speaking to strangers about politics". —Jyotika A., West Windsor Plainsboro High School South (New Jersey)
And we had a FANTASTIC final presentation of the Next Gen Civic Action Projects at Grace Church School in May. This event was the culmination of semester-long group projects around democracy renovation, the criminal justice system, immigration reform, freedom of expression, and systemic racism and anti-Blackness—topics deliberated by our Civic Fellows during the fall semester.
"If you are interested in learning about something important in the country and world and you want to begin to make a change, you should join this program. The community is great and it is super educational and interesting." —Valentina K., The Spence School
"My forays into civic engagement and activism [in Next Gen] have not only allowed me to learn valuable skills but to tap into a network of civic organizers, officials, and journalists." —Judah F., Bard Early College High School
Our summer programs start SOON and we are eager and determined to make them positive, meaningful experiences for all participants. We hope you'll support our efforts to do this in the following ways: Make a donation to help us get a jump start on reaching our $10,000 fundraising goal this summer—more on this campaign to follow! We still have a few spots open! Forward this newsletter and/or our summer program applications to any youth who may be interested or folks who work with youth (teachers, parents, community based organizations).
Listen to Youth
Our blog writers penned thoughtful & timely pieces on government oversight this month:
And our The Round Table podcasters hosted excellent conversations with civil servants, activists, and researchers:
PS — Know a teen in the US who may be interested in joining our podcast team? Send them the application here. And we are always looking for fantastic podcast guests, so very much welcome introductions and recommendations!
May: "May" Democracy Flourish
Are you sitting down? Just 5.2% of 16 and 17 year olds in New York City are pre-registered to vote more than three years after the NY State legislature enacted a law allowing them to do so.
This compares unfavorably to the registration rate of 16.5% statewide which in turn compares unfavorably to pre-registration in other states. You can learn more about these unconscionably low statistics in last week's Gothamist article and related WNYC piece by the masterful Brigid Bergin and in a fascinating new report produced by our allies at The Civics Center. Bergin's piece highlights YVote as an organization committed to DOING something to address this systemic problem through our powerful peer-to-peer, issue-based approach. We KNOW our methodologies fuel motivation and mobilization and we know how much MORE we can do to promote effective civic and voter engagement with your support this summer.
We are gearing up for an action-packed season of programming including Democracy Camp, the Next Gen Summer Civic Fellowship, and Summer Change Makers Institute! Applications for all three are officially live and we encourage you to share with any high schoolers who may be interested as well as educators who can pass along to their students! Admission is rolling so the sooner youth apply, the sooner they'll hear back. Reply to this email if you want further information or have any questions.
Meanwhile, our spring programs are running full steam ahead. YVote Change Makers are preparing to get out the vote (GOTV) in partnership with the NYC Civic Engagement Commission's (CEC) first-ever city-wide participatory budgeting election, The People's Money (note: this is distinct from the City Council participatory budgeting elections conducted earlier this spring.) In preparation for conducting their own outreach in their schools and neighborhoods, YVote youth recently hosted an interactive workshop about youth-focused GOTV efforts for community-based organizations from 33 neighborhoods as part of the Taskforce on Racial Inclusion and Equity. Voting begins on May 10th and any NYC resident over the age of 11, regardless of citizenship status, can participate and help determine how $5 million is allocated to community programs and projects. Learn more about how you can cast your ballot to fund local projects here.
Our Next Gen Civic Fellows are devoting their time to deepening their understanding–and their proposed strategies for addressing–weighty issues of systemic racism, immigration, criminal justice, and democracy reform in their cross-school and cross-partisan Civic Action Projects. We would love for you to join us Sunday, May 21st 2-4pm ET in person or on Zoom for their project presentations! Sign up at www.tinyurl.com/NGPMay21RSVP Space is limited so please RSVP here ASAP.
I was honored to be a panelist for the League of Women Voters recent panel, Civic Education: the Building Blocks of Democracy. We'd welcome you to join us at two additional events focused on civic education this month. The morning of May 9th, I'll be speaking on a virtual panel hosted by the Forum for World Education. The discussion, titled "Civic Learning: What is it and why does it matter?," will explore civic-learning program evaluation and measurement. And on May 16th from 6-7pm, YVote Peer Leaders will host a booth at the Public Advocate's Education & Opportunity State of the People interactive reception.
Youth Leader Spotlight: Liana Reyes
This month, we are delighted to showcase an outstanding YVote Facilitator, Liana Reyes! In 2021, Liana founded a mental health club at her school in response to the pandemic. She joined YVote that following summer because she wanted to find more ways to educate herself on social issues like mental health and immigration while developing her leadership and advocacy skills.
"I was looking for a community where they could welcome my voice and civic engagement… YVote helped me overcome my fear of having controversial conversations [with family] and having an opinion on certain issues." —Liana
Now, Liana serves as one of our ChangeMaker Facilitators, helping design curriculum and co-leading workshops and Afternoons of Action. Her favorite YVote memories include our Day of Action spent canvassing for voter registration and the Vote Early Day Haunted House of Democracy YVote youth hosted at Lehman College last fall.
"It's easy for others to assume or hold stereotypes that teens are uneducated but I think the advocacy that is done, the Days of Action that we participate in with YVote, really help reassure others that we do have a voice in politics and we can use that in such an empowering way." —Liana
Liana is passionate about mental health, advocating for immigrant communities, and racial equity in the healthcare system. She plans to pursue a career in gynecologic oncology and will be attending the University of Rochester on full scholarship as a Bio Ethics major this fall.
What We're Up To
An exciting update from April—our team is growing! We're fortunate to welcome two outstanding new staff members to the YVote/NGP crew who will strengthen our programs and help us tackle our ambitious strategic plan.
Erin Barry, Associate Director of Growth and Partnerships
Erin Barry graduated from George Washington University with a B.A. in Political Communication. She is deeply passionate about uplifting underrepresented voices and empowering young people to create positive first experiences with politics and organizing. She has previously worked with groups like Rhizome, Progressive Turnout Project, Democracy Summer, and When We All Vote where she dedicated herself to training the next generation of organizers. In 2022, Erin was selected to attend the James Lawson Institute training on Strategic Nonviolence and served as a RISE Fellow with the Institute for Nonprofit Practice at Tufts University. She is a proud Chicana, avid Caps fan, and eager home cook who loves throwing a dinner party for her friends and family.
Toomi Al-Dhahi, Summer Program Director
Toomi (she/they) is a former classroom teacher, program facilitator, and teacher-educator working to create experiences that support people in understanding their power and potential. Toomi received her Bachelor's in Applied Sociology from Texas State University and their Master's in Sociology and Education from Teachers College, Columbia. Toomi grew up between the South and the Middle East, has a cat named Martie, and recently started doing pottery for fun!
We're thrilled to have them aboard and look forward to you getting to know them.
Last summer's programming was a huge success thanks to your support and we hope you'll continue to support YVote/Next Gen in the following ways:
Make a donation to help us provide summer programming for 150 democracy builders and future leaders this summer— and ensure that we have enough pizza to feed our teen participants' bellies as well as their brains!
Forward this newsletter and/or our summer program applications to anyone (students, teachers, parents, community based organizations) who may be interested in joining or partnering with us this summer!
Follow our youth-run social media channels! We'll be posting our summer program applications on Instagram, Twitter, Facebook, and LinkedIn at @NextGenPol and @YVoteNY
Listen to Youth
You can always find the youth perspective on our twice-weekly blog and by-GenZ, for-GenZ podcast.
Our blog writers covered a variety of interesting current events this month:
Our The Round Table podcasters continue to lead conversations about how we can be active citizens—from the campaign trail to the state legislature and beyond:
April: Spring into Democracy
"True talk is founded as deep as love in the constitution of our being, and is a thing to relish with all our energy while yet we have it."—Robert Louis Stevenson
We do indeed relish "true talk" at YVote/Next Gen Politics, supporting our youth participants in developing interest in, and commitment to, engaging in dialogue with people whose viewpoints and lived experiences differ from their own, learning the skills that contribute to healthy civic discourse, and providing ample opportunities to practice them.

They'll get to do so anew this month as they engage in conversations with a variety of elected leaders about the 2023 NYC Youth Agenda (check out our youth speaking about the Agenda on PBS' MetroFocus, aired March 21), with the NYC Task Force on Racial Inclusion and Equity (TRIE) tomorrow afternoon talking about how to get out the youth vote for the first citywide Participatory Budgeting this spring, with allies across the country through National Week of Conversation events the week of April 17, with guests on our podcast each month (this week our teen hosts will be speaking with NYC's Chief Engagement Officer Betsy MacLean), and most importantly with each other through our programming and peer to peer workshops we run for other organizations (check out Kenisha and Mukilan leading a fantastic workshop on "Civic Power for Civic Progress" for YouthBridge in March).

Our youth are also highly committed to drawing upon the perspectives of peers and intergenerational allies in understanding social issues. On Sunday, they engaged in skill building workshops on designing, executing, and analyzing surveys and focus groups. Civic Fellows would love YOUR responses, for ex, through responding to this 2 minute on structural racism and anti-Blackness and, if you have loved ones in high school, asking them to respond to this 5 min survey on free press in high school publications.

If you haven't yet guessed, April is National Youth Voice Month and, while EVERY month is youth voice month for us, we love the added impetus to uplift our young people's amazing voices and visions this month. Thank you for supporting us in doing so!
This month, we're excited to spotlight NGP/YVote youth leader Madeline Mayes!
Madeline is a senior at Fort Hamilton High School, in Bay Ridge, Brooklyn. She joined YVote ChangeMakers after her freshman year in the summer of 2020, upon realizing her 5000+ high school didn't offer any political or civic extra curricular opportunities (!).
Madeline quickly became an integral member of the youth leadership team, serving as a YVote Peer Leader, a Lead Civic Fellow, a member of our Social Media Creator Corps, and a podcast host of The Round Table. She was a pioneer member of our Cross-Partisan Civic Lab and helped inaugurate our Social Issues Cinema Club and actively participated every Saturday night of the pandemic. Madeline is also one of four youth participants on the Strategic Planning Team helping us architect how best to expand our impact.

Madeline says she's learned a lot from each of these different experiences, but especially appreciates connecting with and learning from those with different backgrounds and perspectives through our programs and on the podcast.
"[Interviewing conservative guests has] opened my perspective to think about people who are different than I am with more curiosity than just judgment."

One of her favorite experiences was her Freedom of Expression Civic Action Projects in 2021 & 2022, which collected data on first amendment rights and political expression in NYC high schools. You can read more about the project in this Education Week article which interviews Madeline and her group of Civic Fellows.

"[The data] ended up starting an even larger conversation about the societal and social implications of the school environment and whether systemically schools are encouraging expression or restricting expression."

Madeline plays on her school's Varsity Tennis Team and is a member of Senator Andrew Gounardes' Youth Pedestrian Safety Council. She plans to major in Linguistics with dreams of becoming a polyglot, already dabbling in several languages. Oh and it was her 18th birthday this past Saturday—Happy (belated) Birthday, Madeline! You make our organization and world a better place.
This weekend, we met with both our YVote Change Makers and our NGP Civic Fellows in a whirlwind of civic action and learning.
YVote Change Makers completed their democracy-themed short films for the Youth Collective Film Festival—fingers crossed! They were also joined by members of the NYC Civic Engagement Commission (CEC), who are leading the charge on the first citywide Participatory Budgeting (PB) campaign, The People's Money. YVote youth are now developing a media campaign and outreach plan to encourage youth (as young as 11!) to cast their ballots to select the PB projects of their choice this May & June—we'll share further information about this in our May newsletter before citywide PB begins on May 10.

Our Next Gen Civic Fellows are continuing to develop and execute their peer-led, issue-based Civic Action Projects (CAPs) around structural racism, democracy renovations, criminal justice reform, freedom of expression, and immigration. This past Sunday, they participated in workshops on conducting surveys and focus groups to gather key data on their topics. We hope you'll join us for their CAP Presentations on Sun, May 21 from 2-4PM—mark your calendar and sign up through the link in our May newsletter!

As you can see, we have exciting civic developments on the horizon but we need your support in order to be successful. We hope you'll considering supporting YVote/Next Gen in the following ways:
Make a donation to support increased opportunities for civic education. We are beyond ready to grow and meet the civic needs of more youth, but we need the resources to make it happen. Will you support civic learning?
Know someone ELSE who supports the strengthening of democracy through the development of this next generation of leaders? Forward them this newsletter and ask them to subscribe here. We'd love to add them to our list of supporters!
Amplifying youth voice is always a top priority at YVote/Next Gen. We encourage you to peruse articles from our youth blog writers and/or listen to episodes of our for-Gen Z, by-Gen Z podcast.
Our blog writers have penned thoughtful pieces on political and economic issues:
And our The Round Table podcasters have conducted some really fantastic conversations with a wide range of guests:
Politics is the Elephant in the Room with Michelle Blanchet, author of Preventing Polarization
March: Marching into Democracy
Civic Learning Week (yes, it's a thing!) is upon us and we're celebrating with a jam-packed month of democracy-themed YVote ChangeMakers sessions, the start of Civic Action Projects, Girl Scout advocacy workshops, and more! YVote Peer Facilitator Kenisha will also be speaking TODAY at 4pm ET as a panelist on Path to Bridging, a Civic Learning Week event to develop necessary bridge-building skills and dispositions to equip students to collaborate across different perspectives in K-12 spaces. Tune in to be inspired!YVote/Next Gen Politics deeply values civic learning—after all, we know just how the lack of investment in civic education across this country has deeply harmed our democracy.
We also know that civic education alone isn't enough; youth also need authentic opportunities and platforms through which to make their voices heard by those in positions of power.And our youth leaders sure DID make their voices heard loud and clear at our 2nd annual NYC Youth Agenda Policy Breakfast two weeks ago! Youth leaders across the NYC Youth Agenda Steering Committee organizations—YVote, Intergenerational Change Initiative (ICI), and Citizens Committee for Children (CCC)—presented key data from their fantastic Accountable to You(th) Report tracking the city's progress on the 2022 NYC Youth Agenda recommendations. They also unveiled recommendations for this year's Five Focus Areas: economic mobility, educational equity, environmental justice, housing security, and mental health. We would love for you to read the full 2023 NYC Youth Agenda and let us know what you think.
We were so pleased to be joined by—and hear public statements of accountability from—multiple elected officials across NYC's boroughs and representatives from city government offices critical to advancing this work. We invite you to listen to the statements of Public Advocate Jumaane Williams, Manhattan Borough President Mark Levine, and City Council Members Chi Osse and Althea Stevens to get yourself fired up for this work.Our youth are already planning next steps to ensure the recommendations in this agenda become reality and not just rhetoric. We look forward to collaborating with these officials, and to holding them—and ourselves—accountable as we work together to make progress towards a more equitable and just NYC. Please read on to learn more about how we are doing so. In Civic Solidarity, Sanda & Team YVote
This month, we're highlighting another NGP/YVote superstar: Jolina Jimenez!
Over the last three years with us, Jolina has participated in just about every program or initiative we offer. She's been a Next Gen Civic Fellow and Lead Fellow, a YVote ChangeMaker and peer leader, a blog contributor and editor, a guest on The Round Table podcast, a voice in our strategic planning process, and a member of our Speakers Bureau.
Jolina is also a youth leader with the NYC Youth Agenda Steering Committee and played a pivotal, and outstanding, role at the recent policy breakfast. She kicked off the breakfast on a strong note (with LOTS of energy at 8AM!) and presented recommendations for her focus area of education equity. Jolina says she already plans to come back for next year's policy breakfast, despite likely going to school out of state, because it's a favorite experience of hers.
"It's so tangible. We get to hear people's reactions to [the agenda] and see the progress around recommendations through data, right in front of our eyes. It's such a unique thing to actually have all your work come to fruition."
Jolina is graduating this year and plans to pursue a career in law, specifically as a public defender. She says that her participation in NGP helped her solidify this career path after participating in Civic Forums focused on public defense and the criminal justice system.
"I always knew I wanted to work with New Yorkers and the people in my community. When I heard an in-depth explanation of what a public defender was, it was like a switch clicked in my head."
Currently, Jolina is leading YVote & CCC's joint civic engagement and advocacy program designed for Girl Scouts' Middle School Cadettes. The scouts and our youth leaders have come together over the past five Saturdays to explore individual, community, and systems advocacy and to help them design and implement action plans addressing issues in their communities. See Jolina teach the basics of government to the Civic Cadettes here!
This weekend, we launched our spring Civic Action Projects (CAP) with the Next Gen Civic Fellows! Over the next three months, youth will work with partner organizations to dive deeper and develop more expertise around an issue covered during our first semester Civic Forums. Peer-led groups this year are formulating projects around structural racism and anti-blackness, democracy renovation, toxic partisanship, criminal justice reform, freedom of expression, and immigration. Stay tuned as we share their progress and please mark your calendars and plan to join us for their CAP presentations on Sun, May 21.
On Saturday, we also held our monthly Afternoon of Action with the YVote Change Makers. They continued their work on creating democracy-themed short films, specifically focusing on barriers to democracy, the role of education in strengthening democracy, and democracy's impact on immigration. We look forward to sharing the films on our website for your viewing next month, and as a coming attraction, you can enjoy photos from Saturday here.
We are living in complex and challenging times and it is an honor to support youth in rising to them. But we can't do so without your support. We ask you to consider supporting YVote/Next Gen in the following ways: Make a donation to support the success of our programming. We are at a pivotal moment of growth and we need to ensure our capacity can keep up! Will you help us make that happen this year? Tap our amazing young people for panels, peer-led workshops, and other speaking opportunities. Tune in today to see Kenisha WOW everyone as a youth panelist! Follow our youth-run social media channels! You can find us on Instagram, Twitter, Facebook, and LinkedIn at @NextGenPol and @YVoteNY. Like, share, or comment to amplify youth voice!
Couldn't make it to the Policy Breakfast? Check out this extensive video from it. You can also hear from our YVote/Next Gen youth in other ways! Spend some time checking out their recent blog posts and podcast episodes below.
Our blog writers have produced posts covering political topics at home and abroad like:
And our The Round Table podcasters were joined by some fantastic guests this month. Listen to our recent episodes including:
February: State of the Youth(nion) 2023
Tonight we'll hear from President Biden as he gives his second State of the Union address to Congress, opining on the country's economic status, confirming our commitments to Ukraine, or perhaps hinting at a re-election run. But will the topics Biden speaks about matter to our nation's youth? Will they invigorate and inspire the most diverse and fastest-growing segment of the electorate? They probably would more so if he consulted youth in the speech-writing process!
At YVote/Next Generation Politics, we strive to include youth voice and perspectives in ALL of our decision making, from our peer-led programming, youth-run blog, and youth-hosted podcast, to youth participation in our strategic planning process, to youth leadership in our city-wide coalition work. We don't just provide programs to inspire and equip youth to make a difference in their communities, we create active opportunities for this generation of youth leaders to influence local decision making and make their voices heard.
Join us on Tuesday, February 21 to experience this work in action at our second annual NYC Youth Agenda Policy Breakfast with the Citizens' Committee for Children (CCC) and CUNY's Intergenerational Change Initiative (ICI). Through analyzing ICI's 2022 Youth Ask Youth Census, which surveyed thousands of youth about their concerns and priorities the city; hosting policy generation events like Walking In a Winter Dataland and New Year, New You, New Youth Agenda; and having engaging conversations with hundreds of youth from all over NYC, our youth have consolidated five focus areas for our 2023 policy recommendations: economic mobility, educational equity, the environment, housing, and mental health. RSVP for the Breakfast here.
I hope you'll take a few minutes to peruse the rest of this newsletter as it highlights our fantastic youth, the work they are doing, and the issues they care about. And as you tune in to tonight's speech (or catch the highlight reel tomorrow), consider how it does and/or doesn't fully address the real concerns of today's youth, why that matters, and what we can do about it together.As always, we are endlessly grateful for your support as we work towards a more inclusive, representative, and just democracy. Here's to continuing this work together in 2023! In Civic Solidarity, Sanda & Team YVote
In December, we launched a new section of the newsletter to showcase our inspiring youth leaders. This month, we're thrilled to shine a light on the multi-talented Sonja Aibel.
Sonja joined YVote last summer for the Summer ChangeMakers Institute and our inaugural Democracy Camp. Over the past year, Sonja has quickly become an outstanding youth leader in the organization—no surprise to anyone who knows them! Sonja is now a YVote ChangeMakers peer leader, in the NYC Youth Agenda Steering Committee and part of the Community Boards working group, a member of our Speakers Bureau, and serves on the YVote Social Media Creator Corps.
"A lot of change takes place on social media. Things go deeper than likes or follows. That can turn into protests or legislation or action. The ways that young people organize might be different from previous generations but they aren't any less valid and worthy of attention."
As if their YVote-related work isn't more than enough to keep anyone busy, Sonja has also worked on political campaigns over the past two years (including as the Youth Leader for Dianne Morales' mayoral campaign). Sonja says what makes YVote unique is that "it gives a lot of decision making power to the young people in its programs."
Sonja is a junior math major at Brooklyn Technical High School. They care about electoral reform and plan to pursue a career combining their interest in politics and technology.
We kicked off the new year with two spectacular Civic Forums! January centered on Modern Crime and Punishment and youth heard from guests Lucy Lang, New York State's Inspector General and Matthew Wilson, Division Manager of The Petey Greene Program, after which they engaged in deliberation around parole for people who have committed violent crimes. This past weekend's Forum focused on Perspectives on Immigration, featuring Andrew Arthur from The Center for Immigration Studies and Felipe De La Hoz from Border/Lines and the CUNY Graduate School of Journalism. Fellows grappled with who should get to come to America and through what processes. Both Forums sought to highlight divergent and complementary perspectives and life experiences to illustrate the complexity of the issues–and what needs to be taken into account to create inclusive solutions. Our Fellows are now launching their cross-school Civic Action Projects (CAPs) to apply what their learnings to authentic project-based learning experiences around political topics of their choosing, from democracy renovation to overcoming toxic partisanship.
Our YVote ChangeMakers have been focusing on the power of storytelling and its relation to successful advocacy efforts. This past weekend, they began creating short film projects around the theme "democracy" for the Youth Collective Film Festival—photos/videos of them at work here—and this afternoon they'll be in a workshop focused on giving testimony in political and personal contexts.
We are currently engaging in an ambitious strategic planning process and beginning to put those plans into action! And mighty though our youth are, we cannot do it alone. We appreciate the many ways you support Next Gen Politics/YVote and ask you to consider: Making a donation to support the success of our programming in 2023. Your support made it possible for us to grow last year—expanding our program offerings, bringing on full time hires, and more. Will you help us continue this progress? Tapping our amazing young people for panels, peer-led workshops, and other speaking opportunities. Did you know we have a Speakers Bureau of thoughtful, articulate, and passionate youth as well as trained peer facilitators who can run various workshops available for wide-ranging audiences? Contact us! Following and engaging with us on our youth-run social media channels! You can find us on Instagram, Twitter, Facebook, and LinkedIn at @NextGenPol and @YVoteNY. Sharing our content on these platforms takes only a few minutes but greatly amplifies our impact and exposure!
We all value the idea of youth voice but how often and how deeply are we listening? We invite you to spend some time reading our youth's latest blog posts and podcast episodes below!
Our blog writers spent the first weeks of this new year producing politically-minded and inquisitive posts like:
And our The Round Table podcasters were joined by outstanding guests this month. Listen to our recent episodes including:
Late December: Help us make democracy merry and bright…give the gift of democracy
Hard to believe there are just FIVE days left of the year–and of our fiscal year! 2022 was a big year, for our country and for us as an organization, as YVote/Next Gen Politics turned FIVE and undertook more than ever before. We:
And so much more. Check out our 2022 YVote Wrapped for more fun statistics (we think it's more riveting than anything Spotify serves up!)
None of this would have been possible without the support of donors like you. We deeply appreciate the various ways you invest in our efforts.
Our youth do too! At our Afternoon of Action/Holiday Party earlier this month, several of our YVote ChangeMakers shared their appreciation of what YVote means to them. Please check it out!
[INSERT this wonderful one minute reel].
Ummul, Shreeya, Annalise, Trish, Ananna speak for hundreds of youth whose lives you have enabled us to touch and whose civic identities you have enabled us to fortify.
Please check out this lovely profile on us that the Brooklyn Community Foundation—our newest funder—just published. We're excited to be part of BCF's Invest in Youth cohort–and we hope you too will invest in us and/or encourage others to do so.
We're very proud of what the youth we've worked with have accomplished this year (you're welcome, midterms!) AND we need to continue to expand our funding in order to capitalize on the ambitious goals we are developing through our strategic planning and to address the needs of our country and world for a generation of informed, engaged citizen-contributors.
We are simultaneously keenly cognizant of the accomplishments of our democracy AND the areas of pressing need. For example,
None of this is a surprise–and you can bet your bottom dollar we'll be doubling down in targeting these critical issues and vital populations of prospective voters.
And speaking of your bottom dollar, we are striving to raise $3,500 before our fiscal year ends on Saturday night and would relish any amount you can donate in support.
Further, we would deeply appreciate any outreach you can do to your friends and loved ones during this time of end-of-year giving. We know that you and others are inundated with such asks at this time of year (we didn't reach out on Giving Tuesday for that reason!)– and we know that a personalized request made by you, perhaps forwarding this email with your endorsement, would make a huge difference.
Thank you again for all you do and very warmest wishes throughout this festive season and the last stretch of the year!
Mid-December: We Have Someone Special We Want You To Meet
The holiday season is upon us and we hope you all are finding time to celebrate civics as much as we are! This past weekend, YVoters past and present gathered at our annual holiday party to reconnect with friends, destress after tough school semesters, engage in Gingerbread House Challenges, and commit to civic and advocacy resolutions for the new year—done MadLibs style!The holiday party made clear that what sets us apart at Next Generation Politics/YVote —and what gives us hope about the prospects for generational change—are our extraordinary youth leaders. In 2023, you'll see a new section of our monthly newsletter shining a light on their work with us and sharing their stories with you, our valiant supporters.We're kicking things off with a special holiday sneak preview featuring our magnificent Mia Payne.
Mia making recommendations to candidates at the Mayoral Youth Town Hall in 2021.
Mia has been an active part of YVote since the summer of 2020, joining in the wake of the killing of George Floyd with the desire to develop the skills and knowledge to break generational patterns. As a YVote ChangeMaker, Mia participated in criminal justice and environmental justice action groups, two issues especially important to her growing up in the Bronx.Since then, Mia has supported YVote's ChangeMaker Institute as a peer facilitator, served as one of four youth co-chairs on the education transition committee for Eric Adams' administration, and currently represents YVote on the NYC Youth Agenda Steering Committee, through which she is leading the design of a Digital Civic Hub."Even if you can't vote and even if you feel like you don't have a voice, I'm going to try to help you… And let your representatives know that each person has power no matter where they are in their civic knowledge." —Mia
Mia takes the stage to answer questions about the NYC Youth Agenda at our 2022 Policy Breakfast
Earlier this year, Mia was a panelist for "Youth Civic Participation: More than Just Voting," a virtual discussion hosted by The Washington Center, Ford Hall Forum, Suffolk University's Political Science & Legal Studies, and the WGBH Forum Network. The discussion explored why voter turnout among youth is historically lower than other age groups.
Mia talking about how to overcome barriers to civic engagement.
Mia shared her own experiences with civic engagement, especially through her participation in YVote, and ideas for how the sector can do a better job of reaching and involving youth in these processes. She knocked it out of the park, wowwing the audience and her fellow panelists alike. We encourage you to watch her insightful and powerful comments on the importance of youth civic engagement.
Mia discusses the importance of meeting young people where they're at.
Mia has just completed her first semester as a civil engineering student at University of Illinois Champaign Urbana, while staying active in YVote remotely. There's a lot she's looking forward to in her studies and her civic work, but Mia is especially excited about her participation on the NYC Youth Agenda Steering Committee and helping increase civic opportunities throughout and beyond New York City, especially for students who have been left out and left behind."It's so important… Making [civic resources and opportunities] accessible to all of New York City's students and families and just people that really have no idea how important their civic duty and their civic knowledge and civic awareness is." —Mia
Mia (center) with current and former YVote leaders at our annual holiday party last Saturday!
YVote works to ensure equity and access for youth from all backgrounds, which is why we offer stipends for participants and leaders in many of our programs. We aim to expand our youth-led programs in the new year to meet increased demand, but we'll be honest… it's costly.Will you make a special contribution so more youth like Mia can participate in YVote?
Yes, I'll contribute!
THANK YOU for your historic support of our critical civics work! We are excited to continue strengthening our democracy together throughout the year(s) ahead.In Civic Solidarity,Sanda & Team NGP/YVotePS — Love listening to perspectives like Mia's? Check out our youth-led podcast, The Round Table, which was in the top 5% of podcasts shared globally AND the top 25% most followed podcasts. See more of our Spotify Wrapped statistics here.
Celebrating civics in style! More shenanigans from the YVote holiday party.
December: It's beginning to look a lot like democracy… Everywhere our Civic Fellows go!
While we couldn't quite bring ourselves to title this newsletter a "Divisive December" (we are ever-the-optimists over here!), it would be appropriate given the ongoing state of affairs. Our schools are sadly caught in the crossfire: a new report, Educating for a Diverse Democracy: The Chilling Role of Political Conflict in Blue, Purple, and Red Communities, revealed that 7 in 10 high school principals experienced conflicts over hot-button political issues in the last academic year. 70%! The survey also found that half of principals are facing pressure from parents and community members to limit lessons on race, racism, LGBTQ-inclusive policies, and social-emotional learning.
These forces can lead school leaders to shy away from fostering or even allowing these conversations in classrooms. Yet as we all know, ignoring societal problems or political debates is never the solution. That's why the work we are doing at Next Generation Politics/YVote to create space for these conversations is more important than ever.
We're grateful to have the opportunity to engage youth across New York City and around the country in grappling with thorny political issues on a deep level. Our two most recent Next Gen Civic Forums have been resounding confirmation that young people not only want to discuss these issues but that their fresh perspectives are full of empathy, a desire to understand, and a keen eye towards intergenerational solutions.
In October, our Civic Fellows participated in a Forum centered on Structural Racism and Repair. Amidst rampant divisions around race in the US, with wars around teaching critical race theory front and center for students, we wanted our Fellows to look more closely and more deeply at what structural racism is, how it manifests, and what they—as the rising generation of civic leaders—can do about it.
Civic Fellows began their time together participating in a "human barometer" activity, literally and figuratively sharing "where they stand" on provocative issues related to race. Enjoy these insightful comments shared by just a few of our Fellows during the activity:
"While there was a lot of work done for diversity, equity, and inclusion… a lot of it seems to be almost more of a front and there are still so many underlying issues in our country that we need to get through." — Amalie
"At its heart, [wokeness] is truly not actually hurting anyone. Whereas white supremacy is extremely harmful, people die because of white supremacy, people are persecuted for their entire lives because of white supremacy." —Hudson
"While I think reparations are long overdue, I don't know if it would fix structural issues. There are also challenges like whether or not you can even put a price tag on trauma." —Caroline
Forum Speaker Steven Becton, Chief Equity and Inclusion Officer at Facing History and Ourselves–and NGP Board Member–engaged Fellows in a fascinating exploration of the construction of race in the US, white supremacy culture and how dominant narratives shape policy, as well as constructive levers for combating this narrative at individual, communal, and system levels. Dr. Becton encouraged Fellows to question narratives around race and grapple with their own roles in perpetuating them.
Civic Fellows ended their session by deliberating draft bill HR 40 to Study and Develop Reparation Proposals for African-Americans. They proposed additions and edits to the bill, providing their own measures to address the consequences of past and current policies that have upheld white supremacy. Powerful powerful stuff–which you can check out below.
No doubt you've heard that Gen Z played a major role in determining the outcomes of several races in this year's midterm elections (our Kenisha was interviewed in this piece and YVote was nicely featured in this one!)–and likely will again today in Georgia. We're exhilarated that the youth voter turnout rate for the midterms was the second highest it's been in the past 30 years (27%). That said, there is still deep work to be done, especially as state legislatures move to further suppress the youth vote, which we are seeing in Texas, Montana, Missouri, Arizona, and Georgia.
Fortunately, our Next Gen Civic Fellows have solutions. Our November Civic Forum focused on Democracy Renovations, exploring ideas to bolster American democracy and make it more transparent and representative. They interacted with Brittany Buford of Partners in Democracy, who shared PiD's vision for achieving justice by means of democracy and what it looks like to see and shape a healthy 360° democracy.
Fellows examined recommendations made in the Our Common Purpose: Reinventing American Democracy for the 21st Century report and came up with concrete and compelling plans for reaching them. Please listen to and be inspired by their recommendations for saving democracy:
Throughout November, our blog writers have produced relevant and thought-provoking posts like:
Our The Round Table podcasters have conversed with wide-ranging guests this month. Check out recent episodes including:
If you have a suggestion for a fantastic podcast guest, or a theme you'd like us to cover, please send our way!
2022 has been an exciting, and expanding, year for NGP/YVote and we have big plans to continue that progress in 2023! But we need your support in order to make our plans into our collective reality. We encourage you to:
Make a donation to support the success of our programming as we head into the new year. Your support made it possible for us to grow this year. Will you help us continue that growth as we start this next chapter?
Share our work with a friend or colleague. We understand not everyone may be able to give right now, but we hope you support our work enough to share with others! Forward this newsletter to those in your circle who support civic education and youth participation.
Follow and engage with us on our youth-run social media channels! You can find us on Instagram, Twitter, Facebook, and LinkedIn at @NextGenPol and @YVoteNY.
Tap our amazing young people for panels and peer-led workshops. As the civic forum videos above make clear, our young people are incredibly inquisitive and insightful about social and political issues–and they are primed to inspire peers and intergenerational allies!
As always, THANK YOU for being part of the movement this year and for considering further support as we build a healthier and stronger democracy together.
November: A Newsworthy November
To state the (hopefully!) obvious: Election Day is only ONE week away!
With our fall programming for Next Generation Politics and YVote actively underway, and many exciting and rewarding events taking place (keep reading!), we have had an especially busy month. But no amount of busy-ness can keep us from doing all we can to get (young) people to the polls over the next seven days of Early Voting and on Election Day. We hope you too will commit to doing all you can to get everyone YOU know to turn out on or before next Tuesday as well–let us know if you want tips for doing so! Here, here, and here are just a few to get you started.
Early voting opportunities are already available in most places (including NYC!) so please take advantage of that convenience and don't risk the long lines on November 8th. If you haven't yet researched your ballot, we encourage you to use these helpful national nonpartisan voting guides.
Last week, YVote partnered with Lehman College's Student Government Association to host a Haunted House of Democracy celebrating Vote Early Day in the Bronx. Our YVote Change Makers led Lehman College students through spooky, election-themed rooms such as the "mad science" of voter suppression, "scary" low voter turnout rates among Bronx youth, and "skeletons" of democracy.
The event was a huge success! This was Lehman College's first in-person evening event since the start of the COVID-19 pandemic and over 200 students attended our Haunted House of Democracy. Throughout the night we were able to share important information about youth voting rates in the Bronx, assist students in making plans to vote early in this year's election, and even register (and pre-register!) students to vote in future elections.
Reaching potential voters in the Bronx is especially important as voter turnout there is historically lower than the citywide average. Further, early voting, which is a relatively new option in New York, has seen low participation rates since its implementation. Relatedly, the state of youth voter registration in NY is problematically low: 38.4% of New Yorkers ages 18-29 are not registered to vote. With an estimated 78,000 city residents turning 18 and becoming eligible to vote in 2022, mobilizing youth voters can really make a difference in this and all future elections!
The event was made possible through a $5K Vote Early Day mini-grant awarded to YVote by MTV through a competitive grant process. You can learn more about this civic holiday here and read more about our event which was featured in The Bronx Times.
Last month, we had the honor of attending SparkYouth NYC's 2022 Awards Benefit. SparkYouth invests in nonprofit organizations like ours to build infrastructure, increase sustainability, and expand our reach to more of the city's youth. YVote was honored to be selected as a one of 14 youth-centered program partners in SparkYouth's 9th cohort, and we were further thrilled to have our Kenisha Mahajan highlighted as an exemplary youth leader (we agree!)
Kenisha has been a part of YVote since her freshman year, rising through the ranks as a peer facilitator in our ChangeMaker Summer Institute, our Political Organizing and Education track, and our Democracy Camp and is now serving as co-lead facilitator for our school year YVote programming. We are particularly proud that Kenisha has influenced her immigrant parents to vote and become politically active as soon as they became eligible last year.
As always, our blog writers have produced incisive and illuminating posts like:
Our The Round Table podcasters continue to turn out thoughtful and engaging episodes like:
If you have a suggestion for a fantastic podcast guest, or a theme you'd like us to cover, please send our way!
We are in the midst of an in-depth strategic planning process–and we need your support in order to continue to grow and thrive. We encourage you to:
Start your end of year gifting early and donate to support the success of our programming. As you can see, we're off to a great start BUT with more students than expected participating in our stipended YVote ChangeMakers program (a good problem to have…) we need additional support to make their experience the best it can be. Whether you can spare $5, $50, or $500, it makes a difference!
Share our work with a friend or colleague. With election season coming to an end, we hope many voters are looking for ways to stay civically engaged beyond Election Day. Help them (and us!) by forwarding this email and spreading the word about our organization so we can reach a wider audience of supporters.
Follow and engage with us on our youth-run social media channels! You can find us on Instagram, Twitter, Facebook, and LinkedIn at @NextGenPol and @YVoteNY.
As always, THANK YOU for your generous support to date and for considering further support.
October: The Energizers of October
With just five weeks until the 2022 Midterm Elections, we hope you are making a plan to participate as well as getting everyone you know–and many you DON'T yet know–to the polls! This week is National Voter Education Week. It's the perfect time to check your voter registration status, look up your state's absentee ballot procedures, and locate your polling place for Election Day.As the country gears up for the election, we at Next Generation Politics/ YVote are gearing up for an exciting year of our powerful youth-led programming. Thank you to all of you who shared our 2022-23 NGP Civic Fellowship and 2022-23 YVote ChangeMakers applications with your networks. Our goals of reaching students far and wide doesn't happen without your outreach and we were thrilled to receive a super abundance of applications from a very broad array of interested high schoolers.This week, we welcome a new cohort of Next Gen Civic Fellows and YVote ChangeMakers! 50+ New York-based Civic Fellows met in-person for a full-day Civic Orientation on Sunday, led by 15 experienced peer facilitators. The energy levels were high as Fellows worked on community building and skill-building in equal parts. They reflected on how their identities inform their perspectives–and how to engage respectfully with peers from very different backgrounds; investigated 'We the People' and the very American themes and tensions within the Constitution through deep reading of the Preamble (yes, we gave each Fellow a pocket Constitution) and how the foundational tensions are playing out today; and learned the principles of effective civil discourse, applying them to an in-depth deliberation of recent New York Times article The Safe Space that Became a Viral Nightmare. It was, in short, glorious.
Fellows outside NYC will convene this Sunday, Oct 9 for a Zoom-based Orientation, after which the full national cohort will meet for monthly Civic Forums on Sundays. Our next Civic Forum will focus on Structural Racism, Critical Race Theory, and Reparations on Sunday, Oct 30 featuring Dr Steven Becton, Chief Equity Officer of Facing History and Ourselves.
TONIGHT 50+ YVote ChangeMakers will come together for their kickoff workshop of the semester—a dozen peer leaders have been hard at work preparing for them over the course of September (check out some of their prep here.) Our ChangeMakers will meet regularly for youth-led sessions on Zoom as well as for in-person Days of Action one Saturday a month. We were delighted to be awarded a $5K mini-grant from MTV through a competitive process for our proposal to create and host a "Haunted House of Democracy" to celebrate Vote Early Day on Friday, October 28th in the Bronx. What could be better than an opportunity to dress up, get candy AND voter information, and go through rooms exploring skeletons of our civil society, scary low youth voting rates, and tricks and treats of our democracy in order to activate young people in the borough with the lowest voting rates—and the most to gain—in New York City! Stay tuned for photos next month.
September: Make It A September to Remember
Our YVote Health Justice Group did Tarot Card readings to illustrate impacts of the opioid crisis for adult attendees of our Civic Expo
Last week, President Biden made a rare 24 min prime-time address on TV, from Independence Mall in Philadelphia, warning that America's democratic values are under assault by forces of extremism loyal to former President Donald J. Trump and defining the midterm elections as a "battle for the soul of this nation." Concerns about the state of our democracy are constantly on our minds at YVote/Next Generation Politics. Desire to fortify the rising generation of democracy builders has fueled our summer programming, from our inaugural Democracy Camp through our YVote ChangeMaker Summer Institute to our Next Gen Summer Civic Fellowship.
We were fortunate to work with hundreds of teens this summer tackling some of the foremost challenges of our time, from voting rights and youth voter engagement to cancel culture to immigration reform to reproductive rights. We ended the YVote ChangeMakers Summer Institute with a boffo Youth Civic Expo–check out photos here and here and a highlight video here (plus a bonus full Opening Ceremony here for our super fans 🙂
We were heartened by how positive their responses were to the very challenging content they grappled with, as expressed in glowing end of summer feedback. A few of many, many great quotes include:
"If you're interested, even the slightest bit, in improving your community, school, or even certain policies, YVote is the best place to start!"—Shreeya Thakur, John Dewey High School (Gravesend, Brooklyn)
"I looked forward every Tuesday to the thrill of coming to YVote. I enjoyed connecting with others as well as sharing similar passions. It's such a beautiful feeling to gather ideas together and become close friends with the people in my justice group."—Annana Das, Queens Gateway to Health Sciences Secondary School (Jamaica, Queens)
"Democracy Camp is one of the best opportunities I have taken up. You can enter not knowing much and leave with so much more knowledge. The fun activities we do keep us engaged and wanting to keep on learning more instead of feeling like we are learning in school." —Rizwana Uddin, Scholars Academy (Far Rockaways, Queens)
"Power mapping allowed me to identify the major stakeholders and learn that I need to focus my efforts on these stakeholders to actually make any change in an issue."— Jo Aggarwal, West Windsor Plainsboro High School South (Mercer County, New Jersey)
No, these aren't really lawyers, judges, or bailiffs (yet!). Our Criminal Justice Group held a mock trial to explore systemic injustices in the U.S. criminal justice system.
Beyond our summer programs, we are so, so proud of the thoughtful, reflective articles our teens wrote and published for peers and intergenerational allies in our blog throughout August, including What is the Supreme Court thinking?!?; "Don't Say Gay": The Undermining of a Community; Stars, Stripes, and Our Rights: The Value of Becoming Informed Members of Society; Religion vs. My Faith: The Way Hinduism Altered My Perspective; and Abortion, Asexuality, and So Much More: My Reflective Story on Biases. Pieces like these are critical in fostering civic sense-making.
We welcomed aboard a new podcast team this summer, with new teen podcasters hailing from Iowa City to St Louis, MO to New York City and recorded great episodes like Don't Close the Door Behind You with immigration and asylum attorney Claire Thomas; Imagine What We Could Do If We Brought Everyone Together Around a Dinner Table with founder and CEO of The Civic Canopy Bill Fulton; The Learning Comes in the Struggle with Chief Innovation Officer of the National Association of Independent Schools Tim Fish; The Restorative Power of Taking Pictures with activist artist Cindy Trinh; and Anything That's Good for the People Is Good for the Soul with YVote alum and youth lobbyist Meril Mousoom. If you have a suggestion for a fantastic podcast guest or a theme you'd like us to cover, please send our way.
Our Gender Justice Group enjoying the afterglow of Game of Life: Uterus Edition
As we head into a new school year, we've got a fantastic array of programs rolling out, from year-long Democracy Projects undertaken by our Democracy Campers to our YVote Pizza and Politics Forums, Peer Leadership Program, and (Satur)Days of Action to our Sunday Civic Fellowship. We're also working on a number of exciting new initiatives, most excitingly:
Designing and facilitating a series of workshops for Community Board members focused on showcasing the power of young people and forging intergenerational alliances to advance outcomes for districts and New York City at large, in collaboration with the Citizens Committee for Children and the Intergenerational Change Initiative at CUNY.
Cultivating a youth civic ecosystem in New York City to deepen young people's knowledge of the electoral system and its impact on their lives and extend their civic participation between election cycles, in collaboration with Do Something.
The Climate Justice group shows off their water pong skills to shine light on the climate crisis.
We are thrilled to welcome two fantastic two members to the team as we expand and enhance our work:
Katie Hetlage, Communications, Development, and Operations Manager
LaTroya Lovell, Program Manager and Research Director
We could not be more excited to welcome them aboard and look forward to you getting to know them better in newsletters to come.
We would LOVE your support as we work to expand and enhance our work this fall and beyond. Please
Our work to educate and invigorate young people about the importance of voting and civic participation, at and beyond the ballot box, has never been more important. THANK YOU for being part of the movement, and for considering further support.
Our Racial Justice group led participants through an exercise on privilege and racial identity.
August: The Lights of August
Divine, Katrice, and Chris-Ann–three of our founding YVoters who have been with us as participants and facilitators for five years–know how to celebrate the power of voting
It's a season of stars. Civic stars. While it can be hard to look up and see stars in the sky in New York City, it's not hard to look out and see civic stars in our summer programs–Democracy Camp, YVote ChangeMakers, and the Next Gen Civic Fellowship–as well as amongst our teen bloggers, podcasters, and Social Media Creator Corps. At a time when some of our fundamental rights are on the chopping block, we're heartened that so many young people are stepping up to the plate to spend their summer working to build the knowledge, skills, and networks necessary for systemic and sustained generational change.
We're inspired by our participating youth and think you will be too. Please check out our inaugural Democracy Camp participants and their photos and quotes about what drew them to the program here. It's fortifying to read the words of participants like Begimai Djumagulova, who notes "As part of this new generation of to-be voters, I recognize many of my peers are reluctant to vote. It feels as if everything we do, including voting, will not amount to any real change. What interests me about Democracy Camp is that we are working towards abolishing the mentality that we, as individuals, don't have any power, because we do." Each of them sparks hope and commitment to sparking change.
The bright, bold faces of democracy
We launched YVote in the summer of 2017, concerned about what had led to the 2016 election and committed to engaging young people in understanding and investing in government and electoral politics. We celebrated our fifth year anniversary this July in civic style, launching our inaugural Democracy Camp–please peruse photos and videos from the week for a taste of the fabulous flavor here. Democracy isn't strengthened in a week of course, and our democracy builders will stay together and work on Democracy Projects for their schools and communities over the course of the year (and beyond.)
We were delighted to welcome alums from across the years back for a boffo Fifth Year Reunion Party and Alumni Awards. Check out photos from the FANTASTIC event here. With our partners at Hot Paper Lantern, we're working on a digital Year(s)Book capturing images and stories from over the years–stay tuned for it this fall.
We loved reconnecting with YVoters from our early years at our 5th Year Celebration
We emphasize both voting and voice–and the connections between the two–in our work, and throughout July, we've published powerful, personal articles written by our Next Gen Summer Civic Fellows include My Evolution of Thought: How I Learned to Bridge My Political Divide; Polarization: Growing Through Ideological Strife; Social Construct, Political Irrelevance, and Me; Does the U.S. Immigration System Truly Help Immigrants?; Easily Palatable; Balancing Privilege and Identity; Does Period Poverty Exist in the United States?; Solitary Confinement: What Are the Ethics Behind This Moral Issue?; A First Experience with Voter Suppression; and Be Heard!
Our teen podcasters continued to tackle thorny cross-partisan issues of our times, including Democrat is the Default exploring conservatism on college campuses; Go To People You Disagree With To Find The Maps with the founder of the Log Cabin Republicans; To Have a Choice Filled Life with innovative educator Dr Zackory Kirk; Being an Artist is Being an Observer of Life with impact artist Jade Zaroff; The Best of Both Worlds: Electoral College Reform; and Voting Should Be a Stimulant for Democracy with executive director of 18byVote Ava Mateo
It's been an action-packed summer and lots more lies ahead, including a Day of Action canvassing in Central Harlem with the NYC Public Advocate's Office in advance of this August's (confusing) second primary in New York! How can you support our young people's efforts? We're so glad you asked! Please:
Join us for a YVote Youth Civic Expo on Tues, August 16 from 5:30-7:00 PM at Beacon High School at 522 W 44th St! You'll have the opportunity to engage in discussion and build knowledge through interactive explorations of climate justice, criminal justice, gender & reproductive rights justice, health justice, and racial justice. Through youth-led activities like Game of Life: Uterus Edition, Climate Policy Monopoly, and more, the evening will focus on how to collectively ensure young people's voices are heard and acted upon and how intergenerational alliances can be forged and strengthened. We would absolutely LOVE to have you join us and for you to invite as many civic-minded folks as you can to be in conversation with our youth. RSVP at www.tinyurl.com/YVoteCivicExpo
Donate to support the very significant costs of this summer's programming and events. You can:

Help us buy Make Them Listen-Vote t-shirts for our youth to wear at our Youth Civic Expo
Provide pizza for our democracy-builders after a long day of street canvassing
Help pay for the socially-distanceable spaces we've needed to rent this summer
Help underwrite the onboarding of incoming youth leaders of our blog, podcast, and Social Media Creator Crew
We recently learned that over ⅓ of nonprofits don't survive through their first five years. We are so, so grateful that through our hard work and your vital support over the years, YVote and Next Gen have not only survived, we are poised to expand our impact in profound ways over the years ahead. Thank you for believing in us, partnering with us, and investing in us.
Democracy Camp Participants hamming it up in front of the DemocraTree of root causes of wrongs and how to right them
July: Some Good News for Democracy
The first night of Democracy Camp gets two thumbs up from participants
It's a tough time for democracy. The last thing any of us needs is further enumeration of all the things that are going wrong or all the things to be scared about. Instead, I'm thrilled to be able to share some things that are going RIGHT and for us all to feel hopeful about.
On Monday night, 40 youth from across 31 high schools converged for the first night of our weeklong inaugural Democracy Camp in New York City, which we are prototyping to scale nationally. Chosen to reflect the demographics of our democracy as best as we can, over the course of the week our Democracy Fellows will grapple with vital questions facing our fragile and fraught democracy:
How do WE define democracy?
What will it take to make democracies more responsive and resilient, and to build a broader community of partners committed to global democratic renewal?
How do we best and most equitably operate within an imperfect democracy?
What do we do when the Supreme Court, meant to be a neutral nonpartisan barometer of the populace, no longer reflects the views of the majority of the American people?
What results must democracy deliver for people to find it viable?
What role have young people played in democracy historically and how is young people's participation playing out today?
How do we build commitment to, and capacity for, democracy-building amongst the rising leaders of GenZ (and beyond)?
What role does media coverage and media literacy play in our relationship with and understanding of democracy?
How does your identity interact with or inform your participation and/or relationship with/to politics?
How do we engage in respectful discourse across differences?
Not easy, any of them, especially this week. And yet these stalwart young people headed to Herald Square on a rainy night, just hours after their last day of school (thanks for a Monday finish, NYCDOE!) to put heads and hearts together to grapple with these matters in deep and complex ways throughout the coming week and the coming year, as our Democracy Fellows have signed on to each create Democracy Projects with peers for their communities.
Tonight, we punctuate the week with our YVote 5 Year Celebration and Reunion with 100 YVoters from across the years joining us to toast (with sparkling cider!) to YVote's past, present, and future–and to the role they can play in shaping that through their and their peers' individual and collective power. We'll have a Voto Photo Booth, a YVote Time Capsule, and so much more. We can't wait to hear about all that our alums are doing in and beyond college–and to bluesky all they WILL do as they support one another in continuing to build the skills, knowledge, and networks to influence civil society.
This week is exhilarating —and expensive! Please help us shoulder the costs by making a contribution TODAY to celebrate Democracy Camp and our Five Year Anniversary.
It's not easy to grow a civic learning initiative from the ground, as we did on the heels of the 2016 election. We recognized, and committed to, engaging and enfranchising young people to shape a different future. Now we are thriving and poised for significant growth and expansion, which we couldn't have done without your support in so many ways. THANK YOU for an amazing first five years and we look forward to blazing the trail towards our next five together!
June: A Meaningful Midpoint Between Democracy and Despair
Help tip us towards democracy
Chancellor David Banks meets with The Youth Agenda Steering Committee at Tweed
It's hard to believe that we are almost halfway through the year, and at a crossroads on many fronts. May was a heartbreaking month, starting with the Supreme Court leak about the anticipated overturn of Roe v Wade (despite a significant majority of Americans supporting it) through a mini epidemic of mass shootings– at least 246 already this year (it's only the 158th day of the year…) and 13 just this past weekend, all amidst the ongoing devastation of the Russian war on Ukraine, the challenges of inflation, redistricting disappointments in New York, and general anxiety about the overarching political landscape.
The pattern of almost all school shootings, and the incident in Buffalo, are all too similar, with young male shooters who fail to graduate from high school, are alienated from their families, bullied, radicalized by social media, struggle with unsupported mental health issues, and have legal access to guns and ammunition. This is NOT inevitable. Change is necessary and possible. Our YVote and Next Generation Politics youth have been following all of this closely, amidst A.P. tests, proms, and the general stressors of high school life 2.5 years into a global pandemic. They are more committed than ever to working to create generational change.
A huge piece of change has to be accomplished at the ballot box–by who we elect and by how we hold them accountable for everything from gun regulation to mental health services. We are heartened by NY Governor Hochul's signing of a landmark legislative package to immediately strengthen the state's gun laws, including banning anyone under the age of 21 from buying or possessing a semi-automatic rifle and criminalizing those who make mass threats. New York's progress is promising and our youth are committed to working to ensure legislators at the federal level and across the country understand that the rising generation of voters will not tolerate inaction on gun violence nor on an array of other issues from the rollback of abortion rights, to the lack of preservation of the climate, anti-BIPOC and LGBTQ violence, and more. We cannot be, as Amanda Gorman noted, one nation under guns. The youth voting bloc is POWERFUL and we can and must work to activate it as strongly as possible.
From pain can come progress. In the shadow of these stressors, our youth continue to rise in response to the challenges of our time. Highlights from May include:
Deputy Mayor Sheena Wright meets with The Youth Agenda Steering Committee
City Council Member and Youth Services Chair Althea Stevens meets with The Youth Agenda Steering Committee
We are now mobilizing for what we hope will be our most powerful summer yet, as we celebrate our 5th Year Anniversary and rise to meet the moment we are living in. One key vehicle for this is our upcoming inaugural Democracy Camp through which high schoolers from across New York City (and in future years across the country) will grapple with questions like:
How do WE define democracy?
What are the keys to successful democracy?
How can we improve upon and work to effect change within an imperfect democracy?
What results must democracy deliver for people to find it viable?
What role have young people played in democracy historically and how is young people's participation playing out today?
How do we build commitment to, and capacity for, democracy-building amongst the rising leaders of GenZ (and beyond)?
We conducted group interviews for our first set of candidates from across 30 high schools last night. We were wowed, and you will be too if you check 'em out here. We've already received applications from hundreds of youth, including many with no prior civic experience who are eager to educate themselves to become activists and change makers in their communities. We are eager to accept as many as we can across our three summer programs with your support.
Here's how you can help:
THANK YOU for your instrumental and inspirational support to date and for considering further support to fuel a summer of unprecedented action!
May: May Be Democracy
We sure need it!
NYC Youth Agenda Steering Committee Reps at the Comptroller's Office
Should there be a question mark or an exclamation point at the end of that subject header? Both are needed. As you've undoubtedly heard, yesterday a leaked Supreme Court memo confirmed what many of us have been fearing: that Roe vs Wade and the right to a safe and legal abortion is slated to be overturned (despite 80% of Americans supporting it.) While not exactly surprising, it is deeply shocking and disturbing.
The young people we work with in YVote and Next Generation Politics have never had to live in a world without the right to abortion, but they gave had to live with SO many other stressors on them, from Covid-induced isolation & awkwardness to the hyper-competitiveness of college (this was the most competitive year ever) to the punishing economy to toxic social media to rampant gun violence to the existential threats of climate change. We are living through a youth mental health crisis. As teens navigate the complexities of high school and preparing to go to college, the last thing they need is the added burden of worrying about the catastrophic impact on their lives if they accidentally get pregnant (or get assaulted or myriad other possibilities)
The need for collective action, at and beyond the ballot box, has never been stronger and this is what we are preparing young people for. Never has the need to understand and utilize individual and collective power– and to work at the intersection of individual activism, collective action, and electoral politics– been more important.
Our young people are demonstrating their determination, dynamism, and drive to create positive change through the incredibly thoughtful followup meetings they have been conducting with elected officials as they work to translate powerful recommendations in The NYC Youth Agenda into concrete, catalytic policy and action. Over the past month, they've had the great fortune of meeting with City Council Member and Education Committee Chair Rita Joseph, NYC Comptroller Brad Lander, and Deputy Manhattan Borough President Keisha Sutton-James. Our youth have impressed each of these electeds with their thorough and thoughtful data-driven analysis of the issues facing youth in our city and their intrepid approach to tackling the challenges constructively and collaboratively. On the horizon over the next two weeks are meetings with Chancellor David Banks, Deputy Mayor Sheena Wright, and Deputy Public Advocates Xamayla Rose and Elizabeth Kennedy as our teens work to unify and align key stakeholders in support of the Agenda's recommendations and sub recommendations.
In the interstices, our youth somehow make time for things like:
YVoters with The New York Historical Society's Future Historians
In brief, our youth are working hard to make the city, and the country, work better for all of us. And we have an obligation to support them and bolster their efforts. We would LOVE for you to help us do so by:
Though it's staying light later, these can feel like dark days. Help us work to create the generational change we need!
OR We feel fortunate to be working to create the generational change we need thanks to your support.
With Gratitude and In Civic Solidarity, Sanda
NYC Youth Agenda reps discuss housing and economic mobility with Comptroller Brad Lander
April: Hope Must Spring Eternal
Democracy Depends On Us
"We don't have the option of being hopeless. Hopelessness is the opposite of justice." So noted the inspiring Bryan Stevenson in a powerful program last night at Central Synagogue, kicked off by the Re-entry Theater of Harlem. It was a timely reminder, as there have been some painful blows to democracy domestically and globally over the last month(s.) But Stevenson– a true prophet of our times– couldn't be more right.
We are fortunate to be fueled with hope for the future of our nation each day through interacting with the amazing youth of our Next Generation Politics and YVote programs, who are the true democracy builders of tomorrow. Over the past month, our youth have:
It was, in short, a typical month in the life of Next Generation Politics/YVote—and exactly what we need to sustain and strengthen democracy and civil society in the U.S. and globally. We've found it's also an antidote against any incipient feelings of hopelessness.
Would you like in on our elixir of inspiration? Here are some things you can do to help:
THANK YOU for your support in the many ways you provide it and warmest wishes for a hope-full month!
Sanda
March: The State of Our Union Is…
Up To Us
"Other than that, how was the play, Mrs Lincoln?" Trying to go about life as normal amidst the Russian invasion of Ukraine invokes that old chestnut. Our spirits sink and soar alongside the horror and the hope inspired by unfolding events in Eastern Europe. While our work at YVote/Next Gen Politics is domestically focused, what's happening abroad has implications for all of us, particularly those of us who care about, and worry about, democracy, as we know you do. Julia Ioffe summarized this well on Stephen Colbert's Late Show last week (check out the powerful clip here): "if [the war in Ukraine] teaches us anything, it's that democracy is work, it's vigilance, it's being educated, it's being a savvy consumer of media, it's voting, it's paying attention." Colbert astutely responds by quoting Thomas Jefferson: "the price of liberty is eternal vigilance."
It is. What Russia is doing in Eastern Europe wasn't inevitable. Years of warning were ignored. Encroachment has been happening in plain sight for years, unpunished and now yielding consequences that are disastrous and could become catastrophic. The signs were there and the world largely ignored them. We don't want to say the same of our republic down the road. Threats on our democracy are happening right under our noses and we must address them as powerfully and proactively as we can.
This vision and mission fuels our young people's work in so many arenas, from recording podcasts like Learning Virtue Isn't a Passive Activity with Ian Rowe of AEI and Integrated, Segregated, or Complicated? with Halley Potter of The Century Foundation, to writing blog articles like The Ukraine-Russia Crisis: The Context Behind the Conflict and the U.S. Diplomatic Boycott of the Winter Olympics, to our Next Gen Civic Fellows working on Civic Action Projects, to our YVoters designing and participating in workshops on Storytelling for the Movement and It's Our Money and We Want It Now.
Most recently the desire to help government work as effectively as it can for all citizens, especially the most vulnerable, ignited The NYC Youth Agenda, our powerful youth-led Policy Breakfast and Press Conference/Youth Rally last week. Conducted in collaboration with Citizens Committee for Children, CUNY's Intergenerational Change Initiative, and the Department of Youth & Community Development, a steering committee of a dozen of our youth leaders analyzed youth-led surveys of thousands of peers to craft actionable recommendations to make New York City the most youth friendly, youth forward city it can be.
From this, they crafted The Youth Agenda and presented it last Thursday to a dazzling array of top city leaders, including Deputy Mayor Sheena Wright, Schools Chancellor David Banks (check out his powerful remarks here), Comptroller Brad Lander (who slayed at the Press Conference/Rally), City Council Member and head of Youth Services Althea Stevens (dare you to watch her remarks and not be fired up), Manhattan Borough President Mark Levine, New York State Inspector General Lucy Lang, Public Advocate Community Organizer for Civic and Community Empowerment Pharein Griffith, a number of City Council Members, Community Board Members and their representatives, and a broad array of other youth-focused organizations and caring citizens.
Our youth were the real stars, of course. Check out this clip of YVote's Mia presenting on the urgency of addressing youth housing insecurity and Sharona and Eugenia on the need to expand funding, communication, and opportunities to participate in voting, leadership programs, civic engagement organizations, participatory budgeting, community boards and education councils.
In addition to the Five Key Recommendations and very concrete and feasible sub recommendations, youth leaders crafted a unique, interactive event at which participants could raise questions and really dig into the substance and background on each recommendation at youth-led tables, hear from youth in brief presentations, and bid to invest in and partner around each of the recommendations in a closing Auction for Action (check out snippets of Mia & Sharona framing the Auction here and activating the crowd here.) No one left without filling out a Commitment Form expressing how they will support The Youth Agenda from their respective positionalities. Our youth are already hard at work planning for robust followup meetings to move the recommendations beyond rhetoric to reality.
The policy breakfast was followed by a press conference and youth rally in which youth further demonstrated that their voices matter (check out this chant!) and their vision can't be ignored. Check out this powerful two-minute piece on NY1, this great article in the Queens Daily Eagle, and nice coverage in El Diario if you speak Spanish or are proficient in Google Translate :).
The root of our work is fostering youth agency, civic identity, and efficacy, and demonstrating the power of youth-adult partnerships to create positive change in our lives, communities, and the broader world. Last week's policy breakfast, and the ongoing work to enact the NYC Youth Agenda, is a powerful manifestation of that. Please read it and fill out this google form if you are ready, willing, and able to support any of the recommendations. We'd relish your support and will follow up accordingly.
The times we are living in require trifocal vision at the local, federal, and international level. Tonight, our youth shift their viewfinders nationally for President Biden's first State of the Union address at 9PM ET. Immediately following, youth leaders from 50 youth organizations (including ours) across the country will respond to the President's address in Young People Address the Nation, demonstrating our collective commitment to being politically engaged and to blazing a new trail forward. You can sign up here to be updated about youth responses and/or follow #YoungPeopleAddress.
It's worth stepping back and asking ourselves how we will look back at this time years from now. In his newest best seller, Daniel Pink distinguishes regret from disappointment, noting that we have agency over regret, which relates to action we took or didn't take, whereas disappointment happens to us. To not do all we can to strengthen and sustain our democracy, and to fortify our young people to carry forward the torch, will undoubtedly be something we regret. Please support our work today, so we can count on democracy tomorrow.
In Civic Solidarity,
Sanda
February: Crouching Tiger, Hidden Democracy
Help democracy roar in 2022
February is a special month, a time to ring in the lunar Year of the Tiger, to commemorate African American History, to curse the groundhog, and to relish the month's relative brevity. We plan to make the most of all 28 days, which is necessary given ongoing threats to democracy and civil society. Growing book banning efforts are at odds with everything we stand for, and underscore the need for programs like YVote and Next Generation Politics that promote free expression and full engagement with the good, bad, and ugly of the world around us. Please help us brighten the short, dark winter days by supporting the expansion of our youth-led civic initiatives.
We had a robust January—our youth ran workshops like this one on Environmental Justice for YouthBridge; closed out our Fall 2021 first semester programming with YVote workshops on Building a People's Budget and Direct Action 101 and with a Next Gen Civic Forum on Criminal Justice with New York State Attorney General Lucy Lang; recorded great podcasts like We Are the Missing Link focused on civic education, Political Divisions: Perspectives From Overseas, Could Ethics Change Everything?, This Is Not The Way Kids Are Meant to Interact With Each Other, and Do the Work, the Play, and the Party; were interviewed on the Today's Edition podcast of one of our heroes of democracy, Robert Hubbell (if you're not already reading his daily newsletter, sign up today for a daily dose of democracy being contextualized and elevated); and garnered great feedback on our midyear surveys.
February promises to be equally plentiful. We kicked off the Next Gen Civic Action Projects (CAPs) that 45 Civic Fellows from across 29 high schools will conduct over the course of the spring with six fantastic organizational partners, culminating in final presentations on Sunday, May 15 from 1:30-3:30PM, so mark your calendars. CAPs provide a very meaningful opportunity for small groups of Civic Fellows to engage with complexity around an issue they are passionate about—criminal justice, freedom of expression, immigration, structural racism, voting rights and voter engagement—and produce a project that provides deep value, and powerful youth perspective, for partners and their field of focus. Alumni report back that CAPs are the experience from their high school years that they feel best prepared them for college.
Meanwhile, YVoters have been working away on the youth-led "New Agenda, Youth Agenda" Policy Breakfast we will be co-hosting, along with teens from Citizens Committee for Children and CUNY's Intergenerational Change Initiative, later this month for leaders of New York City's municipal administration. We will be putting forward key, actionable recommendations based on extensive surveying and interviewing of youth to our amazing new Comptroller Brad Lander, our phenomenal Public Advocate Jumaane Williams, the dynamic new Borough President of Manhattan Mark Levine, high level reps from the NYC Department of Education and Department of Youth and Community Development, and more. At this breakfast, instead of youth listening to the electeds, the ELECTEDS will be listening to YOUTH, and then "bidding" on what they are willing to commit to doing and investing in through our onsite Auction for Action. Our youth have come up with really creative, compelling ideas for how to bring the data they've collected and the recommendations they've forged to life. We look forward to recapping highlights and takeaways for you in next month's First Tuesday newsletter.
We are prepping for a powerful spring and summer, including launching our first Next Gen Democracy Camp to help young people explore some key issues and questions our democracy faces like:
What are the keys to successful democracy?
What results must democracy deliver for people to find it viable?
What will it take to make democracies more responsive and resilient, and to build a broader community of partners committed to global democratic renewal?
How do we build commitment to, and capacity for, democracy-building amongst the rising leaders of GenZ (and beyond)?
We have camps for almost everything in the United States yet bupkus for democracy. And our lack of investment shows in the compromised state of our democracy. We are deeply committed to doing all we can to support the next generation of democracy builders in being well equipped for the challenges and opportunities before them and us. We would love for you to support our work by becoming an inaugural supporter of Democracy Camp.
When tigers roar, they can be heard up to two miles away. Let's help our youth channel their inner tigers and unleash the fullest power of their voices and visions. THANK YOU for supporting and elevating our work!
Sanda
Late December: THANK YOU for resolving to support democracy this year
An estimated 74% of the American population (188.9 million people) made resolutions at the start of 2021; in any given year, only about 8% feel they've been successful in keeping their resolutions.
Fortunately, this year you made and kept one of the most valuable resolutions a citizen of the United States can make: you invested in YVote/Next Generation Politics. We thank you, deeply. Because of you, we:
2022 is… kind of an important year. Between the 2022 midterms, the importance of passing the Freedom to Vote Act and the John Lewis Voting Rights Advancement Act, and the value of fostering a cross-partisan, youth-driven civic learning movement, the work of YVote/Next Gen Politics has never been more important. Thanks to your support, we will continue to work strategically and creatively to bolster the state of civic engagement in our country in 2022.
For a late-in-the-year shot of inspiration, check out this fantastic interview in Chalkbeat last week with Mia Payne, one of YVote's peer leaders who was recently chosen to co-chair Mayor-Elect Eric Adams's Education Transition Team in New York City. Mia exemplifies the skills and sensibilities we work to instill in high schoolers across the country. And while you're reading, check out this recent article in Education Week, in which I was interviewed about our cross-partisan approach to civic education. We have to be able to talk and work across perspectives and lived experiences if we are going to meet the challenges of our times. Your support is helping us to do just that.
While many make resolutions to exercise more, we appreciate that YOU have helped YOUTH exercise their right to vote and build our country's civic capacity. You make a difference, and we look forward to continuing to partner with you in 2022.
With gratitude and warmest wishes for a brighter, bolder year ahead,
-Sanda
Mid Dec: Give the gift that keeps on giving
Today is the darkest day of the year, which embodies how many of us are feeling. We get it. The onslaught of Omicron, the breakdown of the Build Back Better infrastructure bill, the existential fatigue and languishing (not to mention climate grief and eco-anxiety) It's… a lot. Most of us are experiencing ambiguous loss for ways of life we've left behind.
It's a good time to remember that from here forward, each day through June there will be a little bit more light, perhaps barely perceptible but present nonetheless. Amanda Gorman closed her amazing inaugural poem last January reminding us "there is always light if only we are brave enough to see it, if only we are brave enough to be it." Indeed we must see and be the light.
Here are a few points of light from this month that I'm holding onto heading into the holidays:
These are just a few examples of how we're bringing youth voices AND youth votes to the forefront 365 days of the year-–something we've been able to do thanks to YOUR generous support. We are deeply deeply grateful, and hope you are deeply deeply proud of being a champion of democracy at this tender time.
We hope you'll consider making a tax-deductible end of year donation to fuel our vital work in 2022, as we build better and bolder programming together (including our inaugural Democracy Camp this summer!) As an added perk, if you would like to make a donation in someone's honor, we will be happy to send them a handmade New Year's Card sure to inspire them into a brighter year ahead.
Thank you again for your steadfast support and inspiration. Sending very warmest wishes for a rejoiceful, replenishing holiday ahead,
Sanda
Dec: It's Almost Over
Are we referring to the calendar year or to our democracy being almost over? The fact that we could potentially be referring to either is…unsettling. As you may have heard, "democracy is at risk. Its survival is endangered by a perfect storm of threats, both from within and from a rising tide of authoritarianism." In the International Institute for Democracy and Electoral Assistance's recent report, The Global State of Democracy, the United States is listed as a backsliding democracy for the first time. Further, the report found that more than a quarter of the world's population now lives in democratically backsliding countries, experiencing a gradual decline in the quality of their democracy. This builds on Democracy Under Siege, a report last spring by democracy-watchdog Freedom House ranking the state of democracy in the U.S. well below that in Chile, Costa Rica, and Slovakia, citing gerrymandering, the influence of money in politics, and the disenfranchisement of people of color among the reasons for the poor showing. Further, the just-released Harvard Institute of Politics Youth Poll of America's 18- to 29-year-olds found that a majority (52%) of young Americans believe that our democracy is either "in trouble" or "failing."
Wow. Like the climate, democracy is something that's easy to not take serious action to address until very permanent damage has been done. It is on each and all of us to ensure that this doesn't happen. In 1983, the National Commission on Excellence in Education's "A Nation at Risk" report stoked widespread concerns about the quality of American schools and launched the modern education reform movement. We must work to ensure that these reports underscoring democracy at risk are equally catalytic, and lead to compelling, comprehensive action in response.
Starting tomorrow, President Biden will convene a first-of-its-kind Summit for Democracy, bringing together representatives from more than 100 countries to help stop democratic backsliding and erosion of rights and freedoms worldwide. You can stream it here.
We are heartened by efforts like this–and we know that complementary efforts oriented around building young people's commitment to, and capacity for, democracy building also need to be a fundamental part of the equation. That's why this summer we are launching our Next Gen Democracy Camp, aiming to provide an immersive boot camp for high school students committed to exploring:
What are the keys to successful democracy, historically, globally, and currently–and what gets in the way?
What results must democracy deliver for people to find it viable?
How can we acknowledge, engage with, and update the very real shortcomings of our current democratic systems to create the more just and equitable 21st century democracies we need?
Next Gen Democracy Camp will serve as the pilot for a methodology, curriculum, and structure that synthesizes what we've learned through our current suite of civic learning programs. We are developing it as a scalable model that we hope youth-focused groups around the country will adapt to build a country-wide approach to civil society building. Please consider becoming becoming a founding supporter of Democracy Camp 2022 (and 2023 and 2024)
November was a rough month judicially, with courts making it harder for women to have bodily autonomy and easier for Americans to obtain and carry deadly weapons. The courts also made charged decisions in the Kyle Rittenhouse trial, the Ahmaud Arbery killing trial, and the Unite the Right Rally trial. We worked to help youth process all of this, to think constructively about the issues and implications, and to grapple with what changes they'd like to work towards creating. Our youth had an active and productive month amidst it all, with highlights including:
We didn't bother you on Giving Tuesday since we know everyone else was but rest assured that it's not because we don't want and need your support. During this window between Hanukkah and Christmas & Kwanzaa, we would deeply appreciate you making a donation to sustain and strengthen our work. Better yet, make it in honor of a friend or family member and get one of our special, customized cards sent to them in lieu of landfill-expanding presents.
That's right, you can make a donation to our year-end Next Generation Politics campaign here, email us contact information for the person (or people) you'd like the gift to be made in honor of, and we will mail them a beautiful, inspiring holiday card acknowledging the gift on your behalf. It's arguably the greatest gift of all (recognizing that Whitney Houston saw things differently…)
On International Day of Democracy 2021, President Biden noted, "No democracy is perfect, and no democracy is ever final. Every gain made, every barrier broken, is the result of determined, unceasing work." There is so much work to be done and we appreciate your investment in supporting us in our work to build a (much) more perfect union.
In civic solidarity,
Sanda
Nov: Do You Want Tricks or Treats for our Democracy?
Happy Election Day! While some may consider 2021 an "off year," at YVote/Next Generation Politics, we know there is no such thing. While most folks are not as fired up as we were last November, today there are hundreds of city and state elections across the country, with consequences that impact us very directly. Further, some of these elections are bellwethers for the 2022 midterms (yes, Virginia, we're looking at you).
It's also a reminder that the midterms are exactly a year away, followed by the 2024 election. Every day between now and then matters, and with your support, we will be working tirelessly to create motivational on-ramps for as many 18 and 19 year olds as possible, ensuring that they become the informed, engaged voters and citizens our democracy depends on. Please donate to support our efforts to equip the largest, most diverse, most progressive demographic we've ever had to transform our country in powerful, positive ways.
We're big believers that #ThereAreNoCoincidences and the proximity of Halloween and Election Day this year falls into that category. Here are some of the Tricks and Treats on our mind this Election Day:
Treats (what delights us):
Tricks (what scares us):
The prospect of not maintaining and increasing voter turnout in 2022 and beyond. As noted above, turnout in 2020 was at an unprecedented high. We have to work to ensure that experience was a gateway and not an anomaly. Our youth-led, peer-to-peer, at-and-beyond-the-ballot-box approach has great power and potential to reinforce that voting is relevant and vital for GenZ.
The catastrophic toll the pandemic, polarization, and pressures of all kinds are taking on youth mental health. Last month, leading medical groups declared a national emergency in child and adolescent mental health, noting that inequities resulting from structural racism contributed to disproportionate impacts on children from communities of color. Our Mental Health Action Group is committed to supporting school counselors in responding to peers' needs. Further, all of our programming throughout the pandemic—and even more so this fall—is taking this toll into account, providing youth with additional support and flexibility, plus the increased sense of well being that comes with taking action to create more justice.
​​Anti-democratic forces that threaten to undermine political institutions and norms we take for granted. Continued questioning of the legitimacy of elections, the rolling back of voting rights, and absolutist orthodoxies of any political persuasion are a huge threat to civil society and, unlike Halloween candy, aren't disappearing from the shelves anytime soon. Our cross-partisan civic engagement initiatives expose and engage youth with multiple perspectives across ideological lines, provide a powerful way to counterbalance this, and cultivate critical thinking and informed action-taking.
Restrictions on freedom of speech. You've probably heard about the University of Florida academics who were told they could not participate in a voting rights case against the state after being hired as expert witnesses for groups opposing a restrictive voting law. This has the potential to set a dangerous precedent that must be nipped in the bud. Whether giving voice to liberal or conservative perspectives that may be unpopular to those in power, it's vital to allow expert testimony.
Backlash against critical race theory. While it's important not to "indoctrinate" youth, exposing them to hard truths about our country's history and systems upon which our society is predicated is critically important for them to be informed, engaged voters and citizens. The degree to which thoughtful teaching and learning about race is being weaponized is counterproductive to growing the just, multi-racial 21st century democracy we need. We conducted a powerful Civic Forum on Systemic Racism and Critical Race Theory with Steven Becton this summer, and we're very excited to host another with Brittany Packnett Cunningham in December.
When we launched YVote and Next Gen in the spring of 2017, we knew we faced an uphill battle to get traction, as many had written off young people as non-voters. We've faced both positive and negative headwinds of many kinds over the last four and a half years. We are pleased and proud that young people have changed the landscape in some fundamental ways—and they're just getting started! Our youth are assiduously committed to counteracting the Tricks facing our fragile democracy and capitalizing on and amplifying the Treats. Here's how you can help us do so:
Be a founding supporter of Democracy Camp 2022 (and 2023 and 2024). Yes, democracy is better with s'mores. But in all seriousness, we're putting together what we think will be one of our most exciting and important ventures yet: in-depth summer learning experiences that engage teens in inquiry, exploration, and analysis of the history and current of our democracy and the creation of action plans to engage peers in democracy-building at local, state, and national levels over the course of the coming years. We're percolating a pilot to launch the week of June 27, 2022 and would love your partnership in bringing our first round to fruition.
Listen to, and like, and comment on, our Podcast, The Round Tablet. Our teens do a tremendous job posing thoughtful questions to fascinating guests and we guarantee you'll enjoy and be inspired by it. New research by CIRCLE finds that digital media creation can be an excellent tool for young people's political expression and civic development. Also, we'd warmly welcome your suggestions for guests and issues you'd find compelling to listen to.
Follow us and comment on our social media at @yvoteny and @nextgenpol. Each post is created by rotating members of our Social Media Creator Corps, who put time and thought into generating content that will engage their peers civically and politically—not easy to do when competing with sexy selfies and, you know, cats. Your likes and comments will provide our youth with a valuable shot in the arm—and a boost in the algorithm.
As you probably know from the avalanche of annual emails you receive, Tues, Nov 30 is #GivingTuesday. We would love if you would "pre-crastinate" by making a donation to YVote/NextGenPolitics on this #VotingTuesday instead. We know your inbox will have plenty of company on Nov 30 and we won't be bothering you that day.
Many thanks for participating in democracy building, both directly today and through your prior and ongoing support for our efforts to create positive intergenerational growth and progress!
Sanda
Oct: The Autumn of our Discontent
Dear Allies,
Each month, we hope to have better news to share in our first Tuesday Newsletter. And each month, we have to look reality in the eye for the roller coaster that it is. We don't need to remind you of the woes our country/Congress is experiencing (think the debt limit crisis, the Infrastructure Bill hanging on by a thread, partisan divides across and within the parties, the Texas Abortion Law and a radicalized Supreme Court, and anti-democratic forces, just to name a few).
What we DO need is to remind you that the gridlock, divisiveness, and dissent that we are experiencing is NOT inevitable. While there will always be tensions and challenges living in a deeply diverse democracy, there IS a better way forward. It entails:
working with young activists and soon-to-be voters from across the socioeconomic, racial, and political spectrum to navigate these tensions, and helping them appreciate the different perspectives, world views, and lived experiences of fellow Americans (even the ones they deeply disagree with)
preparing these rising leaders with the civic skills, knowledge, and networks to be responsible, respectful citizens and contributors to a robust civil society.
In short, it's about equipping the largest, most diverse, most progressive generation our country has ever produced to create the constructive generational change we need.
We are delighted to be doing just that through our YVote and Next Generation Civic Fellowship initiatives, our blog and podcast, our Social Cinema Club and social media (check out intros of each of our Lead Civic Fellows here), and the workshops our youth provide for peers across the city and country, thanks to your ongoing support.
In mid-September, we kicked off our YVote Political Education and Advocacy track, through which we are facilitating biweekly workshops for teens from across dozens of schools on crucial topics including:
Understanding Power and Our Role Within Movements
Navigating Our (New!) Local and State Government
Building a People's Budget
Making The Case: Storytelling, Research, and Communicating Our Cause
Testify! How to Speak with Elected Officials
Campaign Strategy 101: Building Campaigns that Win
and many more
Tonight, we launch our second YVote track, focused on Youth Organizing and Activism, in which we'll be learning together through sessions focused on:
Youth power and movement building
Community organizing around anti-oppression and intersectionality
Power analysis and campaign development
Direct action
Movement storytelling
State and local budgets
Sustainability
In between these two, on Sunday we launched our Next Generation Civic Fellowship with an in-person orientation for NY-based Civic Fellows, which will be followed by a Zoom-based Orientation next Sunday for Civic Fellows outside NY (and we hope to raise money to bring all Fellows together in person this spring with your help). It was phenomenal to spend a full day with 50+ youth from dozens of high schools focused on community building, knowledge building, and skill building through:
Establishment of community agreements to ensure the safe and courageous space necessary to grapple with hot button issues
Investigation of 'We The People' and very American themes and tensions established within the Constitution
Deliberation around affordable housing, homelessness, and livability kicked off by interactive remarks from Dan Garodnick, former 12 year City Council Member and author of Saving Stuyvesant Town
The weight of our times is definitely being felt by young people, as our teen podcasters discussed powerfully on recent episodes, including Back To School—with COVID and BIPOC Mental Health Matters. Fortunately, many teens are demonstrating inspiring civic resilience, which we are working hard to foster and fortify. Our experiences with young people this autumn, both in person and via Zoom, underscore the power and potential of our work to create transformative change in the way we do politics and civics in this country. If you agree that our young people deserve the highest quality civic education, please contribute to help support our work.
In Civic Solidarity,
Sanda
Sept: Embracing the Awe of New Beginnings
Dear Allies,
One coast is burning. The other is under water. Abortion rights are under siege and the Supreme Court threatens to upend civil rights we've come to count on. There have been 569 mass shootings since 2021 began, of which 14 have happened in schools (despite many schools being closed last year). The withdrawal from Afghanistan was agonizing and cost the Biden Administration substantially in public opinion polls. This week, approximately 7.5 million people lost unemployment benefits, creating significant new economic insecurity and uncertainty while COVID-19 and the Delta Variant continue to surge. Meanwhile, Saturday will mark the 20-year anniversary of 9/11 and the war on terror feels perpetual.
This may feel like the end of times, but it also has the potential to be a new beginning. Young people who participate in civic learning programs like ours feel galvanized to play a major role in the solution: a more just and equitable society. While we wish they didn't have to be encumbered by the weight of so much responsibility, we're heartened by how robustly they are rallying in response to the ever-increasing pressures our society faces.
Their participation in our programming, and their high ratings of it, demonstrate the power and potential of action civics. This summer, we worked with hundreds of youth through our six-week, cross-school, remote-learning YVote program, our Next Generation Civic Forums, our National History Academy Fellowship, and two in-person, school-based ChangeMaker Institutes. All had very fortifying summer learning experiences. And, of course, our weekly podcast, blog, and Social Cinema Club ran strong as usual, providing additional peer-to-peer enrichment.
Our programs received rave reviews across the board:
95% of YVote Summer ChangeMaker participants rated the program as Excellent or Very Good
94% of our Next Gen Civic Fellows rated their experience as Excellent or Very Good
100% of our National History Fellows would recommend the program and case study method to a friend
Participants in our school-based YVote programs improved significantly in their pre- vs. post-program self assessment of their experience, knowledge, and confidence across 31 skills (such as sharing their own ideas with a group, respecting ideas different than one's own, participating in fair and effective decision-making, and identifying root causes of an issue), climbing from an average of 2.78 pre-program to an average of 3.63 (on a scale of 1-4) by the end of it.
We were heartened to receive comments like the following across our programs (you can peruse more testimonials for YVote here, for Next Gen Civic Forums here, and for National History Academy here)
"Overall, YVote was incredible this summer. I loved collaborating with my fellow YVoters and Peer Facilitators and seeing all of our progress play out in the workshops. It was such a comfortable space and everyone was so motivated to work their hardest, which was so inspiring."
"I would like to thank everyone at YVote for making this summer so memorable. This was my first time participating in a social justice/voting initiative and I am so glad I did it with YVote. I can't wait to create more change with this program in the years to come!"
"I enjoyed hearing perspectives different from my own. It is very easy to become trapped by our bubbles, whether they stem from our cities, schools, or social media algorithms. It was refreshing to hear a new set of opinions that I would not have been exposed to otherwise."
"I will approach discussions with a more open mindset; instead of coming into debates with the goal of proving the other person wrong, I will enter with the intention of expanding my own set of beliefs."
"I enjoyed listening to the guest speakers the most. I feel that getting first hand knowledge/experience is the best way to understand society and the way we as humans function. I felt that ideas were expressed from different perspectives. The speakers did a great job of teaching us notions that I was completely unaware of."
We are grateful to have been able to provide such robust programming to young people during this strange limbo of a summer, thanks to your incredible support on various levels. And we are galvanized to extend and amplify our programming this fall. So what can you do to help?
Last night marked the start of Rosh Hashanah and the Days of Awe. The Jewish New Year focuses on teshuvah, often translated as "repentance," but really more about renewal and returning to oneself. Now is a ripe time for us to take that upon ourselves as a polity—to reflect upon who we are, where we are, and where we want to be—and to make firm resolutions about what we need to do to bridge the gaps that divide us and keep us from achieving our ideals. There is much work to be done, and we could use your support as we carry our vital programming into the new school year this Fall.
We are awed and inspired by our budding changemakers—and by you, who support them in doing all that they do.
Thank you, thank you, and here's to awe-filled days ahead!
Sanda
Aug: Live From New York, It's YVote
Dear Allies,
Ain't nothin like the real thing, baby. In July, we restarted our live, in-person programs by conducting peer-led YVote ChangeMaker Institutes on two high school campuses through the New York City Department of Education's Summer Rising program. We've been VERY fortunate to continue running our programs on Zoom throughout the pandemic—and to have young people continue to come and do powerful work together. But wow, have we missed the civic contact high that happens when our young people connect for in-person changemaking. Check out some of the highlights here and you'll get a taste of what we mean.
Over the course of two weeks, participating youth engage with Identity & Power; Voting Rights and History; Working with Elected Representatives; Organizing & Building People Power; Community & Advocacy; Elections; Media & Messaging; Campaign Strategies; and Social Justice: the Big Picture. Yes, these are core skills we ALL need to be effective citizens and changemakers, but they are seldom taught in traditional school curricula. We are proud to have been engaged to lead this work with our powerful peer-to-peer model, and that we get to help equip participating youth to transmit the skills and knowledge they are building to their peers as we work to build and broaden a youth voting rights movement.
TOMORROW Saturday, August 7, we will be hosting a big Day of Action for our YVoters to meet one another in person for the first time (outdoors and masked). They will each receive a YVote Tote to help them continue to spread the youth voting message. They will participate in workshops on Artivism (at the intersection of Art and Activism), Organizing with Democracy NYC, Using Social Media for Social Activism, and a View from the Public Advocate's Office, followed by one of our classic Pizza & Politics Forums. We will end the fun day together at the Nourish to Flourish festival on the High Line—self care is so important for our hard working social justice seekers because the work of sustaining and strengthening democracy is a marathon!
Meanwhile, our remote summer civic learning programs are going strong:
Our 64 fantastic YVoters from 45 high schools across NYC's 5 boroughs and 20+ near-peer facilitators are having powerful learning experiences through their six Action Groups, each focusing on different facets of justice: Criminal, Environmental, Gender/LGBTQ+, Immigration, Mental Health, and Racial. To date, we've conducted Forums focused on Identity & Power, Voting Rights & History, Community & Organizing, and Local Government with Youth Organizing & Advocacy on the horizon. They are working to develop peer-to-peer workshops to translate their developing expertise both to fellow YVoters and to middle and high schoolers across the city this fall. We would love for you to join us for their workshops on Tues, Aug 17 from 8-9PM. Email for details!
Our 50 Next Gen Civic Fellows are engaging in weekly Forums deliberating Cancel Culture, Policing, the Role of Prosecutors in Criminal Justice Reform, and Immigration with Freedom of Expression and Critical Race Theory on the horizon.
Our inaugural National History Fellows at Next Gen are grappling with deep historical case studies on challenging civic topics, including James Madison, the Federal Negative, and the Making of the U.S. Constitution; Democracy, Sovereignty, and Cherokee Removal; The Role of Public Education in Early America and, this week, The Challenge of Secession and a Divided Nation in 1861 (there may be a thing or two that has salience for today, eh?).
We've published some great blog articles, like Mind Over Matter about mental health, The Price You Pay about the vice like grip of Barbies even in Bangladesh, My Identity is a Strength, Never a Weakness about Muslim female identity, and The Problematic History of Native American Mascots, and Extreme Temperatures, Electricity Outages, and Energy Crises, Oh My! about, you know, our climate issues so check them out and be inspired by them when you have time!
Our Round Table podcast has had some particularly strong episodes over the past month, including Justice In and Beyond the Classroom; Democracy Can't Just Be Handed Down; Revolutionizing the Learning Space is My Love Language; and Restorative Justice is a Creative Act.
We close each day of our second ChangeMaker Institute asking participating youth for one word to describe how they are feeling, after long days in which we are, for example, taking a whirlwind tour of 245 years of voting rights (and wrongs) in our country, engaging in a human barometer exercise to gauge beliefs about voting and civic engagement, and exploring how different kinds of power manifest in their lives and our world. The one-word responses we hear, over and over, were "inspired," "excited," "energized," "empowered" and "ready." (We did hear one "tired," and we can relate!)
None of this work is easy and none of it would be possible without your incredible support. Needless to say, the costs of bringing youth together during COVID times, hiring and paying 20+ near-peer facilitators, and running both in-person and online programming isn't cheap but it's soooo worth it and we're soooo close to meeting our goal for funding our summer programs.
I'm running a birthday fundraiser on Facebook through TOMORROW Saturday, Aug 7 with the hope of raising additional funds to help bridge the financing gap we're facing this summer. Could you help us get across the finish line? Or if you eschew Facebook—which I do during most of the year—we'd welcome any donations through Flipcause, which includes tiered levels to reflect your budget and desire to support different parts of our organizational needs.
Thank you so much for helping us raise the next generation of civil society shapers!
In Solidarity,
Sanda
July: The YVoters of Summer
Dear Allies,
Can you feel it coming in the air tonight? Yes, tonight we launch our YVote Summer ChangeMakers Institute 2021. We could not be more excited to welcome in our cohort of 65 budding activists from across 45 high schools and all boroughs of NYC for six weeks of civic learning, community-building, and change-making. Check out our incoming YVoters here, featuring quotes from their applications, and you will understand our enthusiasm. And if you continue on to acquaint yourself with the 20 peer and alumni facilitators who will be running the program, taking their work in YVote to the next level, you'll be even more inspired!
But wait, allies, there's more. Tomorrow we launch our Next Gen Summer Civic Fellowship, with another 65 amazing young people from another 45 high schools. These young leaders will spend the summer digging into cornerstone issues of our time—cancel culture, criminal justice, freedom of expression, immigration, voting rights—from multiple perspectives to deepen their critical thinking and civil discourse.
Our Next Gen Civic Fellows' application essays on identity, cross-partisanship, and ethical questions in the U.S. (and how they envision us dealing with them as a country) were so astute and enthralling that we asked many applicants to convert them into pieces for our blog that we'll be publishing over the course of the summer. Check out the pieces we've published to date: Gun Control Vs. Gun Rights: Which is More Important?; Unheard, Unlistened To: A Screaming First-Generation Chinese American Daughter; Fighting Fire With Water; Hello, My Name Is…; Growth in New York City; Everlasting Swan; and Apathy: The Adversary to Progress and American Unity
As if that wasn't enough, this Thursday, we launch our inaugural Next Generation National History Academy Fellowship with 43 Fellows from 23 high schools. Through this program, participants will explore the foundations of American democracy and the responsibilities of citizenship through experiential learning. They will examine historical case studies covering different aspects of American democracy, with each case focusing on a thorny decision that is contextualized with relevant background information that the original decision maker would have had at that time. Participating youth will then deliberate what THEY would have done in each scenario. This preparation is vital in equipping rising leaders with the humility and critical thinking required to grapple with the complex civic issues of our time.
The civic fun continues next week, as we'll launch three in-person, school-based, two-week civic learning intensives, one focused on creating a community garden that emphasizes healing, growing, and racial solidarity at Boys & Girls High School in Bed Stuy; one focused on high school civic projects; and one focused on middle school civic learning. We're delighted to begin working with middle schoolers to start even earlier at helping to develop the next generation of talented, motivated, and activated youth civic leaders.
In the midst of all this, we hosted our Social Cinema Club (watching and discussing the thrilling and chilling Us on Saturday) and our podcast is going strong, with recent episodes on social justice and education; the history of polarization and political identities; the recent municipal primaries and ranked choice voting; progressive prosecution; and how to actually understand someone you disagree with. We've got an incredible lineup of guests over the upcoming month as well.
These summer programs are great and all, you might be thinking, but so what? Well, the what is an array of daunting civic threats we're up against:
It couldn't be more important that we immerse young people in programs that help them explore what a just democracy for all looks like, while gaining the confidence, skills, knowledge, and networks to strengthen and sustain it.
How can you help? We narrowly achieved our fundraising goal in June—and we are deeply grateful! We forged full-steam ahead with recruiting and selecting over 200 new youth to work with through our myriad summer programming. We sure could use your vital support to help cover the costs of this crucial Civic Summer.
Please help us to focus fully on our essential programming for our fabulous Fellows this summer, and THANK YOU, as always, for your ongoing support and inspiration!
In Civic Solidarity,
Sanda
June: Support Summer Civic Lovin'
Dear Allies,
Three weeks from today, voters in New York City will vote in the primaries for…well, just about everything.
Unfortunately, most people won't be there. Just 3% of New Yorkers chose the current mayor. And this June, voters won't just be choosing a new mayor—they'll also be choosing a new Comptroller, at least 35 new Council Members, four new Borough Presidents, two new District Attorneys, and more. And they'll be doing it through Ranked Choice Voting, which the majority of voters don't yet fully understand or even know about!
All of this creates particular challenges for prospective first time voters—along with powerful opportunities. Research demonstrates that citizens who vote in their first two eligible elections are more likely to be voters for life, but most young New Yorkers DON'T vote. And, they vote even less in off-year cycles, which makes THIS is a critical year to work hard to reel them in. Voting is a vital on-ramp to broader forms of civic and voter participation, so the stakes are high. The time to get young people prepared and fully engaged is now, as we work towards transformational change on the other side of the pandemic.
Unfortunately, the exceptionally low youth voter turnout in recent municipal elections has demonstrated that young people DON'T feel informed, included, and connected. At Next Generation Politics—particularly through our YVote initiative—we are working to change that. Our YVoters have been working to educate themselves and their peers on Ranked Choice Voting and, more deeply, on what they're looking for in candidates for key municipal offices, on how to find and assess meaningful information, and on how to communicate findings in compelling and concise ways to peers. They've been creating scorecards to help assess the top eight mayoral candidates on how effectively they are addressing youth priorities, as expressed through youth census and other recent citywide data. They've been conducting workshops, forums, and campaigns to share their learning as broadly as possible with young people citywide.
If you missed our fundraiser last week, it's not yet too late to jump in to enable us to work with as many young people this year as we can—but it soon will be. We need another $10,000 in hand by Tues, June 15 in order to run our free, stipended civic summer programs for the number of young people we hope to enroll. Last summer, we worked with 120 YVote youth in preparation for the 2020 election cycle. For this summer, we've already received over 150 applications from across the five boroughs of New York, with many more expected. Each YVote participant receives a $150 stipend, and costs another $100 to coordinate. If you can fully sponsor one (or more!) of our students for $250, please do! Here's what else your investments in democracy and youth civic engagement can enable us to do:
"But how do we know what you're doing matters?" you might ask. "I've gotten 37 donation appeals from others and it's not even 11 AM!" you might say. We hear you. It's exhausting to figure out value, and it can be hard to quantify the impact of efforts to build a more informed, engaged electorate and create generational civic change. So don't simply take my word for it. Listen to some of our YVoters and Next Gen Civic Fellows talk about the power of our work that your donations enable, in their own words:
Want more evidence?
Check out some of our budding civic leaders' articles on our Gen Z blog, on subjects like whether we should expand the Supreme Court or deportations in the Biden Administration.
Not into blogs? Check out some of our recent podcasts, like our episodes on criminal justice reform with NPR Law Enforcement Correspondent Martin Kaste, or promoting political dialogue across difference with Harvard doctoral student Eric Torres, or mental health beyond COVID with Andy Danilchick, Director of UPenn's Project for Mental Health and Optimal Development. We are fast approaching our 10,000th listen!
Not a podcast person? Stream some of our Civic Fellows' Civic Action Projects from this spring, which multiple guests described as "PhD level work"—extremely impressive given that, yes, they're still only in high school and, yes, they engaged in this work during a pandemic and on top of mountains of regular school work!
We'll stop here, but there's much, much more that we are doing to support youth civic engagement, so don't hesitate to reach out if you are interested in seeing or hearing about other parts of our amazing young people's work to build the democracy we need and deserve.
THANK YOU for your support to date—and thank you for considering another generous gift to underwrite the civic summer programming our young people crave.
In Civic Solidarity,
Sanda
May 4: May Democracy Be With Us
Dear Allies,
In an interview commemorating the completion of the first 100 days of the Biden-Harris administration, President Biden told reporters that his meetings with foreign leaders, including Russian President Vladimir Putin and Chinese President Xi Jinping, have convinced him that the story of this moment is whether democracy can survive the challenges of the 21st century. As things speed up, he questions whether it is possible for democracy, which often moves slowly and is imperfect, to compete with oligarchy and autocracy. He told the anchors that "they're going to write about this point in history."
They are. And we want your help to influence the story that is told. At YVote and Next Generation Politics, we believe that the best way to influence that story is through creating on-ramps to democracy that equip young people with the skills, knowledge, attitudes, and aptitudes to be democracy builders and democracy sustainers. We are energized and inspired by young people's willingness to grapple with some of the thorniest issues of our times, from multiple perspectives, in order to create collaborative civic solutions.
And thank goodness for their willingness, because our democracy is under assault. From 361 (!) bills to roll back voting rights proposed in 47 states to attempts to turn teaching history into a culture war to the criminalization of basic forms of democratic engagement and messaging, active attempts to undermine the very essence of equal participation and truth-telling have only intensified since the November election. Efforts to further rig the game by disenfranchising some populations and criminalizing others must be confronted and combatted, by instilling awareness in rising leaders and equipping them to take informed action.
In this vein, we are proud to help May flower with civic opportunities that we hope you might join us for:
Tonight (Tue, May 4) at 8:00pm ET/5:00 pm PT, the teen leaders of our Next Generation Politics-Silicon Valley chapter are hosting a special Youth Town Hall with 34-year-old Arora Akanksha on her unprecedented candidacy for UN Secretary-General. Her campaign has garnered international visibility for her platform: that the UN has been spending too much on bureaucracy and too little on actual implementation. Her candidacy sends a powerful message to young women of color. Sign up to join here.
Tomorrow (Wed, May 5) at 6:00 PM ET, youth reps will participate in "We Got Issues! Episode 5: The Borough President" on NYC Votes' Facebook Live, hosted by YVote, NYC Votes, and the NYC Department of Youth and Community Development. This youth-driven conversation with Deputy Queens Borough President Rhonda Binda will illuminate what the Borough Presidents do, what they are responsible for, and what power and resources they wield (for example, did you know that the Borough Presidents have about $4 billion in discretionary spending they can allocate how ever they see fit? Neither did our youth!) Sign up to stream here.
On Mon, May 10, 4:00-6:00 PM ET, we will be co-hosting "Putting YOUth in the Youth Agenda: the Youth Census and NYC Elections" with the Intergenerational Change Initiative (ICI). Last summer, we collaborated with ICI's Youth Ask Youth (YAY) Census to garner responses from youth across all five boroughs about their experiences related to economics, learning, community, COVID-19, policing, and more. At this workshop, youth participants will dig into key findings in relation to issues they care about, learn about how the top mayoral candidates are positioning themselves in relation to these issues, and help formulate a youth platform to present to mayoral and other municipal candidates. Sign up to participate here.
On Sun, May 16, 2:00-4:00 PM ET, our Next Generation Politics Civic Fellows will present their Civic Action Project presentations-in-progress. This spring, 45 Civic Fellows from across 15 public and private high schools worked on cross-school Civic Action Projects (CAPs), which provided them with an in-depth opportunity to delve deeper into one of our core civic issues from the autumn of 2020: criminal justice, freedom of expression, immigration, media literacy, and voting rights. Through their CAPs, they've been developing more expertise working on projects that blend policy and action and that will be of use to the civic community and to our partner organizations. Our Fellows are on fire, and you will be too! Sign up to provide feedback at tinyurl.com/NGPMay16RSVP.
We are still enjoying the afterglow of our efforts in April, and invite you to do the same by checking out:
If YOU are as committed to supporting democracy as our hardworking young people are, we hope you will consider supporting our civic programming this summer. After being pent up for over a year with the pandemic, we aim to make this a summer of extraordinary civic learning and enrichment. Last summer, thanks to support from donors like you, we provided fantastic, free summer-long programming for 120 youth from across the five boroughs of NYC through YVote, and another 50 from across the country through our Next Generation Civic Fellowship—all remotely. This summer we plan to provide both remote and in-person programming for as many youth as possible, which we can only do with your support.
Please donate to help us realize our goals of strengthening civil society through action and engagement. Thank you for your consideration!
In Civic Solidarity,
Sanda
April 6: Don't let April be the cruelest month…for voting rights
Dear Allies,
After the 2020 election, some of you asked us if our work was done, or if we were relaxing and taking long lunches. Oh how we wish. As has become increasingly clear, our democracy remains very fragile, and voting rights and voter engagement are more vital, and more vulnerable, than ever.
Youth voter turnout was at an all time high in the 2020 election–and attempts to suppress (youth) voting rights are now at a high. There has been a full blown assault on voting rights that some have classified as Jim Crow 2.0 or "Jim Crow in a suit and tie," as per Stacey Abrams. There have been 361 (yes, 361) bills in 47 (yes, 47) states–and counting– proposed to roll back voting rights in the name of "voting protection." We can probably all agree that our voting systems need strengthening; these bills are not the way to do it.
It's gotten to a point where corporations are stepping up (as are sports) in ways they never had before on this front–check out this joint statement on protecting voting access–with Black executives leading the charge. One of our Advisors has aptly noted that the fight for voting rights is the next wave of Black Lives Matter, urging corporations and citizens to respond accordingly.
We are, and we have every intention of continuing to do so. In addition to doing advocacy around the passage of H.R. 1/S. 1 'For the People Act' at the federal level, we are proud to be partnering with Generation Vote in building a youth voting rights movement to galvanize high school and college age students across the country in efforts to preserve and strengthen the vote. We'll be providing more information about this in future First Tuesday newsletters.
While we must battle for voting rights nationally, we must not lose sight of the importance of local elections. This year's epic NYC municipal elections are a major fulcrum of our current efforts. The last few municipal elections have had abysmally low turnout (to the tune of < 10% of 18 and 19 year olds voting) and we're doing all we can to help young people feel connected to what's at stake and how they can influence the outcomes.
Here are some of the highlights of the month that was and the month that will be:
At the end of February, we co-hosted a #BHeard Future Voters Town Hall with New York City mayoral candidates, the first in a series of youth-led Mayoral Forums: we highly recommend checking out the Youth Mayoral Forum led by Teens Take Charge and the Youth Organizer & Education Justice Forum led by Brotherhood/SisterSol from March. This was complemented by a Civics Week Youth Forum in mid-March for which >100 youth came together to discuss what issues matter most to them, what they want mayoral candidates to know about how these issues affect young people, and how they want the future mayor to improve their issues. Sneak a peek at their thoughtful responses through their powerful Jamboards.
These events demonstrated that youth are far more creative–and are willing to hold candidates far more accountable–than most adults. We're working in coalition with dozens of youth organizations across the city on a followup Mayoral Forum on June 9, just a few weeks before the June 22 primary–stay tuned for details about that in next month's First Tuesday newsletter. We're also facilitating a number of workshops on Ranked Choice Voting (RCV) to prepare first time (and veteran!) voters for this exciting new-to-NY approach.
Our youth came in FIRST in the inaugural It's Our Money youth participatory budgeting initiative, through which thousands of youth from across the city voted on which of 49 youth-led proposals they deemed most worthy of funding. Our YVote Environmental Justice action group's proposal, The Green Space Project, received the most votes citywide, winning $20K to implement their vision. We're actively working to identify a partner school in Brownsville with which to build out a community garden that provides contemplative, COVID-safe outdoor learning space as we move beyond the pandemic. Our youth are also developing a toolkit for how they are going about this so it can serve as a prototype for other student-driven garden initiatives.
Our blog, podcast, and Social Issues Cinema Club are going strong:
Favorite blog articles from the month include 21st Century Populism: The War Against Big Tech; There is More to Repairing the Supreme Court Than Just Expanding It; Corporate Lobbying: Pervasive but Fixable; and Where Religious Freedom and Pandemic Restrictions Meet: First Amendment Challenges at the Supreme Court.
Favorite podcasts of the month include Countering Dangerous Speech; The Sum of Our Parts; 2020 May Be Over But the Census Isn't; and The Avengers of Politics.
Our Social Cinema Club screened and discussed a fantastic array of female-forward films throughout Women's History month, including Knock Down The House; Bombshell; Moxie; and Suffragette.
April will be full of civic showers. Here are some events you may want to join us for:
Tomorrow, Wed, April 7 at 6:00 PM ET, livestream "We Got Issues! Episode 4: The Comptroller's Office" on the NYC Votes' Facebook Live, hosted by YVote, NYC Votes, and the NYC Department of Youth and Community Development. This youth-driven conversation on the 2021 Comptroller race will cover what the New York City Comptroller actually does (and how it impacts our daily lives!), why it matters to young New Yorkers, and how youth can get more involved in the budgeting process. The Office of the Comptroller is often overlooked, but it plays a vital role in the equitable distribution of resources across the five boroughs. Now, more than ever, the Comptroller is essential to the future of our City. Sign up here.
On Mon, April 12, from 4:30-5:45 PM ET, participate in "From Anger to Advocacy: Tackling Police Violence," a high engagement workshop led by YVoters on how policing impacts gang violence, low-income communities, school to prison pipeline, violence against the LGBTQ, and white nationalism. Sign up here.
On Thurs, April 15 from 7:00-8:30PM ET, participate in "What's All the Rage About Lowering the Voting Age?," an evening of learning and advocacy with elected officials and youth leaders who are raising the charge to lower the voting age. 2021 marks the 50th Anniversary of the 26th Amendment, which lowered the voting age to 18 and opened the doors for teens to have a voice in electoral politics. It's time to open the doors more broadly to 16 and 17 year olds, who deserve the right to shape the society in which they are coming of age. Sign up here.
Our youth are working on creating an array of additional peer workshops they'll be offering to schools and youth groups throughout the spring and summer on a number of civic and political issues; stay tuned for more details.
So what can YOU do to support us in supporting democracy? We're so glad you asked!
Summer is on the horizon and we're eager to make it a summer of civic learning and enrichment after youth have been so pent up in the pandemic. Last summer, thanks to your support, we provided fantastic, free summer-long programming for 120 youth from across the five boroughs of NYC through YVote, and another 50 from across the country through our Next Gen Civic Fellowship–all remotely. This summer we plan to provide both remote and in-person programming for as many youth as possible, which we can only do with your support. Please consider making a contribution today so we can provide onramps to youth democratic engagement this summer.
Our Round Table podcast is flourishing with over 8500 listens. We would love your recommendations of guests to speak with our superstar teen podcasters on any of the following topics–or others you have in mind. Reply to this email with any recommendations (you can recommend yourself too!)
Youth mental health in the era of COVID
Vaccination: challenges and opportunities in the continuing rollout
Post-pandemic planning in different cities and longer term implications
Government regulation of technology
How can we improve America's reputation abroad and/or what can America learn from social democracies
Mark your calendars to join our Civic Fellows for presentations of their powerful cross-school Next Gen Civic Action Projects on Sun, May 16 from 2:00-4:00 PM ET. Sign up here.
Follow us on Instagram at @yvoteny and @nextgenpol. Each has a Social Media Creator Corps of teens who are learning about civic and political issues as they create engaging posts about them. You'll be inspired!
Thank you so much for your ongoing support and inspiration,
Sanda
Feb 23: Acting locally, growing nationally
February is a short month but it's not THAT short—we're sending out our First Tuesday newsletter for March a week early, because we want to share some exciting upcoming news, and request your participation!
This Thursday, February 25 from 7:00-8:30PM ET, we invite you to stream the #BHeard Future Voters Town Hall with New York City mayoral candidates that we are co-hosting with BRIC-TV and the New York City Campaign Finance Board. Five of our phenomenal YVote youth will be posing questions to candidates along with other engaged young people from across the city.
This event is different from the typical candidate "dog and pony show" in two key ways. First, all of the questions are being submitted and asked by young people, who are largely left out of the political process for municipal elections. Second, we've arranged for a format in which after each candidate answers, the dynamic MC will check with the youth questioner to see whether she or he feels the question was actually answered, and if not, the questioner will be able to ask a follow-up question. The evening will end with a 20-minute open conversation between the candidates and questioners in a more open, town hall-style format.
Thursday's event is the kickoff of a season of civic learning we've been cooking up in collaboration with other civic organizations in the city (overview here). We're excited to demonstrate how young people can take existing political formats and make them their own, infusing innovation, interactivity, and accountability. Next up will be a Civics Week Youth Forum on Thursday, March 11 from 4-6PM ET that is open to young people citywide who will analyze candidates' answers (or lack thereof) from the Feb. 25 Town Hall event, along with other sources of data on the candidates, to see how their stated positions align with needs and priorities that are paramount to young voters. We've identified these needs and priorities through a citywide youth census YVoters were part of over the summer, and through Issue Scorecards our youth created around six priority issues.
This is part of our focus on channeling high schoolers' passions into sustained voter and civic engagement, at the local and hyper-local (as well as state and federal) levels, in order to elevate The Youth Agenda in our cities. Youth are often a missing ingredient in the civic equation—less than 10% of 18 and 19 year olds voted in the New York City 2017 municipal elections, and rates are quite low in cities and towns across the country. Local elections are a point of entry and pipeline for broader forms of engagement, including interacting with local elected officials who have a more direct influence on day-to-day life—a direct influence that young people are often unaware of, and therefore not engaged in nor empowered to mobilize for change. We are working to change this, starting in New York and moving well beyond.
In January, our Next Generation Civic Fellows were fortunate to interact with Manhattan District Attorney candidate Lucy Lang in our Civic Forum on Criminal Justice, and in February, they learned about the New York City and State budgets with NYC Comptroller Candidate Reshma Patel. Experiences like these build knowledge—of our rising voters and of the candidates—while inviting youth to be part of the civic conversations that shape the fabric of our cities and lives.
Including young people in local elections, advocating for voting rights and reforms like ranked choice voting, and engaging in local civic life more broadly are aspects of our work that we are extremely enthusiastic to scale over the next four years. The 2020 federal election engendered record youth turnout (though we think it still falls far short of what it could and should be). That energy and inspiration now needs to be parlayed into work at the local level, with young people playing an instrumental role. We aim to leverage our New York experience developing inroads for students in local politics into helping students across the country do the same in their communities. Through this, we can scale from a New York-centric movement to a national one.
Here are some ways you can support our efforts:
We're excited to continue the work of supporting and enhancing youth engagement in the political process—and in civic decision making processes. Many, many thanks for your support and enthusiasm for our efforts to date, without which none of this would be possible.
In Civic Solidarity,
Sanda
P.S. Our Social Issues Cinema Club doesn't want Black History Month to end—and we won't let it, as we have a deep bench of nominated films that address different aspects of Black history that we intend to continue to watch together. This month, we've enjoyed watching Malcolm X, The Color Purple, and Hidden Figures to date, with five great nominees for this Saturday.
Feb 2: Out of the Wintry Shadows
Good ol' Punxsatawney Phil saw his shadow this morning, meaning spring isn't right around the corner. That's OK. The groundhog's weather forecast is an apt analogy for what's happening in our country. We've got a lot of hard work ahead of us, and things aren't going to be resolved right away. That said, we are cautiously optimistic about being able to make positive progress within the framework of the newly-elected government in Washington and through our collective efforts.
Our Next Generation Politics teen podcast team records episodes on Wednesdays, so the events of the first three Wednesdays of the year kept us on our toes, to say the least. This recording schedule enabled us to process breaking events with our guests and our listeners in live time, from Insurrection to Impeachment to Inauguration. This past Wednesday we delved into a fourth important "I": Integration. Our episodes over the course of the coming month will focus on nonviolent civil resistance—historically and globally; how to create change in newsrooms; social tie theory and norm development; shaping better public spaces both online and offline; and "dangerous speech."
Our Social Issues Cinema Club hasn't been slacking either, increasing teens' understanding and insight about current events by watching White Noise (about leaders of the alt-right), Saving Capitalism, Mayor, and Knives Out (delving into the social commentary as much as the riveting mystery) in January. We're super-excited about this month's films, which will enable us to dive into different aspects of Black history chosen by participating youth.
Throughout our programming and conversations over the course of January, we were reminded that teens were in MIDDLE school during the last inauguration. Their whole coming of age has been steeped in the toxic partisanship, dysfunction, and distrust of government of the past four years. They've believed that another way is possible—and they've been working to make it so through mobilizing their peers to vote, deepening their civic knowledge, and working constructively across differences and divides. Our youth leaders are steadfast in their commitment to strengthening democracy and civil society.
They're inspired by the first female Vice President and the first Vice President of African and South Asian descent. Three of our YVote youth—Kellen, Munaja, and Sharona—were featured in "This is something I can do now: What Kamala Harris' ascension means for girls of color," a recent article in Chalkbeat in which they shared their perspectives on this historic moment. Representation matters, and they're heartened to see a more diverse Cabinet and the range of life experience appointees are bringing to the decision making table. Within our programs, we've been buckling down analyzing the First 100 Days of prior administrations and formulating recommendations for what we'd like to see transpire around each of our core issues of focus: criminal justice, environmental justice, gender & LGBTQ+ justice, immigration justice, and racial justice.
In the first half of 2021, we will be focusing on the unprecedented municipal elections in New York City, in which just about every office is up for grabs. Voter turnout is notoriously low in municipal elections—ESPECIALLY for young people. It's a vicious cycle: young people don't vote, so candidates don't spend time cultivating them, so young people feel disinvested and therefore don't vote. Lather, rinse, repeat. We are committed to changing the calculus and the culture on this front by having our youth engage with candidates EARLY in campaign season, starting with those running for Mayor:
We are working with the NYC Campaign Finance Board and the Department of Youth and Community Development to co-host a Future Voters Festival/Mayoral Town Hall produced by BRIC-TV on Thursday, February 25 at 7PM (RSVP here). Young people from across the city will ask candidates their most pressing questions and will assess them using the Issue Scorecards our youth have produced.
We will also be co-hosting a followup event as part of the NYC Department of Education's Civics for All Week on Thursday, March 11 from 4-6PM, during which teens will drill more deeply into candidates' responses, assess where they really stand, and consider how to hold them accountable for what they express.
These events will seed a Spring of Electoral Action in which our teens will lead peer-to-peer workshops on Ranked Choice Voting (new to NY this year!), understanding what decisions get made where and by whom in city and state government, and how to turn out the youth vote in unprecedented numbers for both the June primary and the general election in November.
Meanwhile, this weekend our Next Generation Civic Fellows will kick off their spring Civic Action Projects (CAPs), through which cross-school groups of students are tasked by organizational partners to tackle issues of authentic challenge. These CAPs engage Civic Fellows in college-level work addressing the cutting-edge social issues that most impact their generation. This helps them build the interest, agency, and skills necessary for civic leadership. Mark your calendars to join us for their final presentations on Sunday, May 16 from 1:30-3:30 PM EST.
We look forward to sharing more details about these ventures in future First Tuesday Newsletters. Please consider supporting Next Generation Politics this spring to make our vital work possible.
In Civic Solidarity,
Sanda
Dec 29: In the Spirit of Reflection, Resilience, and Renewal
I think we can all agree that 2020 has been a year like no other. In December of last year, we could not possibly have imagined what this year has been, much as in October 2016, we could not have imagined what the next four years would bring. We have been surprised, and we have been sorely tested—almost to the breaking point.
There's a fine line between breakdown and breakthrough, and it feels like that is what we are navigating. 2021 will undoubtedly be challenging, but it also has the potential to be transformative, with a new administration poised to take over, a vaccine rollout underway, and a citizenry that has demonstrated more resilience and engagement than we might have thought possible.
So now, we have an incredible opportunity to define what we want the next phase of our public life to look like. To NOT capitalize on this moment—to redefine and restructure what we want this country to be—would be a tragic missed opportunity. As we continue to struggle through a very dark period together, we can recognize that, as MLK Jr. noted so eloquently in his Letter from a Birmingham Jail, we are bound "in an inescapable network of mutuality, tied in a single garment of destiny." We must work together. We cannot go back to the way things were, and going forward we must mend the divisions that are tearing us apart. We must blaze trails, collaboratively, to the ways that things can be. To do so requires a generation with the clarity, courage, and commitment to build a more diverse, inclusive, and vibrant culture in the United States.
Here's the good news: GenZ has the potential to BE that generation. Born in the shadow of 9/11 and Hurricane Katrina; living through the global economic collapse, Hurricane Sandy, and the Sandy Hook shootings as young children; and coming of age with Black Lives Matter, climate strikes, Parkland/March for our Lives, and COVID—this generation has never had it easy. Admirably, they've risen in response to the adversity they've experienced. It's generated an appetite to create change.
What it HASN'T generated are the high quality pathways our young citizens will need to translate their raw passion into the skills and knowledge necessary to emerge as well-informed civic actors equipped to create and sustain the change our country needs. This is where programs like YVote and Next Generation Politics fit in. Our initiatives help GenZ develop and practice their civic engagement and activism. But don't just listen to me—listen to some of our amazing young people describe their experiences and core learning from our programs:
These are the reflective, responsible rising leaders we need. And there are so many more Mias and Anthonys and Madelines and Talias out there who we deeply want to serve and support.
This is where generous folks like YOU have come in. None of this would have been possible without your support. THANK YOU for helping us nurture and fortify the changemakers we need to help make the A.P. (After Pandemic) era all that we want and need it to be. If you have the desire and capacity to make an additional end of year, tax-deductible donation—or better yet, to encourage others to do so—we relish all resources to help us sustain and expand our work over the formative year ahead.
Youth voter turnout surged in 2020, demonstrating that young people—who comprise the largest, most diverse, and most progressive generation we've ever had in this country—can and will step up to determine the future of politics and civil society. They've experienced a great deal of loss and strife and it's on us to support them in the civic sense-making and future-shaping they need to do. That's what YVote and Next Generation Politics have been doing since our founding in 2017, with your vital support, and we are eager to expand our reach to as many vibrant GenZ citizens as we can.
THANK YOU for partnering with us, financially and well beyond, to fortify our collective future.
With gratitude and very warmest wishes for a brighter, bolder year ahead,
Sanda
Dec 1: Gifts for the Ones You Love—AND for Our Democracy
If you're like us, you're probably being bombarded with emails asking for support for #GivingTuesday—which coincides with our First Tuesday monthly newsletter. A relatively new "holiday," Giving Tuesday was created to counterbalance the consumerism of Black Friday and Cyber Monday, and to capitalize on one of Americans' finest qualities: our generosity. Americans gave over $511 million online on Giving Tuesday last year, and this year's giving is expected to be even higher, despite the global recession. It's remarkable. YOU are remarkable.
Americans also spend A LOT on holiday gifts for one another. To the tune of about $240 billion, every year.
At YVote/Next Generation Politics, we're all about blending in order to build young people's civic identities and commitment: pizza AND politics, cinema AND social issues, podcasts AND blogs, activism AND civic education. And so, we've created a way for you to blend Giving Tuesday with gift-giving for everyone on your holiday shopping list—all with the click of a button. After all, who really needs or wants more THINGS this year? What most of us want is a stronger democracy and a healthier civil society.
Of course, this isn't something one can easily order in a catalog—but it IS something we work tirelessly to develop with young people at YVote and Next Generation Politics—and we can do all the more with your support. And hey, wouldn't it feel great to have your "holiday shopping" done on the very first day of the month?
So here's the deal: today, and over the course of the next week, you can "shop" for your friends, family, and loved ones through our "civic supermarket" below. When you make a donation for any of the amounts below, note in the comments if it's a gift. We'll contact you to get delivery information for your gift recipient(s), who will be sent a personalized holiday card and an explanation of the gift made in their honor—and the impact of it. No Santa required. Even though Dr. Fauci says Santa has natural immunity from COVID, why risk it?
"Civic Supermarket" Gift Categories (Note: you can also color outside the lines, with whatever amount works best for you!)
For $25, you and your loved ones can support a weekly screening of our Social Issues Cinema Club (check out recent titles here)
For $50, you and your loved ones can support the production of one of our weekly podcast episodes (check out our episodes to date on Spotify, or on any podcast platform of your choice). Next up, we'll be working on series on national identity, inclusion, and belonging as well as on power through multiple perspectives
For $75, you and your loved ones can support YVote Peer Facilitators in conducting a workshop for schools and community groups (check out recent examples here)
For $100, you and your loved ones can support a week of production of our "for GenZ, by GenZ" blog (recent pieces have focused on redefining Thanksgiving, procrastination, medical waste, the Abraham accords, the political voices of young women, Trump's nuclear policy, and court reform)
For $150, you and your loved ones can provide a semester stipend for one of our (amazing) YVote activists who participate in biweekly forums to build their civic knowledge, leadership, and facilitation skills
For $250, you and your loved ones can help support the next phase of our groundbreaking Civic Resilience study
For $500, you and your loved ones can help underwrite the work we're doing to develop two big events in March:

A Youth Town Hall with NYC Mayoral Candidates on March 12, 2021 to galvanize commitment to The Youth Agenda that YVoters are working on with other youth from across the city
A 50th "Birthday Party" for the anniversary of the 26th Amendment on March 23, 2021 to celebrate the lowering of the voting age—and to propel efforts around pre-registration of 16 and 17 year olds
"Rebuilding trust is, obviously, the work of a generation." This line, from a New York Times column last week, couldn't be more true. It applies to trust in one another AND in our government—both are at the heart of our work in YVote and Next Generation Politics. With just 17% of Americans reporting in 2019 that they trust the federal government to do what is right (and since the pandemic started, we doubt it's gone up…), we've got our work cut out for us. Fortunately, there's a lot more support for the role that citizens feel our government SHOULD play, across party lines. Indeed, 75% of Democrats and half of Republicans note that the government should play a major role in 10 major areas, ranging from managing immigration and maintaining infrastructure to ensuring access to health care and helping people get out of poverty. Why the disconnect? Citizens have lost faith in the elected officials and their willingness and ability to do the cross-partisan work needed to translate ideals into effective policies.
Our work at YVote/Next Generation Politics is to make the disconnect a reconnect. We are building a youth civic movement that engages and educates the rising generation, equipping them with the capacity and commitment to reinvest in our civic infrastructure. Surveys of our YVoters, Next Gen Civic Fellows, and alumni show that our young people score highly in measures of active coping, hope for the future, and positive reframing—all of which correlate positively with civic efficacy and resilience.
We all can, and must, do our part. These skills are the most precious gifts we can give to the next generation, to our loved ones, and to ourselves. Thank you for your vital support to date and for any additional investment you can make in our future!
Your Civic Santa,
Sanda
Nov 10: How We Got Here—And Where We Go From Here
If you're like us, hopefully by now your blood pressure is starting to normalize, your appetite is returning, and you're sleeping through the night without endless doomstrolling. Let's face it… it has been a tense month four years.
Four years ago, like many of us, I was dazed and confused by the 2016 election and the deep national divides it exposed. It felt like a complete breakdown in the civic fabric of our nation and, having spent my career in education and youth development, I took it personally. How had we come to this? Retrospectively, it was easy to see how and why. And it was clear to me that there was nothing I wanted to do more than reverse the troubling trends by working with young people to build civic education, trust, commitment, and engagement.
HOW to do this wasn't as obvious. I immersed myself in an inquiry process, at the root of which was the question "why vote?" when there were so many reasons, or justifications, for many people NOT to vote.
I cooked up a concept paper based on my initial inklings. Many of you were kind enough to read it and share feedback, connect me to others, critique or encourage me (both were useful!), and partner and support in invaluable ways. I initially hoped to identify and join an organization that was doing the work I thought was most needed to galvanize young people at and beyond the ballot box. When it became clear that the dream organization I was looking for didn't exist, I realized I'd have to create it… which was just about the last thing I wanted to take on in early 2017. But with necessity as the mother of invention, and fear of losing our democracy as the father, YVote was born in late spring 2017 with a small team of pioneers. We kicked into high gear right out of the gate, recruiting 50 teens from 20 high schools all across New York City to experiment with and explore a new model for peer-led civic activism that summer.
What we experienced together confirmed my initial hypothesis: many young people ache to be civically engaged, they just lack meaningful on-ramps, in and beyond school, that help them connect their passions with how they can make a difference. In response, we developed two complementary prongs of programming, both of which seemed vital to addressing the mess our country found itself in:
YVote, to help youth make a direct connection to voting and the collective power they possess—as part of the largest, most diverse, and most progressive generation our country has ever had—in order to be able to transform the political landscape
Next Generation Politics, to bring youth together across differences and divides to grapple with complex civic issues from multiple perspectives, framed in the context of current events, in order to identify solutions that resonate with people across the ideological spectrum
As proponents of youth-centered design, we grew these initiatives from the ground up with core youth stakeholders—and with very few resources. We couldn't seek traditional institutional grants because we were committed to being authentically engaged in an inquiry and discovery process with young people, which defied the targeting of defined, easily measurable outcomes. This orientation has been instrumental to the power of the work we do, but we would not have been able to get it off the ground, or grow it over the past three and a half years, without your grassroots faith and investment in us. We truly can't thank you enough.
The good news is, your investment paid off. The relatively modest amount you have invested in us had a ripple effect, helping us create effective approaches, pilot flagship programs in New York, and work with dozens of youth-focused organizations across the country to lean into building a youth civic engagement movement. We launched an "18 in '18" initiative in January 2018 to target first-time voters across the country; the Parkland tragedy the following month further ignited interest and urgency in the efforts we were undertaking. The Parkland teens put voting front and center in their activist agenda, broadening the action space for us (and other organizations) from coast to coast, in the interest of bolstering a culture of youth activism and youth voting. We committed to working with teens from a broad racial and socioeconomic spectrum to make sure the movement was inclusive and equitable. Youth voter turnout in the November 2018 midterms strongly validated our views, and we continued full steam ahead, crafting our #2020VisionForChange campaign and our most recent #AutumnOfAction.
While data is still flowing in and may fluctuate, as of today it looks like about 53% of eligible youth voters cast votes in this election versus 42-45% in 2016, contributing to the highest overall voter turnout we've had since 1900 (!!!). Youth aged 18-29 comprised 17% of the national vote share, and will continue to grow. Further, the youth vote in several states likely had a decisive effect on the election outcome, particularly in states like Georgia, where young people comprised 21% of the vote share. Here are a few findings of particular interest:
Check out this state by state analysis by CIRCLE, inclusive of youth share of the vote (the percentage of all votes in a state cast by young people ages 18-29) and the choice for President by voters in the youngest age group.
Among young White voters, there were significant differences by gender. Young White men were evenly split in their support of Biden and Trump, while young White women supported Biden over Trump by 18 percentage points, 57% to 39%.
Support for Biden was highest among young voters of color. While White voters under age 30 preferred Biden by an 11% margin (53% versus 42%), young Black, Asian, and Latino voters supported Biden by margins of 76, 69, and 51 percentage points, respectively.
While there is always variance in youth vote by race/ethnicity, this year, in key states like North Carolina and Georgia, the differences were particularly enormous, as 90%+ of young Black voters supported Biden, while White youth in those states narrowly backed Trump.
As you can see, there are some very real differences, with very real implications for the future and for our work.
Beyond the results of this one election—critically important though it is—at the root of our efforts is commitment to building individual and collective civic agency for our teens, along with the ability to work together towards shared goals. By this, we mean helping young people recognize that they can and must take action to make a difference in their lives, their communities, and their country. This is the fundamental building block in everything that we do with young people, which we then augment with the skills, knowledge, and networks for them to become effective advocates and social changemakers—and the rising civic leaders we sorely need.
So what's next, now that there's not an imminent election on the horizon (beyond in Georgia, where we'll be encouraging our youth to support on-the-ground efforts with young voters)?
Focusing even more deeply on the bridge-building objectives of our Next Generation Politics Civic Fellowship and Civic Forums, blog, and podcasts, which help teens to develop the dispositions and skills needed to work effectively across the aisle and across ALL the identity factors that can get in the way of constructive, collaborative civic dialogue. Next up: our Civic Forum on Structural Racism this Sunday, Nov 15 from 1-3:30 PM EST
Advocating for youth voting rights and reforms (in New York and nationally) that are proven to increase voter engagement (e.g., online voter registration, same day registration, polling sites on college campuses, democracy vouchers)
Leading efforts to generate The Youth Agenda in the municipal elections of New York in 2021, in which the Mayor, Public Advocate, Comptroller, four out of five Borough Presidents, several borough District Attorneys, and over 35 open City Council seats will be at play. Young people can have tremendous influence in municipal elections (with an eye toward greatly improving upon the 18% participation in the last one…)
This election was far from a silver bullet. As George Washington counseled Alexander Hamilton (at least in the musical Hamilton, and we like to think IRL too): "Winning is easy, young man… governing is harder." Winning WASN'T easy, and governing IS going to be really hard. Helping young people interpret and understand what's happening; advocate and hold politicians accountable for changes we need; work constructively with other young people with lived experiences and belief systems very different than their own; and build and maintain belief in civic institutions and processes—these are critical ingredients in rebuilding civil society and working toward the ideals this country was founded upon yet has never fully achieved. We feel deeply honored and excited to tackle this work over the months and years to come. We also feel deeply honored and grateful for your support in enabling us to do so, and hope you will continue to support us as we continue to grow.
We hope you feel proud of yourselves—as proud as we are—for being partners in this vital work to restore the soul of our nation.
With gratitude,
Sanda
P.S. Check out our most recent podcasts The World Is Watching Us and There Will Be Litigation; our most recent blogs The 2020 Presidential Election: GenZ Reacts, The Agora: What a Biden Presidency Means for the Left, and Our Two Party System is Destroying America; videos from our recent YVote Peer Leaders Forum and our workshop on "The Right Side of the Aisle: What's Up with Conservatism?"; and two great features about YVote youth: "For these teens, the election season has been a political awakening" in Chalkbeat and "YVote: Youth Civic Engagement That Starts With Voting" in The Norwood News.
P.P.S. Please join me (via livestream) on Tuesday, November 17 at 6PM EST for the first-ever TEDxYouth@BrooklynLab event, showcasing talks and performances from Brooklyn LAB and other high school students, addressing topics ranging from GenZ's unique mental health coping mechanisms, demands for equitable media representation for activist movements (I have the pleasure of introducing this amazing teen), propositions to attain racial equality by starting with reparations for Foundational Black Americans, and more!
October 27: Fired Up, Ready to VOTE
Don't worry, you didn't blink and miss a week! We're distributing our First Tuesday newsletter a week early because, as you know, we'll all be a little busy (and stressed) next Tuesday. I'll be a poll worker for the first time, alongside a number of our YVote youth, at a time when having young people work the polls is more important than ever. We hope this year will lay the foundation for transforming poll working in the future, alongside other much-needed electoral reforms that have become starkly apparent this season and that we'll be continuing to advocate for.
We suspect you've been following early findings about early voting (we've been scrutinizing statistics from the U.S. Election Project more closely than some follow the stock market…) As of 6pm EDT today, over 69.6 million people—more than 50% of the total 2016 turnout!—have voted through a combination of early in-person voting and mail-in voting (as of now, split almost exactly ⅓ and ⅔, respectively). This level of early voting participation is both incredibly inspiring and entirely unprecedented.
Further heartening to us: early voting data available through TargetEarly is finding higher youth involvement and early voting rates than in either 2016 or 2018 (higher by 30%+). Youth voter participation may ultimately be as high as 2008's record-breaking youth vote. As of October 23, more than 5 million young people have already cast ballots—you can check out the youth voting pattern to date in 14 key states here. This is particularly heartening given the significant barriers to youth voter registration this year, as we've detailed in past newsletters—for example, over 430,000 18-29 year olds (37.4%) in NYC are not registered due in part to the lack of online voter registration.
Uplifting as this turnout is, voting rights issues are occurring, and some give us pause. In many states, attempting to vote has meant waiting in long lines, navigating a confusing election infrastructure, and overcoming some obnoxious and even menacing attempts at voter intimidation. As you may have heard, yesterday, the Supreme Court ruled 5-3 in favor of Wisconsin Republicans who want to block the counting of votes postmarked before Election Day but received after it, despite the pandemic, and despite what happened there just earlier this year! (For this year's primary in Wisconsin, 80,000 ballots that were postmarked in time but arrived after Election Day were counted; for this election, however, such late ballots will be rejected.)
A similar block was recently turned down in Pennsylvania by SCOTUS, but the vote was tied 4-4 (and thus the lower court ruling held). With Amy Coney Barrett now confirmed on the Supreme Court, Republicans have sued again trying to get this decision overturned, which may well happen. With these cases, hundreds of thousands of otherwise valid mail-in ballots may be rejected for no reason other than that they arrive too late!
In the face of all this, our youth have been doing phenomenal work, which we are excited to highlight briefly:
Needless to say, we've got a very full week ahead of us—and thanks to your vital support to date, we're brewing lots of plans beyond that, which we look forward to sharing in our post-election newsletter. So what can YOU do to FURTHER assist and amplify our work?
Support our work during this all important final stretch, including the big Trick or Treat for Democracy: A YVote Afternoon of Action we're conducting this Saturday for 50 of our YVoters and alums.
Learn more about the work of YVote by attending one of the upcoming events our youth will be participating in:

TOMORROW, Wed, Oct 28, 5-6:30 PM—Youth Civic Engagement: Beyond Voting panel with Solar One, featuring YVoters Karla, Katrice, Kekeli, Maisha, and Milena. Sign up here
Thurs, Oct 29, 5-6PM—I Can't But You Can Vote panel featuring YVoters Yessii & Yuleimy, as well as reps from Galeo, Latino Community Fund, BronxNet. Register here
Fri, Oct 30, 6PM—YVote Instagram Live on Youth Voting with the Department of Youth and Community Development (DYCD)
Sat, Oct 31, 12-4PM—Trick or Treat for Democracy: A YVote Afternoon of Action, in which we'll be reaching out to prospective young voters through text, phone, social media and other mediums to help ensure they have solid plans to vote

Check out three of our YVoters (Angelina, Anthony, and Mia) on BronxNet Open talking about YVote and youth voting this weekend: Fri at 7AM, 10AM, 5PM, and 8PM; Sat at 10AM, 5PM, and 8PM; and Sun at 10AM
Peruse and share some recent writing by and about YVote, including:
If you have just one minute, check out this 1-min video produced by a group of our YVote youth this afternoon. We might just try to make it go viral on TikTok… If it whets your appetite, you might want to pop over to our Instagram to check out some of our other great teen-created videos, like this one.
So fasten your seatbelts, it's going to be a bumpy week (and most likely beyond). We'll get through it together, as we work toward building the stronger, more equitable, more just society we need and deserve. And most importantly, VOTE!
In Civic Solidarity,
Sanda
October: Vote Like We're Running Out Of Time
It's been said that "there are decades when nothing happens, and there are weeks when decades happen." Indeed last week was one of them. September's First Tuesday newsletter feels like a quaint relic of a bygone age. A time when RBG was still alive, when we didn't rush through Supreme Court judges right before an election, and when Presidential candidates didn't fail to commit to a peaceful transition of power or to rebuke white supremacy. Nothing is simple about the time we are living through. Helping students make sense of it—and build the skills, knowledge, and networks necessary to navigate it— is more important than ever. We are so grateful for the support you have provided in enabling us to do just this.
For 17 million Americans, one month from today will mark their first opportunity to vote in a Presidential election. Generation Z (age 18-23) will comprise 10% of the eligible electorate—up from just 4% in 2016. We want every single one of them to be well-positioned to cast a vote, and not fail to do so due to a lack of information, motivation, or mobilization. Over the next 28 days, the youth of YVote and Next Generation Politics will be doing everything we can to ensure that young voters make their votes and their democratic voice count on November 3 and beyond.
So, what can you do–and encourage OTHERS to do– if you want to further support our work? We're so glad you asked!
Indeed, the past month HAS felt a bit like a decade. Here are some of our recent highlights:
We launched our fall season of YVote on September 15 with 65 YVoters progressing to a more advanced #AutumnOfAction track. Participants are crafting action plans and committing to an array of activities, from designing and facilitating peer-to-peer workshops and resources to texting and calling immigrant voters, first time voters in battleground states, and ex-felons in Florida.

We also launched an elite Leadership Tier for 30 YVoters on September 29, for youth being trained to become peer leaders and mentors, as well as another track for 25 teens new to YVote from across NYC
The goal: have hundreds of YVoters reach thousands of prospective voters. This week alone, in honor of National Voter Education Week, we're conducting a "Youth Vote, Youth Power: Unleashing the Youth Wave," workshop for the Bronx, an Intro to Capitalism & Socialism—and their implications for elections workshop, a Finding Your Civic Voice workshop in collaboration with youth activists, a "Why Vote: How You Can Make a Difference At and Beyond the Ballot Box" workshop for homeless and transient youth with Covenant House (and another for Queens Tech/Sunnyside Community Services), and a Vote by Design workshop with Civic Spirit. Check out our Calendar of Events and let us know if you're interested in joining us for any of them!
This is a disquieting time. You're right to feel anxious. But you are not impotent. You are a critical partner in creating the generational political change we need.
September: Changing the Calculus, Activating Young Voters
Young voters are the holy grail in elections and for good reason: it's notoriously difficult to get them to turn out to vote. After the 2016 election, we were haunted by the dismally low youth turnout (a mere 36% of 18-19 year olds), combined with the outsized impact we knew they COULD have as the largest, most diverse, most progressive generation in our country. We set out to figure out why (don't young people) vote through creating inquiry-based initiatives to work with a broad array of diverse teens. We quickly learned that most youth voter initiatives:
Were too transactional
Targeted youth too late
Didn't connect with teens' core interests and aspirations
We believed we could marry the principles of positive youth development with high-quality (and all-too-rare-in-schools) civic and voter education to build the kind of programming ALL young people should benefit from. So in the summer of 2017, we worked with 50 teens to co-design and test our first program to build an early motivational runway for diverse youth in high school all across New York City. Our goal: to mobilize teens at the peak of identity formation by tapping into their passions and helping them understand how they can create transformative change, at and beyond the ballot box, by utilizing their collective electoral power.
Flash forward through three years of iterating and expanding during which we've had the privilege of working closely and deeply with over 800 youth, and more peripherally with thousands more through workshops, registration drives, and outreach. We're heartened to have confirmed our hypotheses with a broad array of diverse young voters who, through engaging in our issue-based programming within a community of peers, become voting ambassadors and warriors for their schools and communities. Check out a few examples from recent Instagram takeovers YVoters Kodi, Jessie, and Yuleimy have done on gender justice– and stay tuned for social media takeovers from all of our Issue Action Groups.
This summer, we had the pleasure of working with our largest group yet–a cross section of 120 youth from 70 different high schools across the five boroughs of New York for YVote, 13 incredible peer facilitators, and 45 Civic Fellows through our Next Gen Civic Forums. Over the course of seven summer sessions in YVote, participants' eyes were opened and their commitment sparked. They patiently devoted 3 hours a night to (interactive) Zoom forums (!) They spent 6+ hours immersed in a (powerful) Day of Action on a sunny summer Saturday. They conducted OUTSTANDING, informative Teach-Ins to galvanize peers. And they emerged empowered and equipped to educate and engage peers in, and far beyond, their school communities, over the next few months and the next many years.
We are committed to our students' continued growth and success in all spheres and so conducted a stellar session last week for 50 of our YVoters on What You Don't Know and SHOULD Know about Applying To, and Prepping for, College featuring six of our road-tested experts–AKA some of our ace college students. This afternoon (momentarily!), we'll be running a full-throttle session on "Recipe of a Bill" through which YVoters will serve as Congress Members for bills around the issues they're passionate about to better understand the challenges and opportunities of the legislative process.
Meanwhile, this month Civic Fellows in our Next Gen Summer Civic Forums were deepening their knowledge of, and commitment to, engaging with different perspectives on civic issues and current events through Civic Forums focused on Ensuring Free & Fair Elections, Criminal Justice reform, and Media Literacy. This is a complementary part of building a more informed, engaged electorate committed to interacting constructively across differences and divides.
We continue to produce and engage teens in high quality media to increase their knowledge, understanding, and commitment to action:
Highlights from this month's podcasts include Real Talk–with the Founders of It, Sounds Like Comma-la, The Making of a Great Speech–And a Great Speechwriter, and How Inclusive IS America
Highlights from our blogs include From Lexington to Portland, The Connection Between Prejudice and Aging in the Midst of a Movement, Why We Should Consider Compulsory Voting, and Don't Let Congress Silently Rebrand the PATRIOT Act
Our teen Social Cinema Club watched BlackKklansmen, Good Trouble, When They See Us, I Am Not Your Negro, Harriet, and Parasite
Want to learn more about our work? Check out this video podcast interview with me and two of our YVoters that went live yesterday through Hot Paper Lantern, which has adopted us to support our efforts over the next 90 days. You can also read about us in a great article published last week on Stepping Up to End Voter Suppression
Want to support our work–or encourage others to? Here are some of the ways you can:
Kamala Harris concluded her Vice Presidential acceptance speech with words that really resonate with us, " So let's fight with conviction. Let's fight with hope. Let's fight with confidence in ourselves and a commitment to each other, to an America we know is possible. The America we love. And years from now, this moment will have passed, and our children and our grandchildren will look in our eyes and they're going to ask us, "where were you when the stakes were so high?" And will tell them, not just how we felt, we will tell them WHAT WE DID."
Thank you for all you are doing, and for supporting us in doing all that we are doing.
With gratitude 63 days out,
Team YVote
August: 91 days–but who's counting?
We are! Never has an election been more important. Nor more complicated. And it is a mere 13 weeks away. According to NYCVotes, as of June, 37.4% of eligible New Yorkers aged 18-29 are not registered to vote. Nationally, 20 million college students' votes are in peril. At a time when more than half of all Americans are millennials or younger and have the potential to transform the electorate, this is a big problem.
Luckily, the young civic leaders of YVote/Next Generation Politics are rising to the challenges and opportunities of our time. As we shared last month, in light of the pandemic compromising so many opportunities, we've dramatically expanded our programming, tripled the number of students we engage directly (aiming for geometric growth in the number we engage indirectly through them), and shifted to an exclusively online interaction model. We're happy to report that the first three weeks of our summer programming have been a smashing success, exceeding our expectations as the youth we work with continually do.
And all of this is thanks to your amazing support! We have raised $24,472 in donations and grants over the past two months inclusive of my birthday fundraiser on Facebook last week. Thank you thank you thank you. Your generosity has helped to fully fund this dramatic growth in student engagement.
In the first three weeks of YVote this summer, our 120 outstanding YVoters have addressed:
We've also designed and run several youth voter engagement workshops for other youth groups, including for the Why Voting Matters for the NYC Youth Civics Initiative and Voting in the Age of COVID for Global Kids. This week YVoters will be analyzing the Electoral College, its implications, and what kinds of changes they'd advocate for, as well as creating youth-friendly issue-based score cards for candidates. They'll also be participating in a powerful Day of Action this Saturday, engaging in workshops run by our YVote Peer Facilitators and wonderful community partners. Our goal for the day is to provide them with in-depth, immersive experiences with a campaign, community, and/or civic issue to provide an authentic window into civic or political work while building skill(s) and knowledge. These workshops include:
Training to Become (Paid) Youth Poll Worker
What Is Organizing and Using Social Media through an Activist Lens
A View from the Public Advocate's Office & What It Means To Be a Watchdog
How to Organize and Message for a Local City Council Race
Creative Ways to Reach your Elected Officials
Using the Power of Your Voice: How To Develop Testimony For State and City Legislatures
The Right Side of the Aisle: What's Up With Conservatism?; and
Campaigning 101
An overview of our summer sessions can be found here.
In the first three weeks of our Next Gen Politics Civic Forums, our 45 wonderful Civic Fellows from around the country have engaged with a weekly provocation:
What is Civil Discourse, and why is it worth engaging in?
What would a just and equitable criminal justice system look like, and how do we create it?
Can free speech go too far? Where is the line between free speech and hate speech?
As you can imagine, the deliberations have been heated—yet very constructive. Our Civic Forums are built on the philosophy that it is only through grappling with thorny issues like these from multiple perspectives (and with people very different from one's self) that we build the civic muscles we need to bridge the divides that are tearing our country apart. This week we'll be focusing on "How can we ensure free and fair elections that enable all citizens, particularly young citizens, to vote and have a voice?" Needless to say, we're looking forward to what they come up with!
Our blog and podcast continue to go strong.
We're immensely proud of these "for Gen Z, by Gen Z" vehicles, through which youth are expressing themselves and interacting with one another during a time that can feel very isolating and scary. This will be crucially important in the fall, and we're already brewing up new programming amidst our summer of action to support this.
So what can you do to support our work?
Loan us your professional Zoom Account (if you have one) to support concurrent workshops for YVote's Day of Action this Saturday, August 8 from 11AM-3PM EDT—please email me if you can.
Get a taste of our young leaders' work by joining us for the debrief of our Day of Action (Saturday, August 8 from 3-4PM EDT.) YVoters will share skills and knowledge they acquired through the day's programming with one another, and/or
Join us for our YVote Teach-Ins, at which YVoters will share their work from the summer and illustrate how they will be translating it into turning out prospective voters in their school communities and nationally. The Teach-Ins will be held on Tuesday, August 18 and Thursday, August 20 from 7-8PM EDT—please email me if you'd like to join either.
Donate to our #2020VisionForChange Campaign and/or encourage friends, family, and strangers to do so. Your donations are what enable our greatly enhanced and expanded programming to run.
91 days is only 2,184 hours, or 131,040 minutes, or 7,862,400 seconds. We're going to use every last moment to the advantage of our country's future, and we hope you'll support us in doing so.
With great thanks for your allyship,
Team YVote

July: Our Unprecedented Summer, By the Numbers
The last month has been incredible for YVote/Next Generation Politics. In response to the dramatic social changes swirling around us, and the level of civic activism being demonstrated all across the country, we are preparing to launch our biggest season of summer programming ever.
Here was our June 2020 by the numbers:
499 applicants for YVote—10x the number we had planned to admit
241 youth interviewed—about 50% of the overall applicants we received
124 YVoters selected—meet them here
69 NYC high schools represented
46 different self-identified ethnicities, represented by the attached racial/ethnic cohort profile
45 additional Civic Fellows chosen for a national Summer Civic Fellowship we launched in response to significant appetite for direct civic engagement combined with limited applicable programming available for teens this summer
12 AMAZING near-peer facilitators co-constructing and facilitating all aspects of our programming, half of whom were founding YVote youth in the Summer of 2017
8 blog articles written by Next Gen Politics teen writers from 7 different states
6 different Issue Action Groups that YVoters have opted into–Inequality/Affordability, Climate Justice, Criminal Justice, Gender Justice, Immigration Justice, Racial Justice. Through these groups, they will develop expertise on core aspects of each issue, and learn how to appeal to voters who care about that issue, inclusive of creating Candidate Score Cards
5 films shown to and discussed by teens in our NGP Social (Distancing) Issues Cinema Club: Just Mercy, Do The Right Thing, The Story of Plastic, 13th, and, wait for it, wait for it, Hamilton
5 podcast episodes recorded, produced, and released: A Woman of Conviction, What do Donald Trump, Mike Pence, and Barack Obama Have In Common?, Building Hope–Brick By Brick, This Moment—and What We Can Learn from Movements, and What's Criminal About the Criminal Justice System
3 collaborative projects being hatched with wonderful partners:

How To Apply for a Campaign Internship and an extensive well-organized database of political campaigns, through which teens (or people of any age) can volunteer, courtesy of Blue Ripple Politics (please share this with any politically-minded teens in your life!)
Thinking For Ourselves: Engaging Rising Leaders in Becoming Thought Leaders, a collaboration with Sam Abrams of the American Enterprise Institute and Sara Lawrence College, to help teens engage productively with online think tank events across the ideological spectrum
Civic Resilience in the Age of Polarization and Acceleration: Understanding and Empowering Youth Across Differences and Divides, which examines the impact of current political, economic, and social factors on youth, in collaboration with researchers from Harvard's Democratic Knowledge Project, Stanford's Center for Adolescence, and Tufts' Institute for Applied Research in Youth Development

1 interview in an article about voter registration in NYC plummeting due to the pandemic (something we've been sounding the alarms about for months!)
34 generous donors and 1 visionary family foundation donating $16,856 in response to last month's fundraising appeal. We cannot thank you enough!
In summary, we grew our cohort by 150% and tripled our summer programming. Your generosity is what made all of this possible—almost. We haven't yet raised quite enough to cover all of the costs stemming from this growth, yet given the political moment, we felt compelled to meet the demand. We are hoping you can help us bridge the gap by donating in advance of our summer launches next week, to enable us to:
Fund the remainder of YVote student costs ($250 per student)
Support a safely socially-distanced Day of Action in the South Bronx on August 8, in which we will partner with community-based organizations and community members in the lowest per capita income Congressional District in the country, which (unsurprisingly) also yields the lowest voter turnout in the city
Buy YVote masks produced by our inspiring, mission-aligned printers at Reconnect Graphics for all participating teens; they would also be available, of course, to any donors who would like them!
Beyond the numbers are the stories, and our incoming YVoters have some incredible ones! They will draw upon their lived experiences to influence peers across New York City and around the country in participating in voting and being civically engaged. Read more about them in their own words here.
Please consider making a generous donation to support our rising generation of voters and civic leaders today. The future depends on us.
With great gratitude,
Team YVote

June: Protests, Politics, Power, and the Pandemic
Recent months have felt like centuries—perhaps because we're dealing with issues that have been with us for centuries yet which we have failed to deal with effectively. Our hearts are heavy as we share our First Tuesday Newsletter this month. While we at YVote/Next Generation Politics have been acutely aware of racial injustice and inequity in America, playing out in innumerable disturbing examples over the course of time, the recent killings of George Floyd, Breonna Taylor, and Ahmaud Arbery (along with so many others) and ensuing events have brought the issues to a long-overdue head. Our hearts ache over and over again. As Joe Biden reminded us in his excellent speech this morning in Philadelphia, "we are in a battle for the soul of this nation." Something needs to be done about the state of racial injustice in America today. We recognize the responsibility to do so—now.
How to do so is, of course, an open question. We are inspired by myriad ways people are taking action to express the need to disrupt dangerously unjust patterns of policing, inequity, and disproportionality. We've gathered a broad array of resources being shared by many organizations and activists and would be happy to direct you to articles and initiatives customized to your needs and interests upon request. We are eager to continue learning from and with allies in the field, and with you, as we forge collective wisdom, commitment, and action.
We want to be clear: there are many ways to protest. We believe that one of the most effective is at the ballot box. We could not agree more with the words of Killer Mike, whose recent speech we encourage you to watch, and who so aptly said "now is the time to plot, plan, strategize, organize, and mobilize." And by having many, many more people participate—ones who have historically been underrepresented in voting (i.e., young people, poor people, and people of color)—we can make voices heard and make change in powerful ways. The systemic change we need has to be addressed through electing or re-electing people committed to creating this change, and by holding them accountable in office.
This necessitates bringing underrepresented young people into the democratic process. Here's the good news: despite research that demonstrates deep distrust in government and public institutions among Millennials, many teens want to be involved politically. This is especially true when they are provided with pathways that (1) speak to their passions, (2) are peer-led, (3) support them in giving voice to concerns and questions they have about the country we're living in, and (4) enable them to take constructive collective action that connects to electoral politics. Our job is to support them in achieving this civic agency.
Despite the constraints of COVID-19, we will be operating a robust, interactive online YVote leadership program this summer. Applications opened last week—and we've already received well over 250 from across the five boroughs of NYC for the 50 slots we have available. The applications are heart-warming—and gut-wrenching. PLEASE check out quotes from some of the applications to get a feel for what's on the minds and in the hearts of young people as they navigate the challenges of our time.
We'd like to accept far more students than we had originally planned to—these are the civic leaders of tomorrow, and this summer can and must play a critical role in shaping their civic identity. Furthermore, this summer will equip them to lead voter engagement and turnout campaigns for hundreds or thousands of teens in their communities and across the country this fall. No one is better-equipped to talk to undervoting youth than their peers, who can answer the question "why vote?" in terms that resonate and mobilize. These are the voters we need to turn on, at a time when there's a lot conspiring to turn them off.
Many of us are feeling powerless right now, understandably. But dangerously. Now is the time to be bolder, work harder, suspend cynicism, and recognize that we can create change if we work collectively and if we educate, empower, and equip young people to break cycles that have held us all back.
Here is something concrete you can do: sponsor a YVote Fellow or Peer Facilitator (or part of one). To bring in each additional Fellow this summer will cost just $250: of this, $150 covers the Fellow's stipend (more needed by participating youth now than ever) and $100 covers the Fellow's portion of the planning and programming provided by our amazing college YVote alumni facilitators. Will you enable one more powerful youth of color to participate in our #2020VisionForChange summer today?

Teens have been hit hard by this pandemic, with so many experiences and opportunities cancelled, including lots of summer programming. We would love to engage as many teens as possible in as many ways as possible, building their activism skills and civic commitment to being changemakers, at and beyond the ballot box. Making a donation to support our general efforts will help us provide constructive outlets for teens this summer.
Here are some highlights from our initiatives over the past month:
Looking ahead, in June we will be focusing on:
Collaborating on a Vote-By-Mail Youth Town Hall on 6/9 from 6-7PM on Facebook Live. ACTION: join us by registering to attend.
Launching Critical Inquiry and Civil Discourse circles across the country, including in AZ, CA, MN, MO, NY and TX, drawing upon our new Six Week Starter Kit for Civil Discourse. ACTION: know any teens looking to engage in constructive conversations about current events and complex civic issues this summer? Put them in contact with us!
Preparing for YVote's Summer of Action in July and August through architecting this year's weekly sessions and providing robust training in power, purpose, and vision for our fabulous, near-peer YVote facilitators . ACTION: help defray costs by making a contribution.
The coming weeks and months will not be easy for any of us—nor should they be. We conclude with a powerful piece that President Barack Obama published yesterday—one that we strongly encourage everyone to read: How To Make this Moment the Turning Point for Real Change. Obama makes clear how essential political participation is—particularly by those most marginalized. Obama concluded his piece by noting, "the bottom line is this: if we want to bring about real change, then the choice isn't between protest and politics. We have to do both. We have to mobilize to raise awareness, and we have to organize and cast our ballots to make sure that we elect candidates who will act on reform."
President Obama, we could not agree more. To all of you who are working in myriad ways in service of the more just world we need, we thank you. And we thank you for considering supporting us in motivating and mobilizing the next generation of changemakers!
Team YVote

May: We Help Democracy Flower?
This month's First Tuesday Newsletter is coming to you a bit early—on Monday night—with the hope of (1) getting an important Take Back the Vote youth rally on your radar for tomorrow, and (2) (hopefully) avoiding getting lost in the avalanche of emails you will undoubtedly receive tomorrow for #GivingTuesday. We are not asking for your $$ (though we warmly welcome it), but rather for your support through attention and action.
Last month's newsletter went out on a dark day for democracy: the Wisconsin Primary Election. What happened in WI made clear, if it wasn't already, that the right to vote is a fight to vote, and that a number of forces are contributing to disenfranchisement. While that case was particularly egregious, we can expect the next six months (yes, the November 3 election is six months away!) to be packed with assaults on free and fair elections for all sorts of reasons—and from all sorts of directions.
Equipping and exciting young people to be on the front lines in motivating and mobilizing their peers is vitally important. Here's what we are doing, and how we hope you can help:
Join us tomorrow, May 5 at 5PM EDT on Facebook Live for a Take Back the Vote Youth Rally in NYC. YVote and Next Generation Politics (NGP) Civic Fellows will both be presenting, and we're fortunate to be partnering with the NYC Public Advocate, three State Senators, two City Council Members, and more. Flyer is attached; more details about the event here!
Join us on Sunday, May 17 from 2-4PM EDT via Zoom for Civic Action Project presentations by our NGP Civic Fellows. This marks the culminating activity for students drawn from across 15 high schools in NY to delve deeply into core civic issues (criminal justice, freedom of expression, immigration, and voting rights). Students create impactful presentations on topics that blend policy and action in order to influence leaders in the field as well as our partner organizations. Flyer is attached; please RSVP in advance.
Let any teens in your life know about the array of opportunities we're creating to support them in being civically engaged during this challenging time (when life serves up remote learning, make #RemoteLearningAid)!
This is a challenging and difficult time for all of us in different ways. One thing I think we can all agree on, as noted in Woodrow Wilson Foundation's recent civic landscape analysis, is that we need to support young people in being:
well-informed (i.e., developing a nuanced understanding of our history, government, civil society institutions and current affairs);
productively engaged in working for the common good (i.e., being active in their communities and able to work with all kinds of people without fear or contempt to craft solutions to their common problems); and
hopeful about our democracy.
We're proud to partner with you in making it so.
In Civic Solidarity,
Team YVote

April: Civic Showers
There's nothing like a pandemic to provide perspective. It's hard to fathom how much the world and our daily lives have changed since our last First Tuesday newsletter. Our work—the work you have been instrumental in supporting—has never been more important. Physical health and economic health are paramount; civic and democratic health follow close behind. We are all living through one of the world's most challenging and rapidly-evolving history lessons and none of us know how things will play out. What we do know is that leadership matters and citizenship matters, and that we must foster civic preparedness and resilience now and for the future.
If you are receiving this newsletter, it's because we cherish and value you. We've been working long hours to keep up with coronavirus-related developments and support our young people in making sense of the moment: transitioning our programming to digital platforms; supporting youth in converting their campaigns and civic action projects for the current context; keeping our blog (next up: A Path Towards Global Pandemic Response Readiness) and podcast going strong (check out recent episodes Making Sense After Super Tuesday, Vote By Design, All About India—and COVID-19, and #JudiciarySoWhite: Towards a Fair and Just Judicial System); facilitating daily dialogue about civic and political issues with our teen bloggers through our Slack channel; partnering with other organizations to support youth needs more broadly during this time; and providing lots of individual and collective outreach and support. While we haven't had as much time to reach out to each of you individually as we'd like to (yet!), please know you are on our minds and in our hearts and we are wishing the very best for you and your loved ones. Please don't hesitate to reach out to let us know if there is ANYTHING we can do to support you on any front!
So, about March:
March played out very differently than we anticipated, but we WERE able to participate in much of what we'd planned in some form or another. Highlights included:
We've temporarily switched our Pizza and Politics Forums and Civic Forums to online engagements (if anyone can figure out how to serve pizza via Zoom, that would truly be the killer app!), and our youth have adapted well. Their civic appetite remains enormous and perhaps even greater than ever. We're heartened by our young people's willingness to spend time with us on evenings and weekends after long exhausting days doing remote learning. The creativity they're exhibiting in the face of so many disappointments, concerns and constraints is truly astounding and energizing.
The pandemic has created opportunities for our initiatives, and we've been trying to capitalize on them to their fullest. For ex, students can't visit or in many cases even contact colleges, yet spring is a critically important time for decision-making. In response, we put together a powerful online conversation on "Selecting and Strategizing About College" hosted by six of our stellar YVote recent alums now in college. You can check out video from this informative discussion here
Looking ahead:
We recently launched a project called Civic Resilience in the Age of Polarization and Acceleration: Understanding and Empowering Youth Across Differences and Divides, examining the impacts of current political, economic, and social factors on youth. This project is executed in collaboration with researchers from Harvard's Democratic Knowledge Project, Tufts' Tisch College of Civic Life (inclusive of the Institute for Applied Research in Youth Development and CIRCLE), and Stanford's Center for Adolescence.
This Friday, April 10 from 2-6PM, we're collaborating with Phace The Youth on a Phacing the 2020 Vote Digital Summit, the main goals of which are to register voters, engage Gen-Z in the political process, and ensure that social distancing does not result in political distancing. If you'd like to participate, let us know and we can provide further details.
Also on April 10, from 6-7PM, we are co-sponsoring a "Democracy during COVID-19 Outbreak" panel in collaboration with the NYC Public Advocate's Office, Common Cause, the Center for Law and Social Justice at Medgar Evers College, and the New York Immigration Coalition. We'll be addressing democracy concerns that have arisen during this outbreak, equitable responses, and advocacy happening around pushing our democracy forward during a big election year. If you're interested in participating, email us and we'll sign you up.
We are participating in Red and Blue Works' Civic Spring Project working group over the next six weeks—stay tuned for more next month.
The citywide Youth Civics Fair we've been serving on the Planning Committee for has been postponed to May 30 from 1-4PM and will now be virtual, meaning it will be available to youth from around the country—again, stay tuned for more next month.
What can you do to support our work? We're so glad you asked!
Sign our petition demanding Online Voter Registration in New York: With over 90,000 residents in NYC alone turning 18 this year, over half a million 18-29 year olds not registered, and no good way to do in-person registration this spring, it's mission-critical. We're doing a bunch of other state-level advocacy, so don't hesitate to ask if you'd like to be involved
Sign the petition to preserve and expand Summer Youth Employment (SYEP) in NYC: The Mayor and Dept of Youth and Community Development have just announced plans to cancel this invaluable program, providing 75,000 14-24 year olds with employment this summer—and more directly, we were slated to design the first civic track for this program. We are in high gear pushing for its preservation.
Join us on Wed, April 22 from 6-7PM for "Mobilizing the Next Generation," a live webcast in collaboration with Rep 19, during which four of our podcasters will be in conversation with Mayor Yvonne Spicer about building pipelines for young women into political office and political engagement (Flyer attached; sign up here)
Save the Date! On Sunday, May 17 from 2-4PM, join our Civic Fellows on Zoom for their Civic Action Project presentations. More information to follow in next month's First Tuesday newsletter.
If you'd like to observe any of our meetings via Zoom (it's not Zoombombing if you're invited…), let us know and we'd be happy to share the link!
If you are able to contribute to supporting and strengthening this work, please consider donating here
We've been buoyed up by the coalitions we're part of that are doing powerful work, locally and nationally, to support young people—especially our most vulnerable—during this crisis and beyond: the Let New York Vote Youth Working Group, the Ready to Vote Coalition (check out #DigitalDemocracy) , the Democracy Ready coalition, the Activism and Civic Engagement (ACE) network, the NYC Civics Fair Planning Committee (now working to create a COVID19 Youth Resource Toolkit and related mental health supports, the GGE-led New York Youth Service Providers coalition, and more. As many have noted, social distancing is a misnomer—we must physically distance while maintaining and increasing social connection and solidarity. We're so grateful to all of you for being part of the wonderful web holding us all afloat.
Great things have come in the aftermath of our worst moments. And they will again if we join forces to make it so. Many thanks and warmest wishes as we navigate through and commit to creating a more civic and sustainable future on the other side!
Team YVote
March: putting the super in your Tuesday

Hope you're having Super Tuesdays, whether or not you're in a voting state! Things may become a lot clearer within the Democratic Party race as the day and night progress–or they may not…
One thing that IS clear is that youth turnout is going to be critical. There are signs of promise based on exit polls–youth turnout in Iowa, New Hampshire, and South Carolina primaries were about double what they were in the most directly comparative years (when only one party voted) and vote share has increased as well (as you may have heard, GenZ was 4% of the electorate in 2016 and will be 10% in 2020.) That said, the numbers are still very low. Increasing turnout and engagement–as we are working hard to do– is important not just for the current election cycle but for the broader democratic participation and generational enfranchisement of young adults that we sorely need. Young people are the largest, most diverse, most progressive demographic we have and if we can successfully translate their passion for issues into votes at the ballot box, we can transform the political landscape in profoundly positive ways.
So what have Next Generation Politics and YVote been up to? A lot! Thank goodness February was 29 days this month because we needed them…
March promises to be equally event-full:
This week, many YVoters are running voter registration drives and other civic activities at their school as part of the NYC Dept. of Education's second annual Civics Week.
On March 5, we'll be part of WNET's Channel 13's Beyond the Vote youth civic engagement conference at The New School. We are so proud that four YVoters were selected to star in a promo video about what civic learning means to them! This video will premiere at the conference.
On March 7, YVote will be facilitating a voter engagement workshop for 40 Coro Participatory Budgeting Youth Fellows representing each participating city council district.
On March 8, our Next Generation Politics Civic Fellows will take their CAPs to the next level, analyzing the New York State budget (!), crafting financial projections, doing stakeholder identification, and engaging in power mapping.
On March 11, a new leadership cohort of YVote launches!
On March 12-13, several of our Next Gen Politics and YVote youth will be on the Opening Panel for an exciting convening, "Reimagining Civic Learning: Charting a Course Together" aiming to build cross-partisan support to develop a field of civic learning based on this powerful civic learning white paper.
On March 14, a number of YVoters will be participating in the WOW Teen Summit: Creating Social Change at the Apollo Theater in Harlem
On March 20, we're facilitating a session and a case study about our work at the annual YouthBridge Leaders to Leaders Youth Summit
Want more details about any of this? Just ask, or better yet, come visit! If you are based in NYC, here are two dates to mark on your calendar:
On Sun, March 15 at 5:30 PM, join us for a wonderful chamber music concert honoring women composers, with proceeds going to Next Generation Politics. (Invitation attached; RSVP required)
On Sun, April 26 from 12-12PM, join our Civic Fellows for presentations of their Civic Action Projects (CAPs) alongside civic movers and shakers from across the city. Write back for details.
Thank you for your ongoing support. We truly could not be doing this work without you!
Team YVote

February: Will Young Voters See Their Shadows?

Happy first Tuesday! Guess what's nine months away? Yes, we are all pregnant with anticipation and yes, that is literally a mom joke…

This morning started differently from what I think we all imagined given the unfortunate news from Iowa. Developments like this do NOT promote young people's faith in the security and stability of elections and voting, making our efforts to motivate and mobilize young voters more challenging and important than ever. And we're on it!

On the upside, one of our wonderful alumni Lead Civic Fellows, Lila Podgainy, is now a freshman at Grinnell, actively involved in the caucuses and in turning young people out for them. As you may have heard (from the likes of Teen Vogue), teen voters could swing the outcomes in Iowa–and beyond. Lila reports that her and her peers' experience on the ground in the caucuses was very positive (she was briefly in the background of some of the CNN coverage) and she will share her firsthand insights prepping young people to caucus in our Next Gen Politics blog next week.

Speaking of our blog, if you haven't checked out our teens' great pieces recently, here's a reminder to do so if you want to keep your finger on the pulse of how young people are making sense of the political moment. We're so proud of our bloggers and the wide range of things they're covering, from Inica Kotasthane's retrospective of the 2010s (by a 16 year old…) to Steven Dames' new vision for foreign policy (one of several deep international pieces this month) to Molly May's in-depth explanation of the 2020 Election Process to Alexandra Madaras' analysis of why The Hunger Games is more relevant than ever to our times and much more in the last month alone. And don't miss Alex's moving cri de coeur Not Voting is Not Caring and Other Lies We Tell Ourselves–if you're as rapt as our readers are, you can delve deeper through listening to our related podcast interview of Alexandra. And while you're there, check out our other podcasts from The Round Table this month–three great additions to our ongoing Polarization and Cross-Partisanship series
Beyond election fever, here are some of our highlights from January:
Believe it or not, there's more but we'll save it for our Feb retrospective. Until then, please follow us on Instagram at nextgenpol and yvoteny. And please consider joining us for a chamber music concert on Sat, March 15 at 5:30pm at the home of Advisory Board Member Terry Born–invitation attached and proceeds will go to Next Generation Politics/YVote. And of course, we never turn down any donations to fuel our work here.

MANY thanks for your support in so many different ways, without which none of this would be possible. Let's use these next nine months to gestate a healthy, strong democracy…
Team YVote

November: Today, and a year from today

Happy Election Day! Thanks to your support, our youth leaders are getting creative in helping get out the (youth) vote–while shining a light on ways some communities have been left out of the process. This is sooooo important given increasing recognition that mobilizing young voters may be THE key to next year's election (nearly 40% of the electorate in 2020 will be millennial or Generation Z voters.)
Today, a dozen of our youth leaders are facilitating a citywide Get Out the (Youth) Vote workshop for peers from across the city. They are opening the workshop by having each participant "register" and experience some of the historic (and all too current) barriers, from literacy tests (which I'm not sure *I* would pass) to exact match ID requirements to being purged from the voter rolls to polling site challenges and more. This framing helps them recognize the right to vote has long been a fight to vote–and a fight worth their fighting.
Some of our other youth will spend the day engaged in text to vote campaigns through our partnership with Motivote. And yet others will be prepping for a big, first-of-its-kind Youth Voting Rights and Engagement Summit in Albany. In all these endeavors, they will be applying the organizing and campaign building skills they're developing in our biweekly Pizza and Politics Forums.
You might think voting isn't a problem in NY. And then you might be surprised to learn that youth voter turnout in New York is the second lowest in the nation. While youth voter engagement increased dramatically between the 2014 and 2018 midterms, the needle moved less in NY, where youth voter turnout was just 16.4% (lower for the 18-19 year olds we focus on), compared to an (already low) national youth average of 28.2%.
Voting isn't just about electoral college votes (important though they are); voting is a gateway to civic belonging and civic engagement. We MUST create meaningful on-ramps like voting AND other participatory vehicles for youth if they are to grow into the civic leaders we need them to be.
That brings us to the other half of our work through Next Generation Politics. Our 75 New York-based Civic Fellows recently participated in a vibrant full-day Civic Orientation and a powerful Civic Forum on Voting Today in the USA in which they deliberated on seven reforms they think could make the biggest difference increasing youth voter engagement (check out how Fellows rank choice voted on them here). On Nov 17, they will engage in a provocative Civic Forum on Freedom of Expression (yes, they'll be grappling with Mark Zuckerberg's stance…)—let us know if you'd like to join us! Meanwhile over 40 youth from across the country contribute to our thrice-weekly blog and a dozen others are producing our weekly 'by teens, for teens' podcast The Round Table, available on all major podcast platforms, modeling civil dialogue across various divides–socioeconomic, racial, political, and regional–while challenging norms and representing all kinds of diversity, especially of perspective and ideas.
We are seriously psyched about all these exciting work underway. And seriously scared by the threats to democracy we are up against. Come January 1, some truly historic reforms–100 years in the making–will kick in in New York, which we are proud to have advocated for. These reforms have meaningful potential—but only if they truly work to expand voter engagement, particularly in our most disenfranchised communities and demographics. This is the vital work we will be doing over the 365 days that lie ahead. Please help honor this day, and the pivotal role of young voters and young citizens, by donating to our #2020VisionForChange Campaign here.
Thank you, so much, for your ongoing support and allyship!
Team YVote
October: New Month, New Year, More Civic Impact

I'm proud to share some exciting news: YVote has merged with Next Generation Politics! You can read about our merger here. As many of you know, I co-founded and have been directing both initiatives for the past two years, and am delighted to align my worlds more than I've previously been able to do. Our new combined entity will enable us to amplify our impact, and strengthen our 2020 Vision for Change campaign.
Our biweekly YVote Pizza and Politics Forums launched two weeks ago, and our Next Gen Politics Civic Forums launch this Sunday with a high-octane full-day orientation for our 50 incoming Civic Fellows from across 15 schools, let by 12 outstanding Lead Fellows (who have ascended from the ranks to be dialogue leaders this year.)

We are fired up and (almost) ready to go, but there are a few things we are seeking and would love your support in securing–please email me if you have suggestions for either of the first two:
1) a Constitution and teen-loving lawyer or layperson interested and available to facilitate a cool Constitution-focused activity for our thoughtful Fellows late Sunday morning, Oct 6 as part of Orientation Day. The activity has been designed–we are seeking someone with expertise and passion about the Constitution to give brief framing remarks, circulate and provide feedback on the group work, and answer questions that might come up.
2) an affordable and excellent videographer and/or pro bono photographer we could engage to capture magical moments at our Forums
3) follow us on instagram at @yvoteny and at @nextgenpol, where we share the 'by teens, for teens' blog our teens produce three times a week. You can also sign up to receive our blog, or our soon to be released 'by teens, for teens' podcast, here3) donations in support of our 2020 Vision for Change campaign. Do you have friends or family who are tearing their hair out about the state of our country and our world? We'd love to counterbalance their despair with a shot of optimism afforded through interaction with our amazing young civic leaders.

We are proud to have worked closely with over 350 teens across programs over the past two years, another 200+ through shorter term programs, and many many more through social media and peer-to-peer contact. Today marks 13 months until the 2020 election and we've got our work cut out for us. We look forward to building upon this base as we blaze a new trail together, and appreciate your support enormously!
Team YVote

July: Declarations of the Future

Happy 4th! As we celebrate the 243rd anniversary of our Declaration of Independence, we thank you for your instrumental support in enabling YVote to cultivate a rising generation of change-makers committed to independence of thought entwined with interdependence of outcomes.
America is full of contradictions and YVote is committed to helping youth navigate them constructively. Listen to the voices of incoming YVoters like Maria Narvaez, a rising senior at the ISLA High School in the Bronx:
"I'm part of YVote because it enables me and other youth to have a voice and talk about what we believe in an open welcoming space which not only takes accountability of what we have to say but encourages the youth to vote and see how that vote can impact society as a whole. YVote helps us grow and develop our understanding of voting and how it does not finish when you leave the voting box."
It sure doesn't. The work of democracy building is daily and we are equipping youth for civic activism in all facets of their lives. Check out the voices of more of our incoming YVoters here.
And check out Lessons in Activism: Graduating Student Leaders Contemplate Next Moves which aired on WNYC last week featuring Katrice Ramirez, one of our founding YVoters and peer facilitators.

Katrice says, "I'm deeply dissatisfied with the way our country is running these days. We live in a time that's a little bit like a dystopia. We hope things get better, but they kind of get worse. At YVote, we understand this is not normal and it's not ok. And we're going to do something about it. This is the type of activism that happens right before something amazing happens."
At YVote, our young people are committed to helping our country live up to the core values enshrined, and as yet unrealized, in the Declaration. We are working to ensure that civic deeds match our civic creed, bridging the gap between rhetoric and reality to make freedom and equality lived realities rather than lofty ideals.
YVote has just turned two. On this day of honoring founders, we honor YOU: our founding donors. Please share what we're doing with others and encourage them to make a gift to YVote in honor of interdependence today.
Many thanks for all you do,
Team YVote

June: Today–and the next 497 days…

Today is Primary Day in New York City. A number of our YVoters have turned 18 since Nov 6 and will be voting for the first time; others will get another opportunity to flex their voting muscles (research shows that the more often young people vote in the earliest years of being eligible, the more likely they are to be voters for life.) Judging from my polling place at 9AM this morning, they may constitute a significant percentage of voter turnout…
As you know, YVote's goal is to get young people to the polls in every election AND to help them engage beyond the ballot box in issues that matter most to them. Affordability, racial and gender equity, school equity and integration, immigration, gun violence prevention are among the top issues identified by the 50 newly selected YVoters who will join us this summer. YVote is unique in our issue-based approach to sparking teen commitment to voting, and the degree to which we provide an early motivational runway that develops civic identity and civic agency. This ensures that teens don't just register, they turn out AND get their friends and extended communities to turn out AND cast informed votes AND stay connected to their elected officials AND take ongoing action around the most important civic issues of our time.

This summer's cohort of 50 are an extraordinary mix of teens, drawn from more than 20 high schools across all five boroughs and facilitated by 10 of our stellar YVoters from last summer and the school year (pictured below.) This summer, they will develop the skills and knowledge to be ambassadors for voting and civic engagement in their schools and communities. They will analyze data to hone in on neighborhoods where youth voter turnout is lowest and can make the greatest difference, in New York and across the country, and will develop action campaigns to engage those who are the most disconnected. They will craft toolkits for teens across the country to use in peer-to-peer campaigns. They will strengthen their civic agency and their commitment to being at the vanguard of changing the political landscape.

Data demonstrates that Gen Z (young people between the ages 18 and 23), Millennials, and Gen X outvoted older generations in 2018 midterms for the first time. Gen Z will be even MORE important in 2020, as one in ten eligible voters will be members of Generation Z–up from being just 4% of the electorate in 2016. This will occur as Millennials and all other older generations account for a smaller share of eligible voters than they did in 2016. These post-Millennials are on track to be more racially and ethnically diverse than their predecessors. By targeting Gen Z, we have a huge opportunity to change the face of the electorate AND the degree to which the electorate votes for progressive change.

None of this can happen without concerted, creative, collective effort, which YVote is poised to lead thanks to your support. Last Saturday marked the 500 day countdown to the 2020 election, which stands to be the most important election of our lives. Each day between now and then matters. Will you please forward this email to friends, family, friendly strangers, and ask them to consider making a donation to YVote today to ensure that we can make a difference each day?

Many, many thanks for your support and for all you do,
Team YVote

May: To Get Teens to the Ballot Box in Six Months, Support YVote Today
Today marks six months until the 2019 election and 18 months until the 2020 presidential election. The stakes couldn't be higher. And the importance of the youth vote couldn't be stronger. Research indicates that the historically-high youth voter turnout had a significant impact on the 2018 election. This is encouraging, and we have an opportunity to change the political ecology by motivating and mobilizing young voters to get to the ballot box in unprecedented numbers AND to make informed choices once there.

Our 18 in '18 campaign to get one million 18 year old voters to the polls was successful, marking over a 50% increase from 18 year old's turnout in 2014. And we have even bigger aspirations for 2020. Last month, in collaboration with the Middle College National Consortium, we convened our first national Youth Voice, Youth Vote conference for 150 teen leaders from Chicago, IL; Los Angeles CA; Greenville, SC; Buffalo, NY; Flint, MI; Houston, TX; Tarboro, NC; New York, NY and more, bringing them together for skill-building and movement-building. We couldn't have been more more impressed with these civically-charged teens, who are now turbo-fueled to return to their school communities and further galvanize their peers. Please check out highlights from the conference here, here, and here.

We've just opened the recruitment season for our next cohort of YVote youth in NYC, and welcome you to share this flyer with any rising high school sophomores, juniors, or seniors. Looking ahead, we'll be hosting our second annual Youth Town Hall in NYC with elected officials and civic movers and shakers (that's you!) this summer, tentatively on Tues, August 6 from 5-7:30 PM, building on the success of last year's stellar Town Hall. We anticipate hosting Civic Forums in other parts of the country over the year(s) ahead so stay tuned.

We are very galvanized to continue doing this work and can't do so without your support. Thank you so much for your contributions to date, and we hope you'll consider making a donation here to support our vital summer programming in laying groundwork for the youth surge in 2020.

Onwards!
Team YVote
March: The Triumph of Tuesdays–and upcoming invitations
Happy Tuesday! Tuesday is one of my favorite days of the week because 1) it's not Monday 2) it's the day we VOTE 3) it's the day we host YVote Pizza and Politics Forums for amazing teen activists.

A friend recently asked me if we were still doing YVote after the 2018 election. I was surprised because the work of strengthening democracy –and ensuring that young people are motivated and equipped to participate fully and thoughtfully in it–transcends any specific election, but it made me realize that we are overdue to update you, our beloved YVote supporters and champions, to share what we've been doing and what we're cooking up. You can read a brief summary here.

We were heartened by the historic increase in youth turnout in 2018, but much more work lies ahead to ensure that we truly transform the electorate in the ways that youth demographics could make possible. You've hopefully heard about the recent voting reform measures in NY which will, among many progressive changes, allow for pre-registration of 16 and 17 year olds–a huge opportunity IF we also capitalize on the opportunity to help teens understand "why vote." You've also hopefully heard about the House of Representatives passing the incredible HR I–the For the People Act–a bill that would make sweeping reforms to improve the function of elections, reduce the influence of big money, and increase governmental accountability, inclusive of provisions to address barriers to students registering and casting ballots. YVote was part of a coalition of 30 organizations pushing for this Bill and thanking committee leadership for making it happen. Of course there is fierce opposition to making it happen in the Senate. While it is unlikely to be approved in the proximate future, it is a sign of the tides turning, and we will continue to advocate and organize.

Looking ahead, we'd like to invite you to a few exciting upcoming events:
1) This Sat, Mar 16 from 3-6PM is the NYC Purpose Power Town Hall at Civic Hall in Chelsea,for which YVote is a community partner. Tickets are available here (and as a YVote supporter, you get 50% off with code PurposePartner.) This Town Hall will focus on grassroots community action as a pathway for sustainable change. The goal is to provide a vehicle through which people can take responsibility for strengthening the civic fabric of our communities, creating a new kind of politics born from shared values and vision for the future. Please consider joining us!
2) From April 11-13, 2019 YVote and The Middle College National Consortium (MCNC)–a consortia of 40+ schools that promote and support opportunities for underserved youth to attend college for free while still in high school– are hosting a national "Youth Voice: Youth Vote" conference for 150+ students from Chicago, IL; Los Angeles CA; Greenville, SC; Buffalo, NY; Flint, MI; Houston, TX; Tarboro, NC; and of course NYC. We'd love for you to participate in any part of it; more information is available here. On Fri night, April 12, we're taking all of the students to see Heidi Shreck's powerful What the Constitution Means To Me–to be followed by a conversation with Heidi–and would warmly welcome you to buy a ticket and join us.
3) On Tues, May 28 (told you we love Tuesdays!) from 5-7:30PM, we are planning our next Youth Town Hall with Elected Officials and Civic Movers and Shakers and we'd love you to be part of it. Mark your calendars and stay tuned for further details.

With thanks and in solidarity,
Team YVote

February: V is for…
Voting! OK, this might not be the primary V you're thinking about today, but it's the primary V our YVote youth think about EVERY day as they come up with creative ways to boost voting in their schools and communities.
But yes, today V also makes us think of Valentine's Day, and the license it provides to express our emotions. Which in this case is gratitude to YOU for the instrumental support you provide for YVote. Thank you thank you thank you!

Your investment in us is enabling great things to happen. On Tues night, we hosted our monthly Pizza and Politics Forum, conducting a workshop on the 5 As of Activism (Awareness, Analysis, Advocacy, Agitation, and Accountability.) Our YVoters made initial Passion Pitches (which will be uploaded to our Instagram throughout the week–be sure you're following us!) and worked on honing their Calls to Action. Afterwards, we all went to see Gloria: A Life courtesy of the Hope-Aholics program, learning about the history of the iconic Gloria Steinem and her feminist peers raising their voice for equality and championing those of others. YVoters didn't know much of this history, and felt empowered and emboldened learning it. They stole the show during the Talk Circle at the end of the play, demonstrating how they are carrying the torch forward and inspiring hope for future elections.

What lies ahead?
co-hosting a Vigil with ACTION for Parkland shooting victims who died one year ago today–and registering voters committed to pressuring elected officials for change (pop by at 6PM if you're in NYC)
advancing our affinity group work around gender justice, immigration, and school equity, connecting the issues to the impact youth can make on electoral politics
the national "Youth Voice, Youth Vote" student conference we've cooked up with the Middle College National Consortium, with 175 youth from around the country converging in NYC in mid April, marking the city's first ever Civic Engagement Week
prepping for our second annual Youth Town Hall in May
a summer equipping youth to be peer voting leaders AND to facilitate workshops for younger youth to build an early motivational runway
And more!
THANK YOU for enabling us to get this far in our journey, and for helping propel our work to the next level. V is also for Victory–and that's exactly what we intend to achieve at the ballot box.

With powerful love,
Team YVote